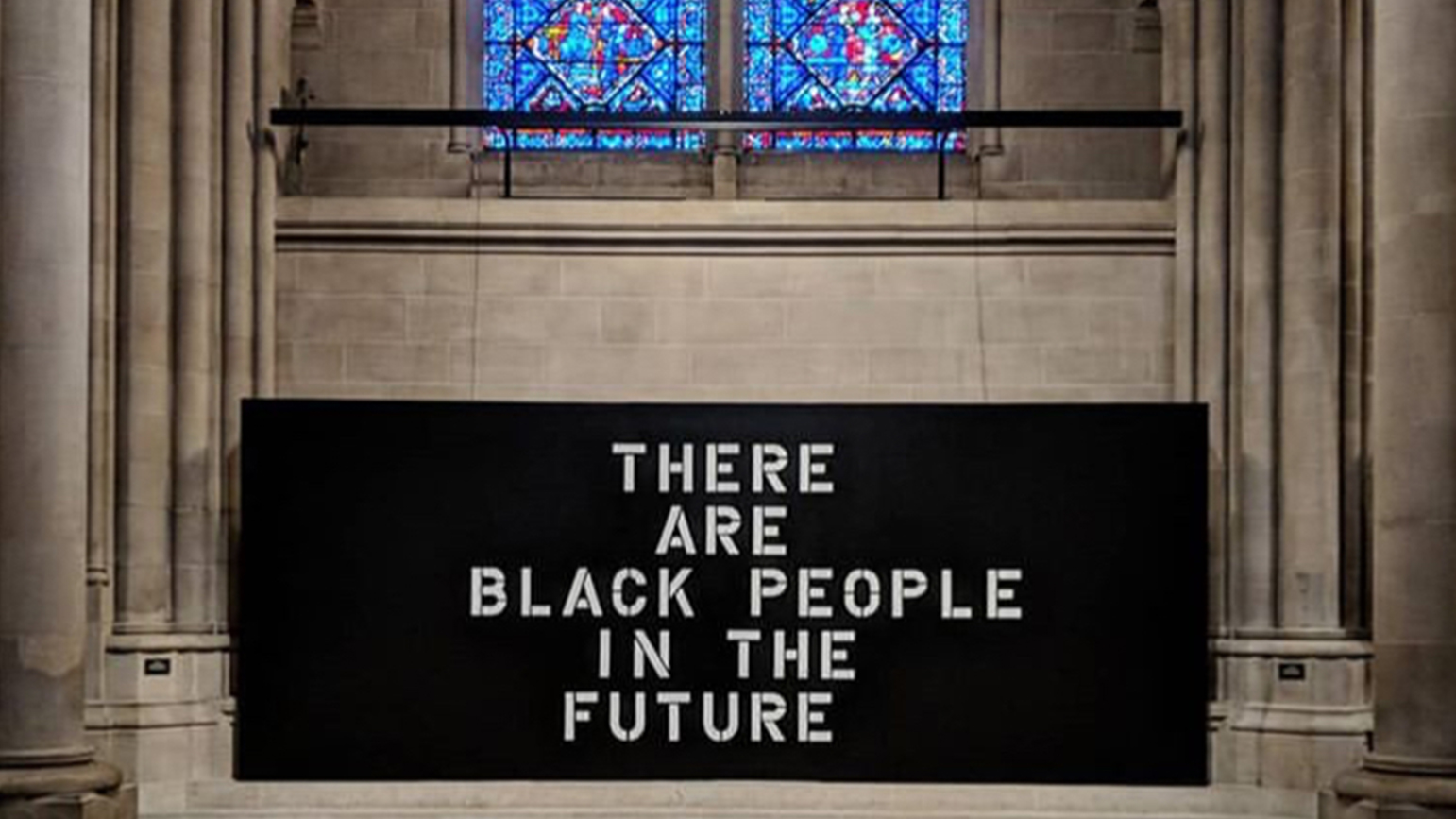 Beginning with the historic framework of the Cathedral as a site of welcome and refuge, the multidisciplinary "The Value of Sanctuary" explores the question of sanctuary through the work of modern and contemporary artists, including Professor Alisha Wormsley. Using the Cathedral's sacred space as a canvas, these works illuminate the intersections between spiritual and social identity, and the ways in which personhood and community cohesion speak to and are formed by notions of dignity, inclusion, and exclusion. The exhibition is currently on view through June 30 at The Cathedral Church of Saint John the Divine in New York City.
The Preamble to the Constitution of the Cathedral of St. John the Divine, chartered in 1873 as the church of the Episcopal Diocese of New York, describes the Cathedral as a "house of prayer for the use of all people." In the almost 150 years since the signing of that charter, notions of community, of inclusion, of sanctuary have persisted as frequent topics of discussion and dissent. The current political discourse about national borders and identity, about human rights and their application in an often unpredictable world, has only made these discussions more urgent.
"The Value of Sanctuary" reaches back to the Cathedral's founding and forward into the most pressing issues of the 21st century. The works in the exhibition and their placement within the Cathedral context raise many questions on the path to encompassing many definitions: What does it mean to be a house of welcome and of refuge, to offer sanctuary to those in need? What are the threads connecting us, as individuals and as communities? And where do we draw the line?
Other artists included in the exhibition are: Juan Jose Barboza-Gubo and Andrew Mroczek, Alexandra Bell, Richard Blanco and Jacob Hessler, Louise Bourgeois, Francis Cape, Cassils, Jules de Balincourt, Anthony Discenza, Mark Dunes, Alicia Eggert and Saftwat Saleem, Nona Faustine, Fredericka Foster, LaToya Ruby Frazier, Nicholas Galanin, Eric Gottesman, Lewis W. Hine, Juliana Huxtable, Jenny Holzer, Icy and Sot, Sister Corita Kent, Baseera Khan, Adam Kuby, Robert Longo, Rania Matar, Susan Meiselas, Paola Mendoza and Kisha Bari, John Moore, Christopher Myers, Eiko Otake, Eva Petric, Michael Rakowitz, Ronald Rael and Virginia San Fratelo, Cinthya Santos-Briones, Kiki Smith, Hank Willis Thomas, and Tomas van Houtryve.