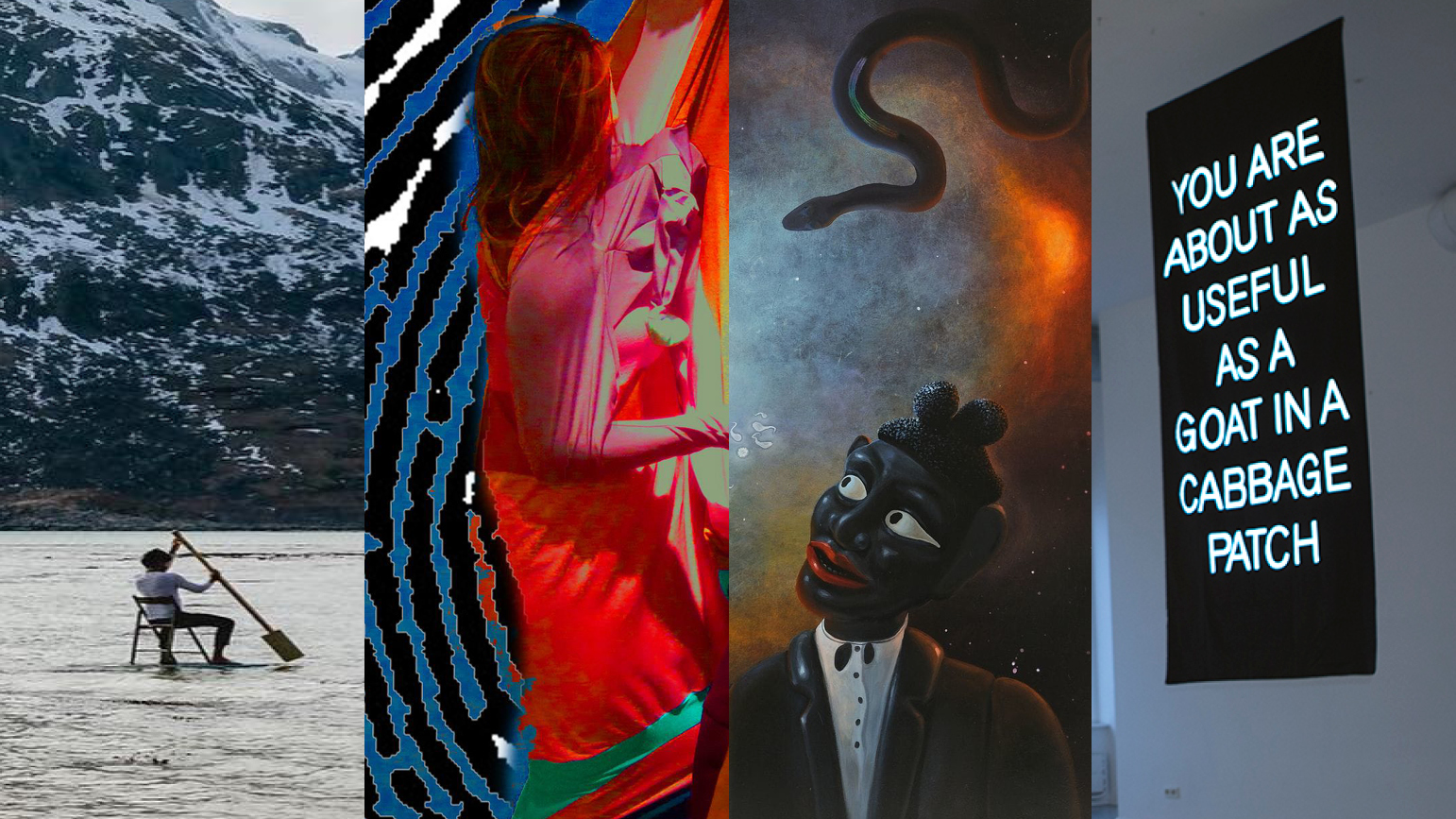 Welcome to the Weekly Alumni News Update! To have your news featured, please email schoolofartnews@cmu.edu with a brief description, link to more information, image, and your degree and class year. Or, add us to your newsletter list.
Peter Burr's BFA '02 work "Dirtscraper" will be part of the 2019 Sundance Film Festival in the New Frontiers section, Jan 24 – Feb 3. The work will also make its New York premier at the Museum of the Moving Image on Dec 14.
Manif D'Art: The Quebec City Biennial announced that Felipe Castelblanco MFA '13 is among the artists in the 2019 edition, Feb 16 – Apr 21. (image 1)
Temporary Services and Half Letter Press, run by Marc Fischer BFA '93 and Brett Bloom, has an interview in Art in Chicago: A History form Fire to Now.
As part of Janks Archives, Ben Kinsley MFA '08 will host a screening on Dec 16 at Sociëteit Sexyland in Amsterdam. (image 4)
Christina Lee BFA '14 was interviewed by Make Make.
Luke Loeffler MFA '13 was featured in a video by Portland-based media outlet Bridgeliner.
Julie Mallis BHA '12 collaborated with Trevor Miles to present a performance on December 7 at Kelly Strayhorn Theater as part of their Freshworks Residency.
Julie Mallis BHA '12 has a solo exhibition at "Everyday's a Sunday" in Pittsburgh, which opened on Dec 7.
Paul Rouphail BFA '10 exhibited work in "Housewarming" at Nicelle Beauchene in New York City, Nov 4 – Dec 9.
Susan Schwalb BFA '65 with Tom Mazzullo authored Silverpoint and Metalpoint Drawing, the first complete book on these techniques. It is published through Routledge Press and is currently available for pre-order.
Laurie Shapiro BFA '12 will present "Temple of the Future," a solo installation meditation chamber, at "Stars in Your Eyes" at 11430 Ventura Boulevard in Studio City, CA, Jan 5, 8-11:30pm.
Hester Simpson BFA '71 was awarded an artist residency at the Virginia Center for Creative Arts in Amherst.
Renee Stout's BFA '80 solo show "When 6 Is 9: Visions of a Parallel Universe" was reviewed by The Washington Post. (image 3)
Amy Tenenouser BFA '85 has work in "Small Works/ Big Hearts" at the Atlantic Gallery in New York City and in "Synthetic Zero: Looking At What We Don't Want To Look At" at Bronx Art Space, both through Dec 22.
H. Gene Thompson BFA '12 performs in cabaret "Why Tides Lie" at Tazza D'Oro in Millvale on Dec 14. (image 2)