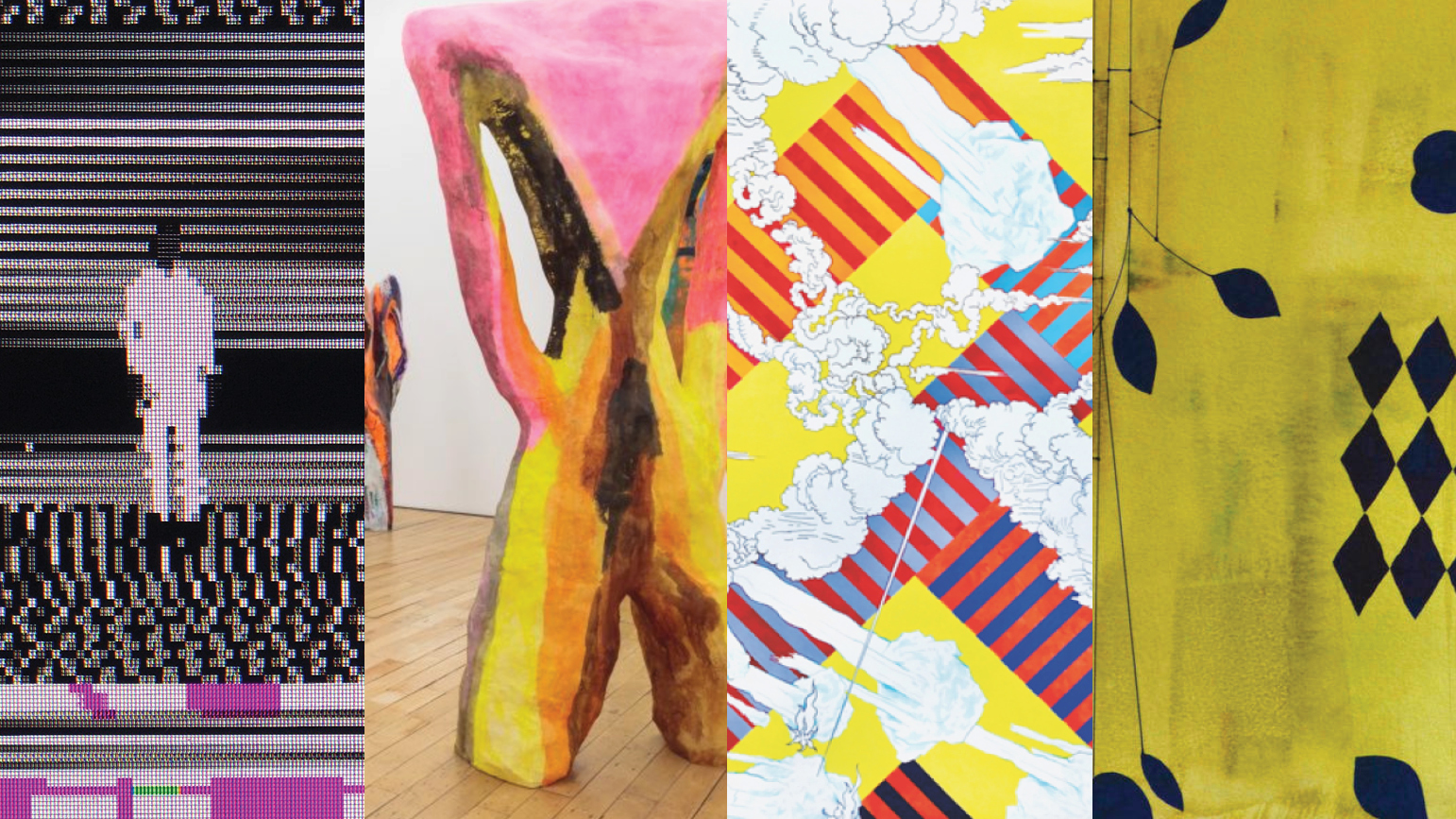 Welcome to the Weekly Alumni News Update! To have your news featured, please email schoolofartnews@cmu.edu with a brief description, link to more information, image, and your degree and class year. Or, add us to your newsletter list.
Bianca Beck BFA '01 has a two-person exhibition with Sascha Braunig titled "Extra Spectral" at Space Gallery in Portland, ME, with an opening reception on Nov 23. (image 2)
Mel Bochner BFA '62 has a solo exhibition titled "Exasperations" at Peter Freeman, Inc. in New York City, through Dec 21.
Jay Brooks BFA '88 has two paintings selected for the Rockport Art Association & Museum National Juried Show, opening Nov 23 at the Aldro T. Hibbard Gallery in Rockport, MA.
Marie Bukowski BFA '92 exhibits in the Season Pass Members Show at Spaces in Cleveland, OH, opening Nov 22. (image 4)
Peter Burr BFA '02 participates in "Embedded Parables" at bitforms gallery, through Jan 19. (image 1)
Zhiwan Cheung MFA '16 was appointed Assistant Professor at United International Conference (UIC) in Zhuhai, China.
Robb Godshaw BFA '15 launched a KickStarter for the "Degenderator," a campaign to de-gender restrooms.
Merritt Johnson BFA '03 will give a lecture at the Frye Art Museum in Seattle on Nov 21.
Ben Kinsley MFA '08 participates in "Mystical Logical" at Lump Projects in Raleigh, NC, through Dec 13.
Nicole Lenzi BFA '95 participates in "Contemporary Drawing in the Pacific Northwest" at the Easter Washington University Gallery of Art in Cheney, Washington, through Dec 6.
Alex Lukas MFA '18 exhibits in "Field Notes: Lovers, Teachers and the Consciousness In Between" at the Boston Center for the Arts, on view through Dec 22.
Carrie Schneider BHA '01 has a two-person exhibition with Abigail Deville at the Suburban in Milwaukee, through Dec 21.
Barbara Strasen BFA '63 has a solo show of her new paintings titled "Everything Else" at George Billis Gallery in LA, opening Nov 23. (image 3)
Gray Swartzel MFA '18 gave an artist talk at the launch of Hécatombe Magazine in New York City on Nov 16.
Genevieve Tremblay BFA '84 gave an artist talk at the University of Nevada Las Vegas' Marjorie Barrick Museum of Art on Nov 15.
Jessica Vaughn BHA '06 has a solo exhibition titled "Turnover Rate" at Patron Gallery in Chicago, through Jan 25.