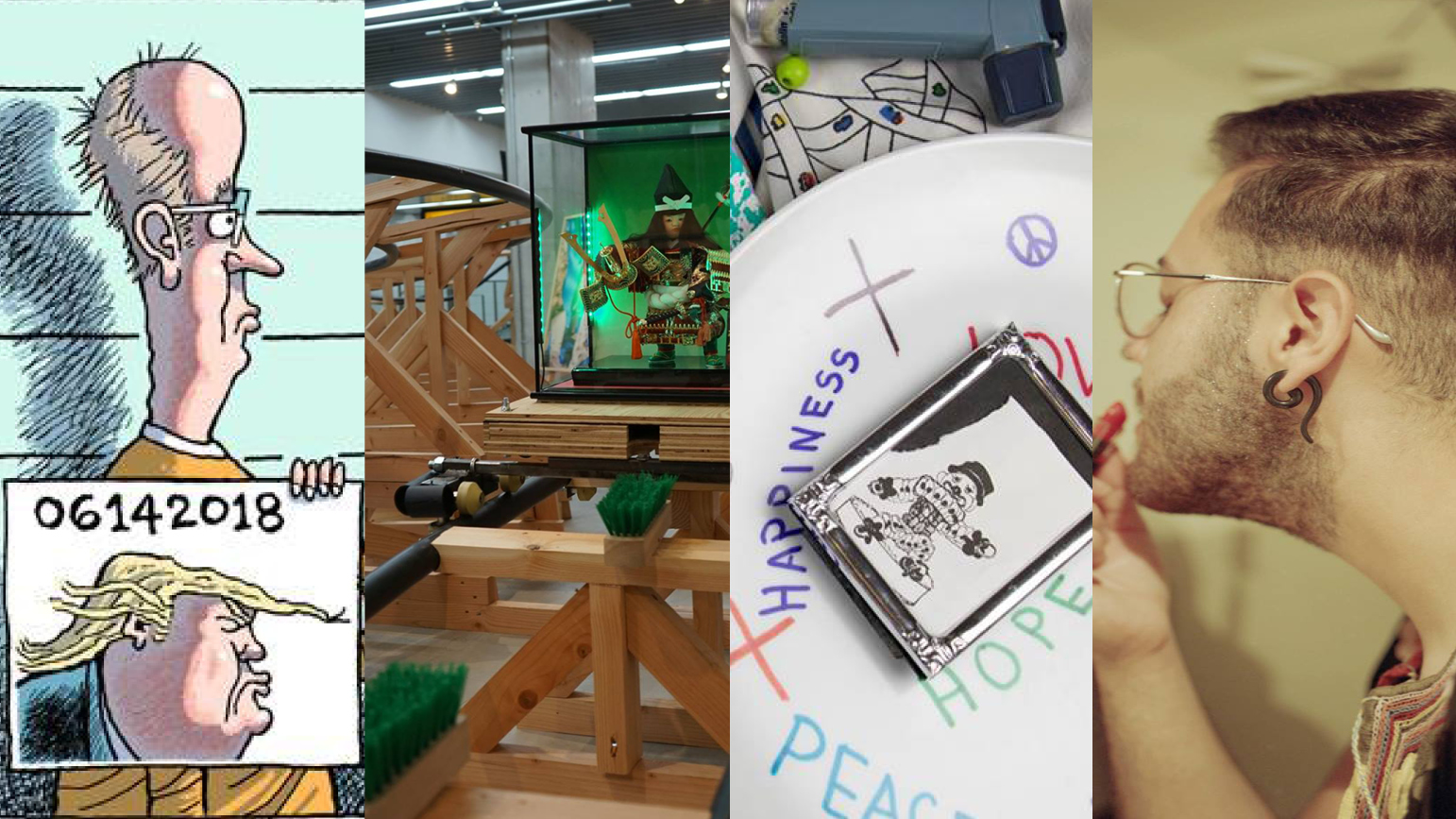 Welcome to the Weekly Alumni News Update! To have your news featured, please email schoolofartnews@cmu.edu with a brief description, link to more information, image, and your degree and class year. Or, add us to your newsletter list.
Lauren F. Adams MFA '07 was interviewed by WHUP radio in Hillsborough, NC about her "Crazy Quilt" and how it incorporates reactions to the toppling of the Silent Same confederate monument (interview begins at 22:00).
"I.M.A.G.I.N.E. Peace Now," curated by Boris Bally BFA '84 wrapped up two years of traveling throughout the country at Radius Gallery in Santa Cruz, CA. The exhibition, featuring decommissioned guns received through buyback programs and transformed into art objects and new expressions of peace, closed on Nov 11.
Jacob Ciocci MFA '05 has a solo exhibition titled "Cable Management, 5 Minute Crafts, 7 Reasons You Aren't Happy : )" at Night Light Studios and Gallery in Chicago, through Dec 15. (image 3)
Jenna Kay Houston BHA '18 will give a talk at Small Mall about their photographic series "Tuck and Roll" at Small Mall in Pittsburgh on Nov 16. (image 4)
Florida Daily Post profiled Dana Kleinman BFA '97 with her sister Ruth Avra Kleinman who make work together under the moniker KX2.
Summer Leavitt BFA '18 read her work at "Fleur de Sel," a poetry reading series on Nov 8 at Bunker Projects.
Oscar Peters MFA '12 has a new roller coaster in a group show in a subway station in Osaka Japan. The coaster, installed in Art Area B1 carries work by local artists. (image 2)
Rob Rogers' MFA '84 new book, Enemy of the People: A Cartoonist's Journey, is now available for pre-order. The book, published by IDW, will ship by December 11. (image 1)
Benjamin Rosenthal BFA '06 was profiled in KC Studio Magazine, a publication covering the arts and culture of Kansas City.
Colpa Press published Andy Vogt's BFA '92 book The End, a selection of photographs of Pittsburgh and San Francisco.