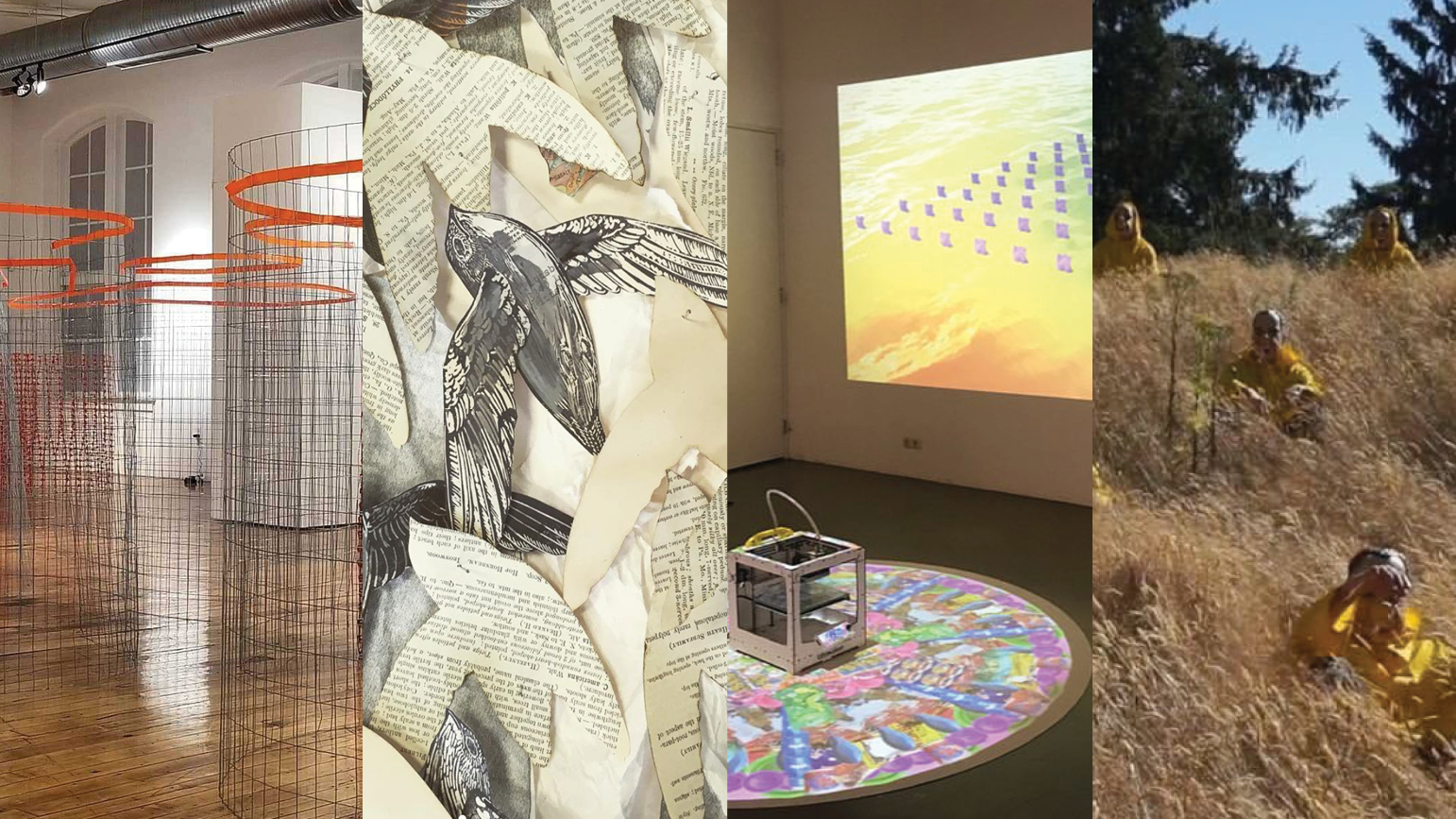 Welcome to the Weekly Alumni News Update! To have your news featured, please email schoolofartnews@cmu.edu with a brief description, link to more information, image, and your degree and class year. Or, add us to your newsletter list.
Anna Baldi BFA '18 has work published in Muses & Vices no. 4.
Patricia Barefoot BFA '87, Elizabeth Asche Douglas BFA '51, Sarika Goulatia BFA '06, Constance Merriman BFA '70, Ann Rosenthal MFA '99, and Philip Rostek MFA '73 exhibit work in "Em bod i ment," a show of work by Group A member juried by Prof Devan Shimoyama opening at Spinning Plate Gallery on Nov 15.
Zhiwan Cheung MFA '16 (image 4) and Amisha Gadani BFA '07 exhibited in "0.1%" at Navel LA, Nov 7-11.
Women's Art Journal published a retrospective article on Vivien Abrams Collens' BFA '68 work in the Fall/Winter issue (volume 40, number 2).
Laura Domencic BFA '96 exhibits in a group exhibition at Firebox Art Studios in Carnegie, PA, which opened Nov 8.
Naomi Falk MFA '03 participates in the South Carolina Biennial, Part 2, opening Nov 13 at 701: Center for Contemporary Art in Columbia, SC. (image 1)
Sarika Goulatia BFA '06, Maria Mangano BFA '06 (image 2), and Aaron Regal BFA '13 exhibit in the Guild Member New Collective exhibition at The Pittsburgh Center for Arts & Media, opening Nov 15.
J Houston BHA '18 has a solo exhibition titled "it's possible we need it" at the Klemm Gallery at Siena Heights University in Adrian, MI, opening Nov 14.
Gillian Jagger BFA '53, known for her sculptural work that emphasized commonality and connection between humans, animals, and the earth, passed away on Oct 21 at the age of 88.
Mary Maggic BSA '13 exhibits in "Xenobodies in mutation," a three person exhibition at Tetem in Enschede, The Netherlands, through Nov 17. Maggic's work was created with collaborator and creative technologies Char Stiles BCSA '18. (image 3)
Barbara Strasen BFA '63 exhibits in "Layer Upon Layer" at El Camino College in Torrance, CA, opening Nov 18.
Amera Rizk BFA '98 is Associate Film Editor for "Soul," which Pixar just announced will be in theaters in June 2020.
All three of Benjamin Rosenthal's BFA '06 works from his "Human, Next" trilogy will screen at "IMARP – Mostra Internacional de Dança – Imagens em Movimento" in São Paulo, Brazil, Nov 18-23.
Barbara Rosenthal BFA '70 and Paul Zelevansky BFA '67 will read from their books at Lichtundfire in New York City on Nov 13.
Dan Wilcox MFA '13, along with Ludger Bümmer and Yannick Hofmann exhibited the sound installation "NCS_HypogeanCity" at the In Vitro festival in Matera, Italy, Sept 21-22.