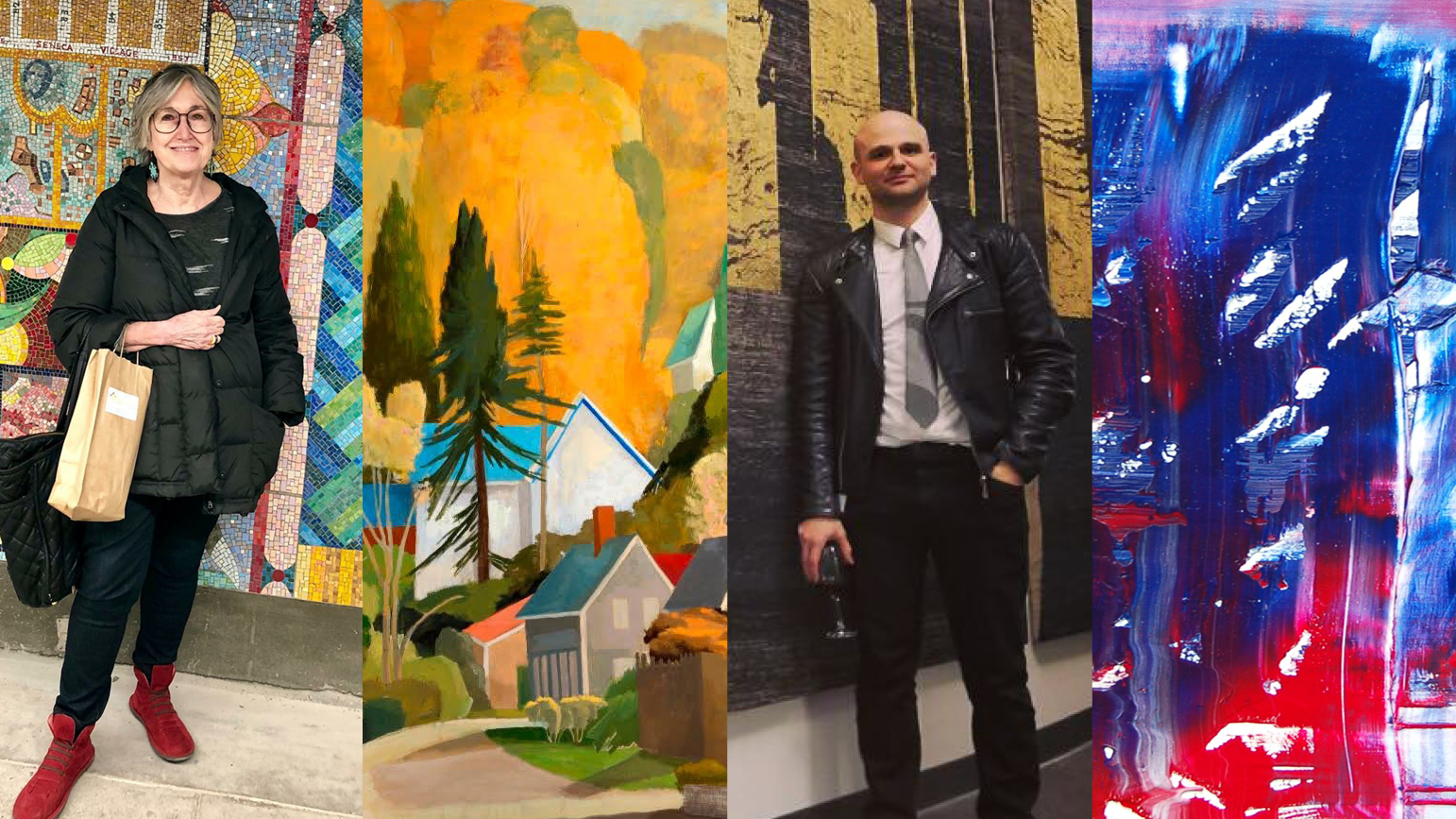 Welcome to the Weekly Alumni News Update! To have your news featured, please email schoolofartnews@cmu.edu with a brief description, link to more information, image, and your degree and class year. Or, add us to your newsletter list.
Bianca Beck BFA '01 has a solo exhibition titled "Body Double" opening at Rachel Uffner Gallery in NYC on Nov 4.
Terry Boyd BFA '09 was commissioned to create a work of art for CMU's Heinz College, which was unveiled last Friday. (image 3)
Stefan Dezil BFA '12 was interviewed in VoyageLA.
David French BFA '87 has an exhibition of 56 paintings titled "Chromatic Payoff" on view a the Noyes Museum of Art in Atlantic City, NJ through Jan 6. (image 4)
Riley Harmon MFA '11 presents "What It Is Without The Hand That Wields It" in the Festival of Dangerous Ideas on Cockatoo Island in Sydney, Australia, Nov 3-4.
Dana Lynn Kleinman BFA '97, as part of the collective KX2, exhibits with Maria Elena Kravetz Gallery at SOFA, the Sculptural Objects and Functional Art and Design fair, on Navy Pier in Chicago, Nov 1-4.
The NYC MTA unveiled Joyce Kozloff's BFA '64 new commission for the 86th Street subway station titled "Parkside Portraits." The work views the upper west side through a micro and macro lens, offering perspective shifts from aerial views to close ups of building design elements. (image 1)
Alex Lukas MFA '18 participates in the CMCA Biennial at the Center for Maine Contemporary Art, opening Nov 3.
Tucker Marder MFA '16 will give a lecture at the School of Art, Architecture and Design at Indiana University Bloomington on Nov 2.
Celia Reisman BFA '78 has a solo exhibition of paintings titled "Five Places" at HCAA's Lancaster's campus, opening Nov 5. (image 2)
Susan Schwalb BFA '65 exhibits in "Silver Lining: Contemporary Works in Silverpoint" at Columbus State University in GA, through Nov 17.
Fereshteh Toosi MFA '04 gave a talk at Bailey Contemporary Arts in Pompano Beach, FL on Oct 19. She also presented "Water Ouija," channeling the toxic algal blooms called "red tide" at Mana Contemporary Miami on Oct 20.
Andy Vogt BFA '92 was commissioned to create wood sculptures for Texas A+M's new Zachry Engineering Complex and for an exterior wall at Harmon Guesthouse in Healdsburg, CA. Both pieces are now on view.
Dan Wilcox MFA '13 has work included in "Open Codes II" at ZKM, Center for Art and Media Karlsruhe in Germany, through Jan 6.
Sherri Wolfgang BFA '83 was included in "The Soho Art Show" presented by Dacia Gallery at 195 Chrystie St in NYC on Oct 27.