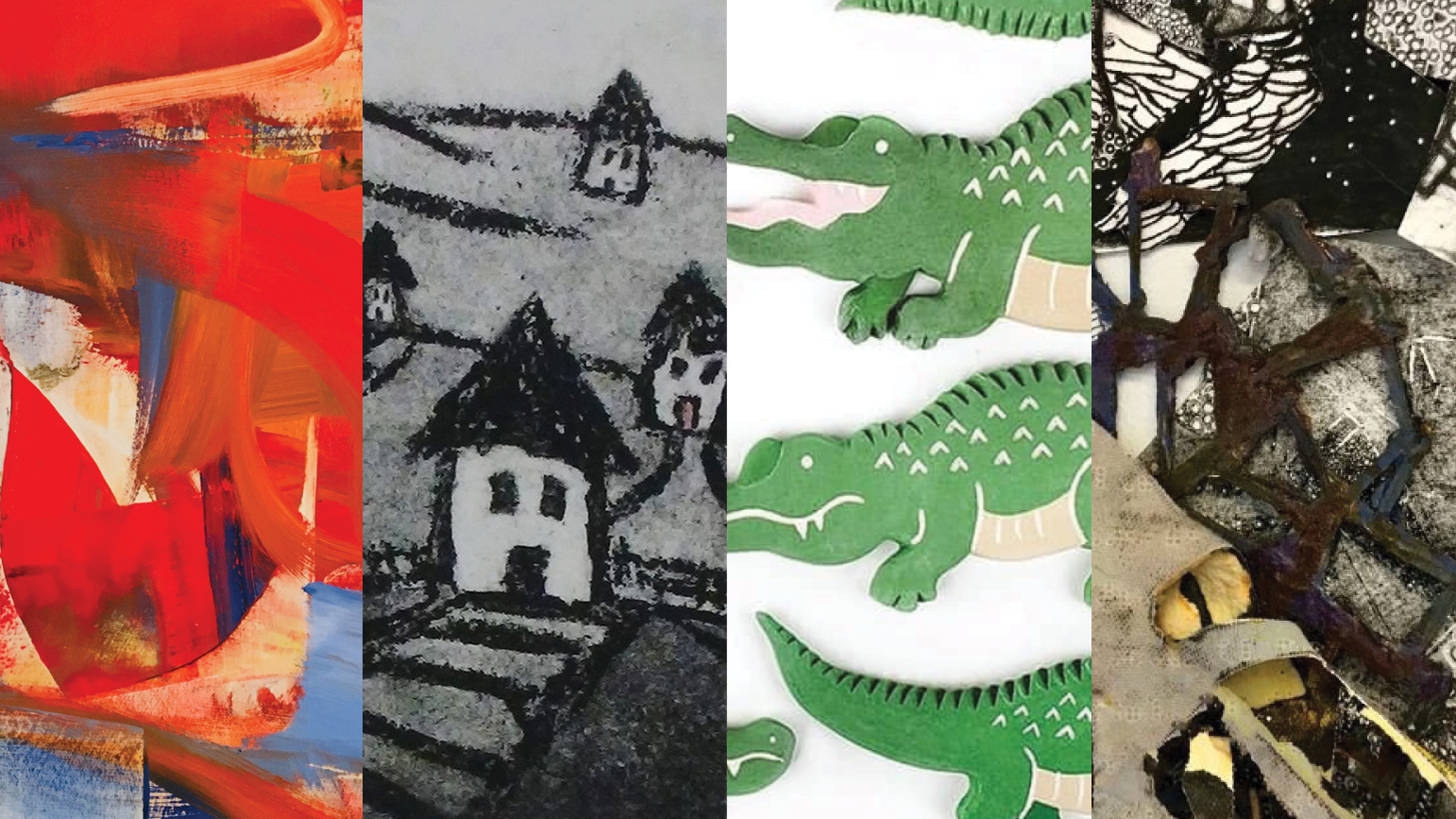 Welcome to the Weekly Alumni News Update! To have your news featured, please email schoolofartnews@cmu.edu with a brief description, link to more information, image, and your degree and class year. Or, add us to your newsletter list.
Margery Amdur BFA '79 has a solo exhibition titled "Blind Site" at the New Arts Program in Kutztown, PA, opening Nov 2. (image 4)
Milo Berezin's BFA '08 work appeared on the cover of last week's Pittsburgh City Paper. (image 3)
Leslie A. Brown BFA '80 has a two-person exhibition titled "Spellbound" at the Middle Ridge Gallery and Winery in Idyllwild, CA through Jan 12. She will give an artist talk on Nov 2.
Hilda Green Demsky BFA '58 has a solo exhibition titled "Abstraction Revisited" at Pleiades Gallery in New York City, opening Oct 29.
Elaine Erne BFA '88 participates in the 4th New York International Miniature Print Exhibition, opening Nov 1 at the Manhattan Graphics Center. (image 2)
Colette Gaiter BFA '76 was a keynote speaker at the 2019 American Printing History Association Conference: One Press, Many Hands.
Benton Jones BFA '92 was hired as the Director of Art at the Cape Cod Museum of Art. He also has run the Millstone Sculpture Gallery in Brewster, MA for 20 years.
Jenny Lee BFA '00 participates in "Material Images" at Marvin Gardens in Queens, NY through Nov 17.
The film "In the House of My Mother," which Carolina Loyola-Garcia MFA '00 co-choreographed and is featured in, will be screened in the Pittsburgh Shorts Film Festival on Nov 3.
Samantha Mack BFA '18 has work included in "Adivine" at The Loft in Savannah, GA, through Oct 31.
Claire McConaughy BFA '81 has a solo exhibition titled "Not So Far Away" opening at The Painting Center in New York City on Oct 29.
Barbara Rosenthal's BFA '70 work "Man in the Mirror, Chekhov's House Melikhovo (Ме́лихово)" is included in an online auction benefiting Film-makers Coop, Nov 4-18.
Sarah Stinson-Hurwitz BHA '18 had work included in an exhibition at the Beechwood Arts in Westport, CT on Oct 23.
Jen Urso BFA '96 has work included in "Monochrome" at Site:Brooklyn, opening Nov 1.
Rebecca Vaughan MFA '01 has work included in "The Unbearable Impermanence of Things" at the Vicki Myhren Gallery at the University of Denver, through Dec 1.
Jessica Vaughn BHA '06 was interviewed for the latest issue of Art Papers.
Carolyn Wenning BFA '89 has a solo exhibition titled "Realm(s)" at the Boxheart Gallery in Pittsburgh, through Nov 22. (image 1)