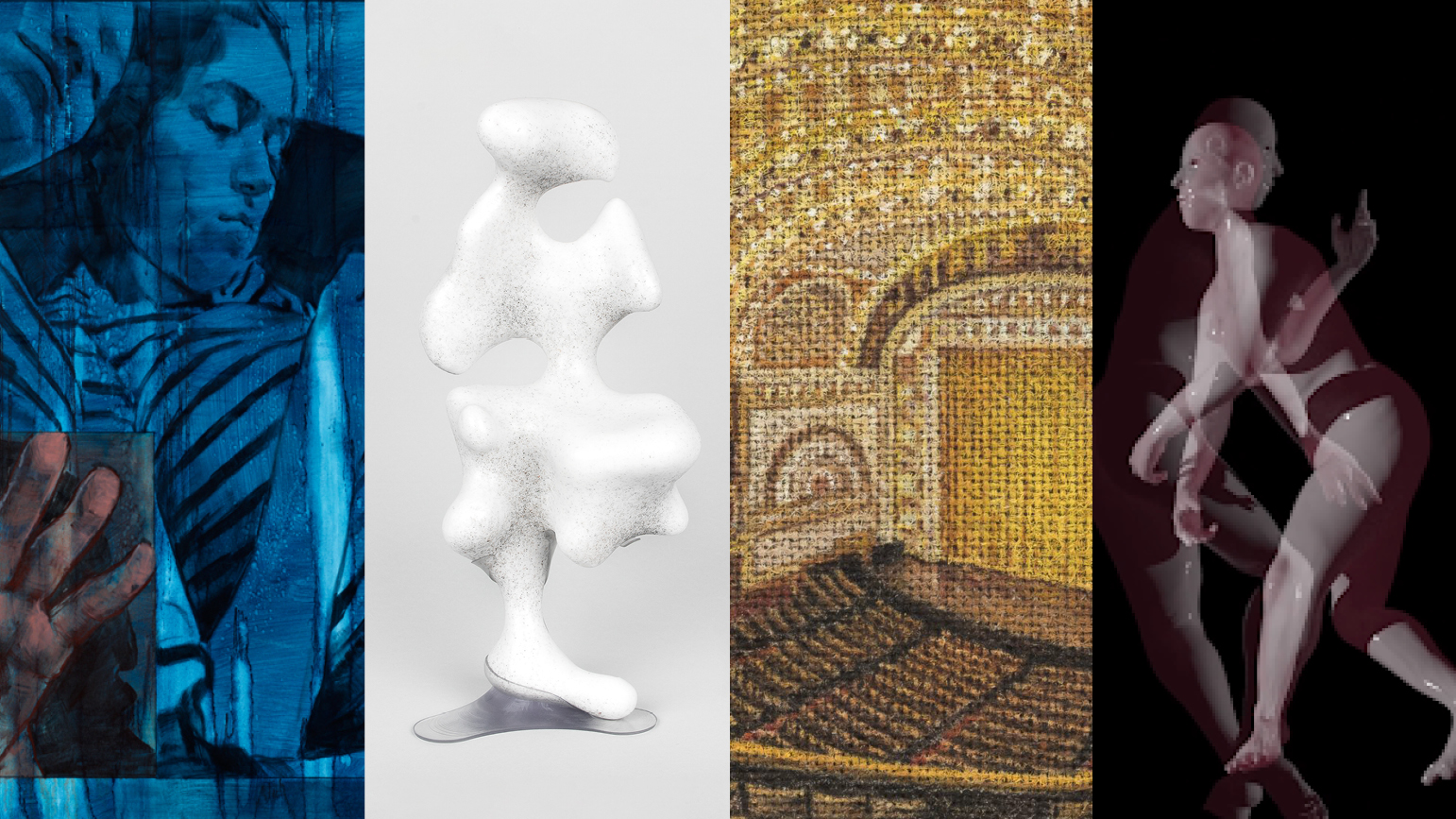 Welcome to the Weekly Alumni News Update! To have your news featured, please email schoolofartnews@cmu.edu with a brief description, link to more information, image, and your degree and class year. Or, add us to your newsletter list.
Printed Matter in New York City presents the launch of Magali Duzant's BHA '09 new book The Moon & Stars Can Be Yours: Notes on Subway Psychics, published by Conveyor Editions.
Laura Karetzky BFA '87 has a solo exhibition of her new work titled "Ratio: Poems" at Lora Schlesinger Gallery in Santa Monica, opening Oct 26. (image 1)
Joyce Kozloff BFA '64 is featured in "With Pleasure: Pattern and Decoration in American Art 1972-1985," the first full-scale scholarly survey of this American art movement, opening Oct 27.
Summer Leavitt BFA '18 and Adrienne Cassel BA '18 have a two-person exhibition titled "Possible Bodies" opening at Phosphor Project Space in Pittsburgh on Oct 26. (image 4)
Jennifer Lee BFA '00 has a solo exhibition titled "Cold Turkey" opening at Lulu in Brussels, Belgium, her first solo show in Europe, on Oct 24. (image 3)
Mary Maggic BSA '13 was profiled by Clot Magazine, an online platform dedicated to the intersection of art, science and technology.
Adam Milner MFA '17 has work included in "Hidden Harbor" at Mindy Solomon Gallery in Miami, opening Oct 25.
Paula Overbay MFA '80 shows work in a three-person exhibition "Intricate Universe" at Corners Gallery in Ithaca, NY, through Nov 23.
Brody Reiman BFA '92 and Charlie Castaneda BFA '92 have work included in the exhibition "In Plain Sight" at the Mills College Art Museum in Oakland, CA, through Dec 8.
Rigel Richardson BFA '13 shows work as part of the "Queer Ecology Hanky Project: Art Hankies Exploring Connection and Desire," organized by Mary Tremonte BHA '00 and Vanessa Adams, at The Future in Minneapolis on Oct 25 and at The White Page Gallery in Minneapolis, Oct 27-30.
Ben Snell's BA '17 AI sculpture "Dio" has been shortlisted for the Lumen Prize, an award celebrating art created with technology. An accompanying exhibition will debut three of his new AI sculptures and will run from Oct 30 to Nov 2 at The Cello Factory Gallery in London, England. (image 2)
Nathania Vishnevsky BFA '90 has three works in the International Artist Day Anonymous Art Show at 100 Braid Street Studios in New Westminster, Canada, Oct 25-27.