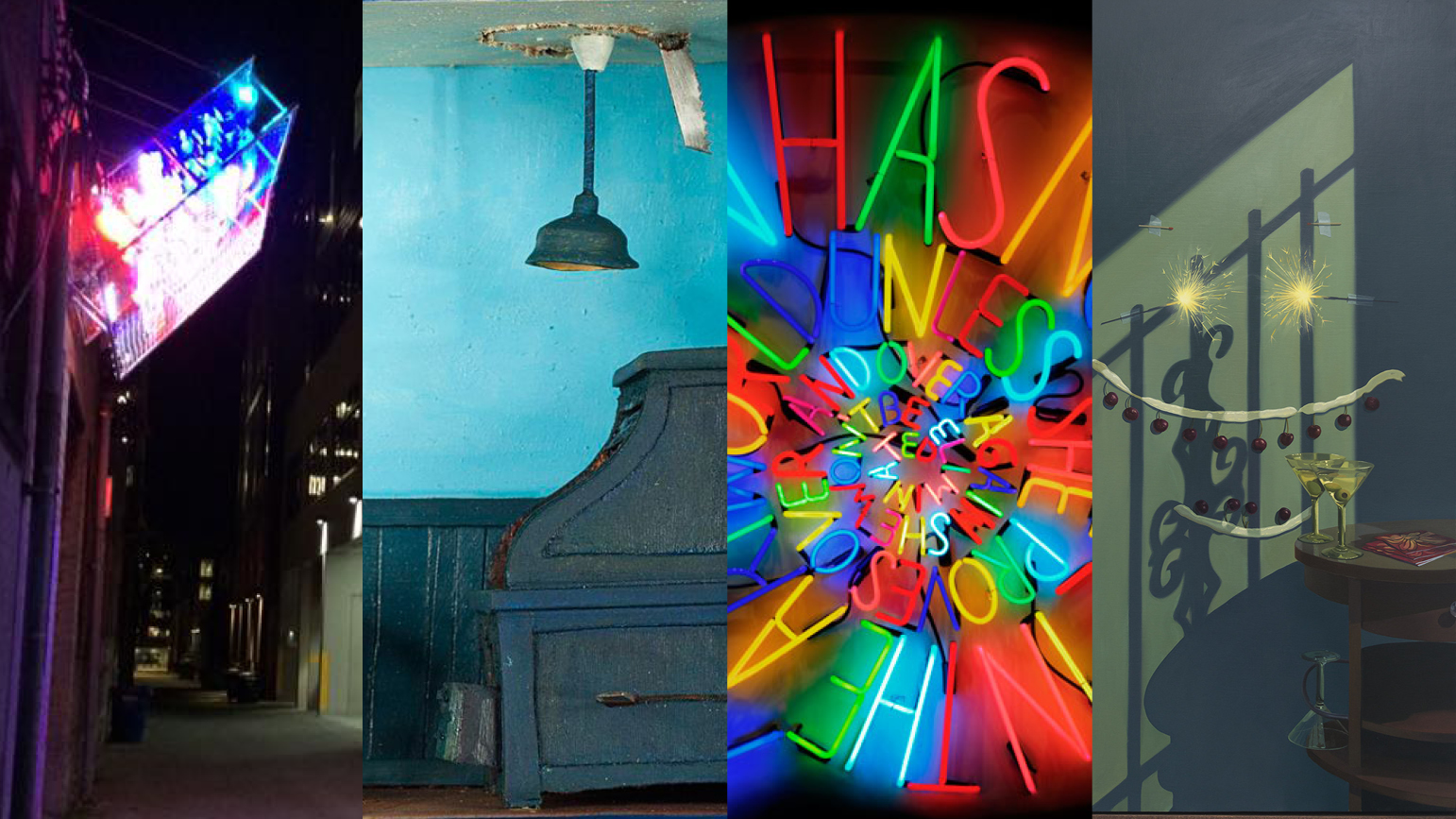 Welcome to the Weekly Alumni News Update! To have your news featured, please email schoolofartnews@cmu.edu with a brief description, link to more information, image, and your degree and class year. Or, add us to your newsletter list.
David Beck BFA '76 exhibits in "Grand Salon: The Visionary Eye of Allan Stone" at Allan Stone Projects in NYC, through Nov 10. (image 2)
Peter Coffin MFA '00 participates in "The Hippies" at Meantime Co. in Brooklyn, which opened Oct 11.
Janet Culberston BFA '53 has five works in "Eclecticism" at Art League of Long Island in Dix Hills, NY, through Oct 28.
David Halsell's MFA '07 work "Caging the Colors" was on view Oct 11-14 in Seattle as part of Borealis, a festival of light, at the Museum of History and Industry. (image 1)
Linda Fleming BFA '66 has a solo exhibition titled "Confluence" on view at the University of Colorado, Colorado Springs through Dec 9.
Max Gonzales BFA '16, Christina Lee BFA '14, Paul Peng BCSA '17, and Lizzee Solomon BFA '11 exhibited at the Pittsburgh Zine Fair on Oct 14 at Union Project.
Deborah Kass BFA '74 has work included in "True Colors" at the Nassau County Museum of Art in Roslyn Harbor, NY, through Nov 4. (image 3)
Patrick Meagher BFA '95 participates in "Standing Still, Lying Down, As If" at the Museum of Contemporary Art Detroit. He will also have a conversation with Adriana Ramic during the opening reception on Oct 26.
Rachel Popowcer BFA has a solo exhibition titled "Ordinary Magic" at Oasis Albuquerque Art Gallery in NM, through Dec 19.
Paul Rouphail BFA '10 had a solo exhibition titled "The Ideal Room" at Smart Objects in LA, Sept 7 – Oct 13. (image 4)
Carrie Schneider BHA '01 exhibits in "Still Life" at September in Hudson, NY, through Oct 28.
Susan Schwalb BFA '65 has two works in the the 25th anniversary exhibition at the Museum of Contemporary Religious Art at St. Louis University, through Feb 19.
Ruth Stanford's MFA '05 installation "From the Ground Up" is on view at Roswell Historic Square in GA through Oct 31.
Ryan Woodring BFA '10 premiered his first virtual reality piece titled "Unlimited Unveil" at Invisible Thread in Portland, OR on Oct 7.