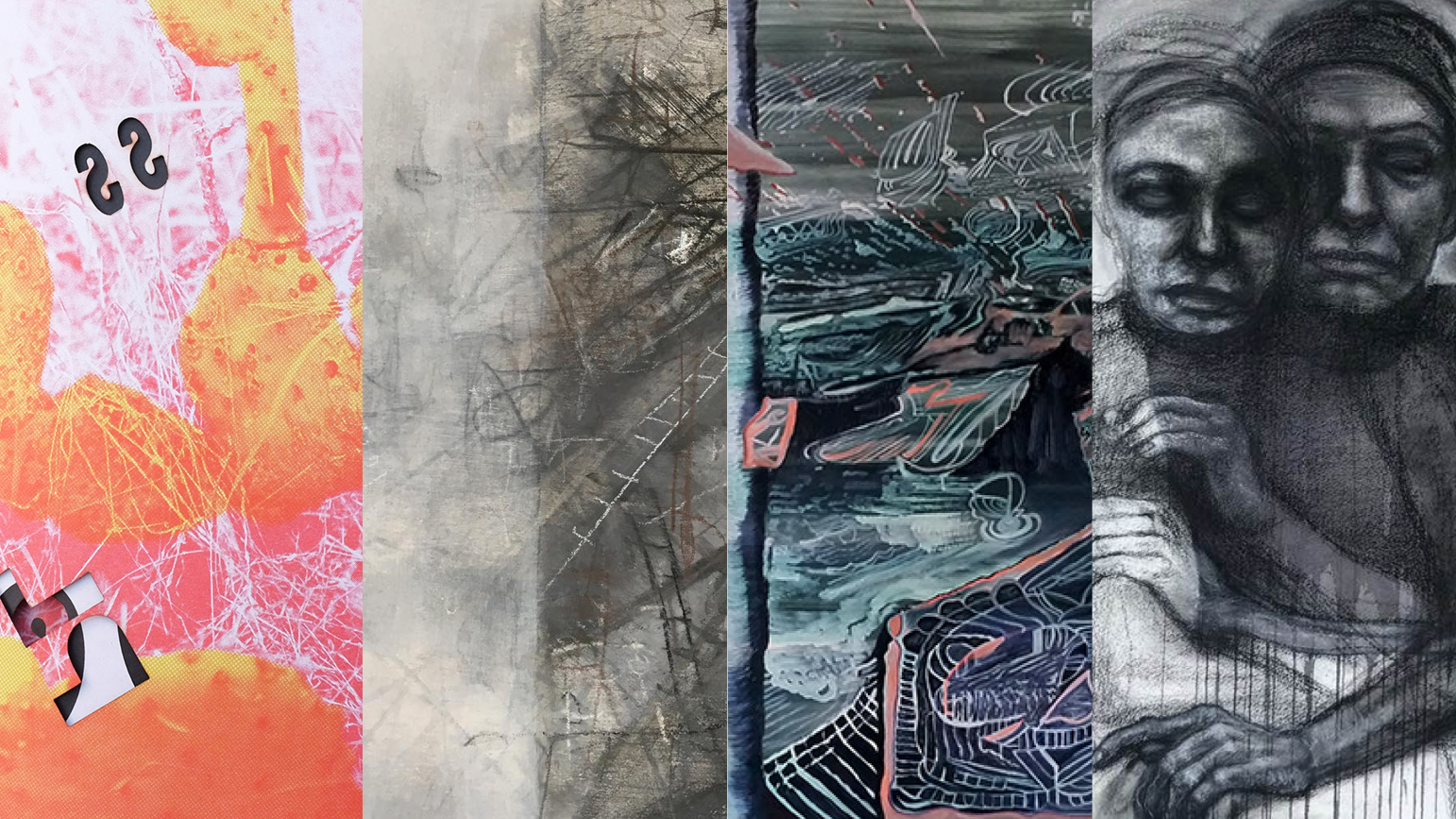 Welcome to the Weekly Alumni News Update! To have your news featured, please email schoolofartnews@cmu.edu with a brief description, link to more information, image, and your degree and class year. Or, add us to your newsletter list.
Elizabeth Asche Douglas BFA '51 will be a vocalist for the Postcommodity installation in the Hall of Sculpture during the run of the Carnegie International.
Elizabeth Asche Douglas BFA '51 and Hyla Willis MFA '99 have work included in Suzanne Werder's Busnegie, which will feature artwork in the bus shelters by the Carnegie Museum of Art during the run of the Carnegie International.
Patricia Barefoot BFA '87 (image 4), Max Emiliano Gonzales BFA '16, Oreen Cohen MFA '14, Samantha Mack BFA '18, and Terry M. Boyd BFA '09 along with Professor Emerita Mary Weidner, participate in "Metamorphosis" at Percolate in Wilkinsburg, through Nov 30.
"Amazing!: Mel Bochner [BFA '62] Prints from the Collections of Jordan D. Schnitzer and his Family Foundation" opens at the Philbrook Museum of Art in Tulsa, OK on Oct 14.
Carolyn Clayton BFA '09 and Jessica Moss BFA '09 were awarded residencies at Elsewhere in Greensboro, NC. Clayton's residency took place Feb 6 – Mar 6, 2019 and Moss' residency takes place Oct 11 – Nov 6.
Oreen Cohen MFA '14, Laura Domencic BFA '96 (image 2), and Phil Rostek MFA '73 participate in "Soul" at Panza Gallery in Millvale, PA, through Oct 27.
Matthew Constant BFA '18 was awarded an artist residency at Mass MOCA, beginning Jan 2019.
Jamie Earnest BFA '16 is part of a four person exhibition at Gallery One in Pittsburgh, which opened Oct 3.
Juliacks BHA '08 has a solo exhibition titled "The Blind Rooms" at the University of Oklahoma, opening today. (image 3)
The Smithsonian National Portrait Gallery acquired Deborah Kass' BFA '74 work "Orange Disaster (Linda Nochlin).
Joyce Kozloff BFA '64 exhibits in "Modes of Mapping" at the Borough of Manhattan Community College, through Oct 25.
Krisztina Lazar's BFA '04 "Unicorn Mandala" will be shown at The Mill in San Francisco as part of Opening Studios, Oct 13-14.
Dana Lok BFA '11 was awarded a Rema Hort Mann Emerging Artist Grant in New York City.
Alex Lukas MFA '18 will give a talk titled "Localized Vernacular Name Writing: Text on the American Landscape" at the Boston Art Book Fair on Oct 13. He will also be debuting two new issues of his "Written Names Fanzine" at the fair. (image 1)
Shana Moulton MFA '04 exhibits in "Ways of Seeing" at NYU Abu Dhabi Art Gallery, through Nov 17.
Anne Richter BFA '62 was selected to participate in "Art Elevated" a competition that selected 90 artists images for lamp posts flags in the Garment District of New York, through the end of Oct.
Sarah Stengle BFA '84 participates in "Pushing 40" at the Trenton City Museum at Ellarslie, NJ, through Nov 11.
Benjamin Welmond's BFA '12 film "Faulty Father" will be shown in Halloweenapalooza at Hotel Ottumwa in Iowa on Oct 12 and 13.
Audra Wist BFA '12 is performing in Oscar David Alvarez's "TOOL Shirt" at the Broad Museum in LA on Oct 11.