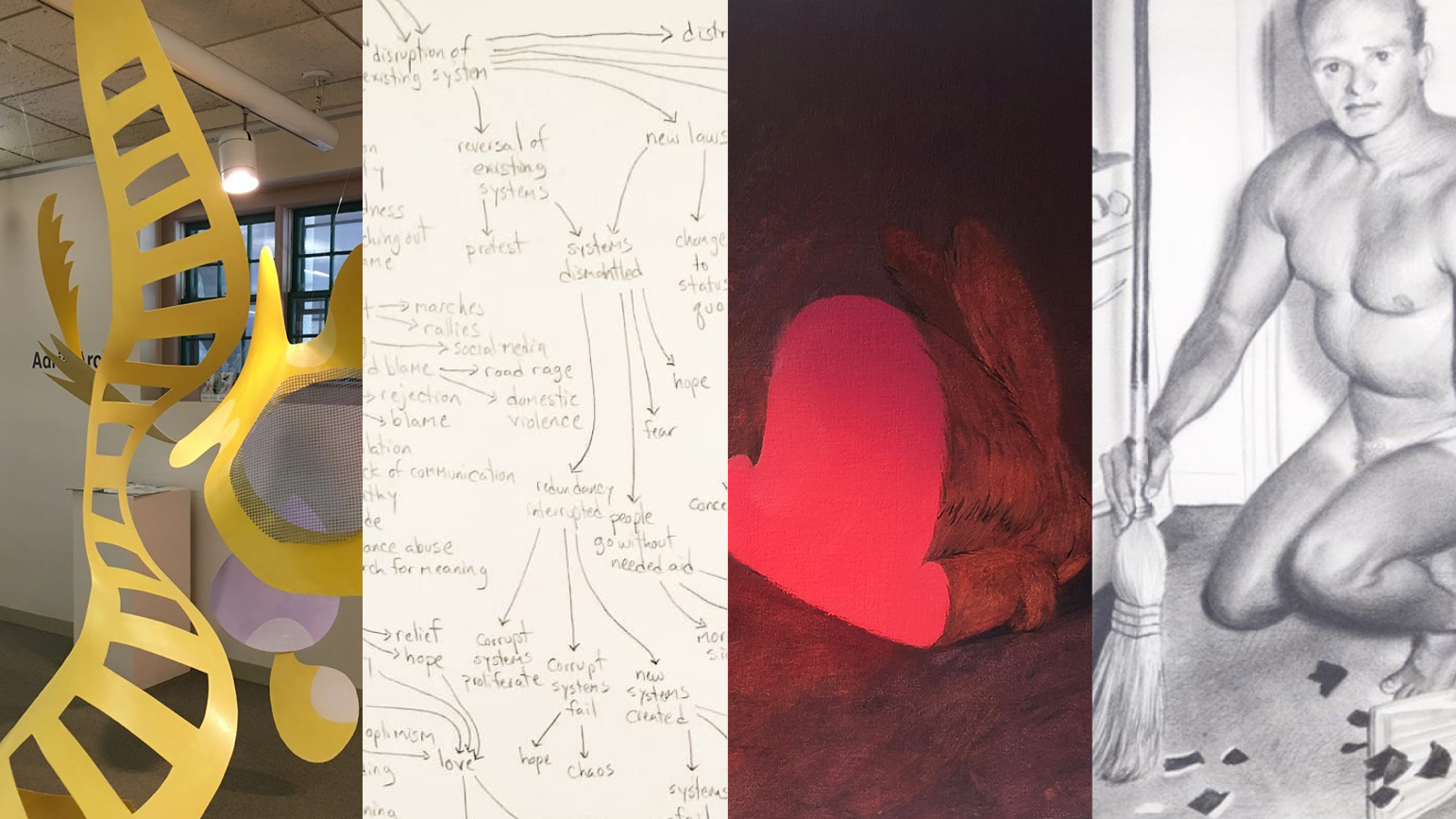 Welcome to the Weekly Alumni News Update! To have your news featured, please email schoolofartnews@cmu.edu with a brief description, link to more information, image, and your degree and class year. Or, add us to your newsletter list.
Stephen Antonson BFA '89 is included in William Abranowicz's new book American Originals: Creative Interiors.
Adria Arch BFA '74 has a new installation titled "Do I Make You Happy" at Pine Manor College in Chestnut Hill, MA, through Nov 10. (image 1)
Bianca Beck BFA '01 participates in "Ten Years," a group show at Rachel Uffner Gallery in New York, through Oct 28.
Janet Culbertson BFA '53 has a solo exhibition titled "Go With The Flow" opening at Sirens' Song Gallery in Greensport, NY, opening Oct 6.
John Currin BFA '84 (image 4) and Andy Warhol BFA '49 have collaborative works in "The Art of Collaboration" at Venus Over Manhattan, through Oct 27.
Leslie Golomb BFA '75 participates in "Common Threads," an exhibition that examines the political, social, cultural, and aesthetic priorities of women of varying faith traditions, at Carnegie Library, opening Oct 7.
Merritt Johnson BFA '03 is a finalist for the inaugural Burke Prize for contemporary craft at The Museum of Arts and Design in NYC.
Joyce Kozloff BFA '64 exhibits in "Color Compositions," a group exhibition featuring visual artists collaborating with an artist from another discipline, at the Garrison Art Center in NY, through Oct 14.
Tate Leone BFA '16 accepted a new position at Coach 1941 as a print designer for womens and mens ready-to-wear, collection, and outlet lines.
Dana Lok BFA '11 has a solo exhibition titled "Mind's Mouth" is on view at Bianca D'Alessandro in Copenhagen, through Nov 3. (image 3)
Claire McConaughy BFA '81 exhibits in "Mutual Aid," a group show at Kent State University in Canton, OH, through Oct 26.
Nicole Repack BFA '93 and Paul Madonna BFA participate in stARTup Small Works in San Francisco, Sept 28-30.
Charles Ritchie MFA '80 participates in "Match-Up: New Works on Paper in Dialogue" the the Columbus Museum in GA, through Nov 11.
Mobile Print Power, founded by Patrick Rowe BFA '05, has a chapter in the new book Freedom of the Presses: Artists Books in the Twenty-First Century.
Thomas Sturgill MFA '06 exhibits in "Boys Will Be Boys" at Whitdel Arts in Detroit, through Nov 3.
Jen Urso BFA '96 exhibits in "The 15th, 19th and 26th: Get Out the Vote" at Practical Art in Phoenix, AZ, through Oct 31. (image 2)
Jina Valentine BFA '01 co-authored an article on her project "Black Lunch Table" for Art21.