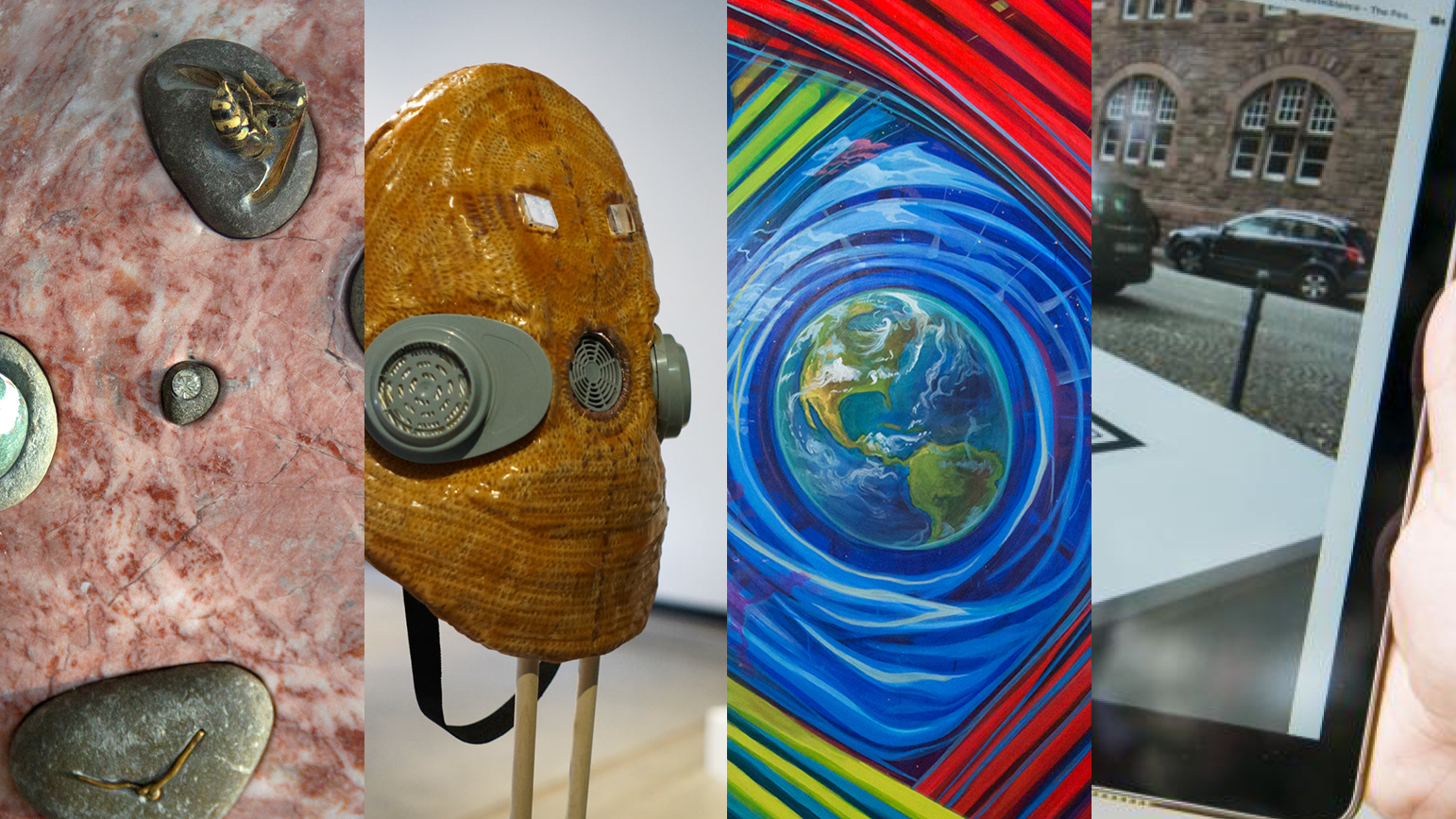 Welcome to the Weekly Alumni News Update! To have your news featured, please email schoolofartnews@cmu.edu with a brief description, link to more information, image, and your degree and class year. Or, add us to your newsletter list.
Felipe Castelblanco MFA '13 exhibited "The People's Monument 2.0" at ZKM Karlsruhe, Germany, Aug 8 – Sept 15. (image 4)
Felipe Castelblanco MFA '13 co-founded an indigenous media collective in the Columbian Amazon, which held its first screening on Sept 19 at the Fundacíon Gilberto Alzate Avendaño in Bogota, Columbia.
John Currin BFA '84 was interviewed in Vogue, T: The New York Times Style Magazine, and GQ Magazine about his new exhibition at Dallas Contemporary.
Hannah Epstein MFA '17 was interviewed by CBC radio about her work in the exhibition 29Rooms, on view Sept 26 – Oct 6 at Toronto's Exhibition Place.
Adriana Garcia BFA '99 unveiled her mural "Changing the World" at Northwest Vista College in San Antonio, TX on Sept 18. (image 3)
Justin Giunta BFA '01 has a solo exhibition titled "Emotional Rescue" at Thiel College in Greenville, PA, through Oct 18.
Ian Ingram's MFA '10 essay "A Cacophony of Signals: Woodpecker Sexbots, Squirrel NORAD, and Other Robotic Systems" was published in the "Interspecies Communication" issue of PUBLIC Journal.
Merritt Johnson BFA '03 (image 2) and Renee Stout BFA '80 exhibit with Accola Griefen Gallery at the Art & Social Activism Festival in New York City, opening Sept 26.
Deborah Kass BFA '74 participates in "Word Up!" an exhibition of artists who use text in their work, at C24 Gallery in New York City, opening Sept 26.
Adam Milner MFA '17 has a solo exhibition titled "Taking good care of your things leads to taking good care of yourself," opening at the Mattress Factory in Pittsburgh on Sept 24. (image 1)
Shana Moulton MFA '04 was interviewed in Dazed Magazine about her exhibition at the Zabludowicz Collection.
Ellen Steinfeld's BFA '67 work "Four Graces" is included in the exhibition "For the Love of Art" at the Castellani Art Museum of Niagara University, through Jan 12.
As part of the subRosa collective, Hyla Willis MFA '99 exhibits in "Collectivism" at the Metropolitan State University of Denver, through Oct 19.