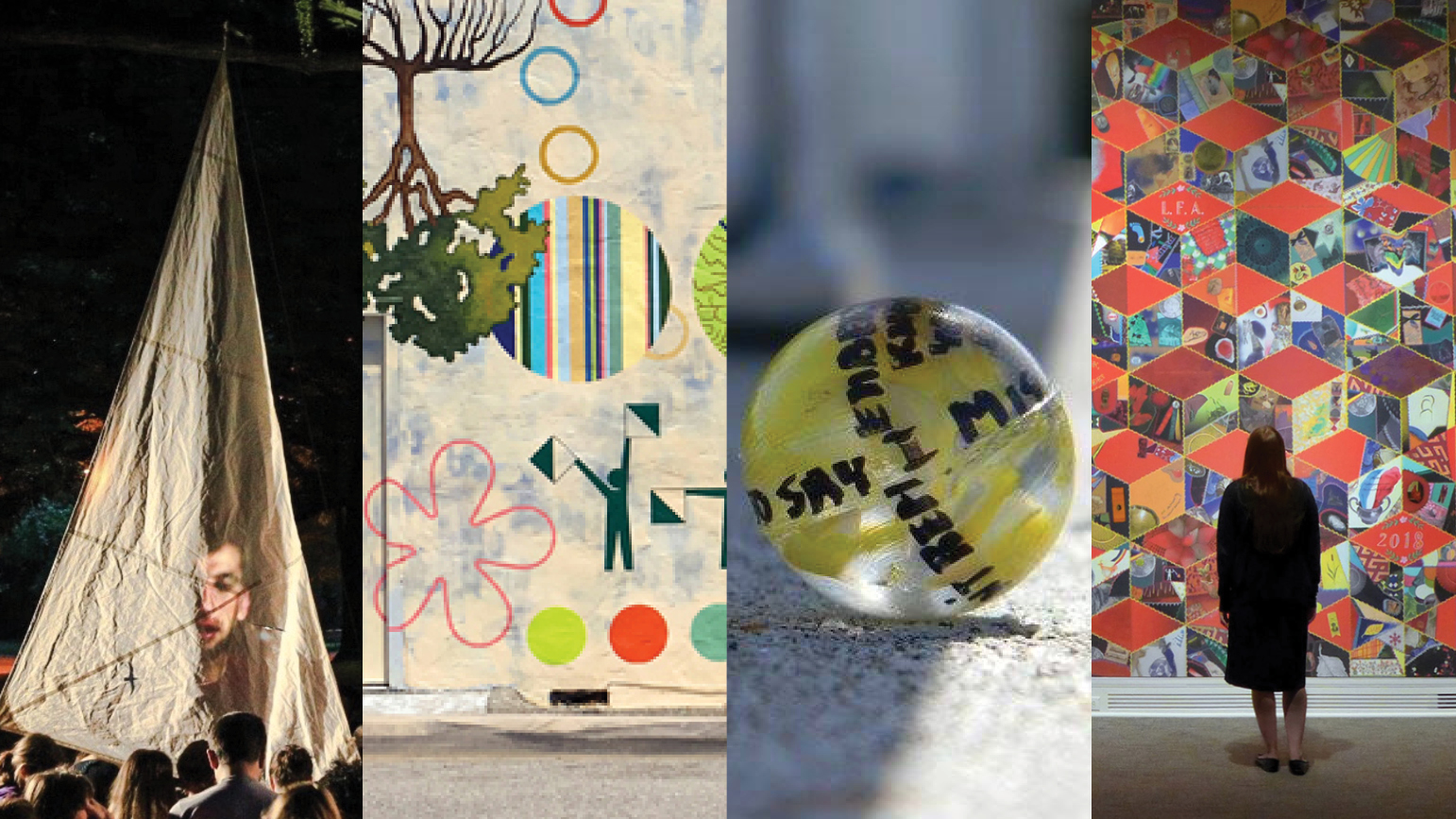 Welcome to the Weekly Alumni News Update! To have your news featured, please email schoolofartnews@cmu.edu with a brief description, link to more information, image, and your degree and class year. Or, add us to your newsletter list.
Lauren F. Adams MFA '07 has a new project, "Crazy Quilts," in "Birthday Presents" at the Ackland Art Museum at UNC-Chapel Hill, opening Sept 21. (image 4)
Nicole Linh Anderson's BHA '15 books were shown at the Bangkok Art Book Fair, Sept 6-9.
Crystala Armagost BFA '03, Terry Boyd BFA '09, Sarika Goulatia BFA '06, Samira Shaheen BFA '81 (image 1) have work included in the the Associated Artists of Pittsburgh's 106th Annual Exhibition, through Oct 27.
Elizabeth Asche Douglas BFA participates in "Art on the Walls: A Retrospective Moment" at Greater Pittsburgh Arts Council, opening Sept 21.
Agnes Bolt MFA '12 co-organized "Spirit Chair," part of a series of exhibitions taking place in homes for sale, in Copenhagen, Aug 30 – Sept 2.
Kevin Brophy MFA '17 is the 2018-19 artist in residence for the Department of Visual Art at the University of Kansas. She gave an artist's talk at Spencer Museum of Art in Lawrence, Kansas on Sept. 13. (image 3)
Borderless TV, a project by Felipe Castelblanco MFA '13 and Syrian refugees living in Cologne, secured support and funding for an additional three years. A film from the project will be shown at CAT Cologne on Sept 19.
Spencer Diaz BFA '12 is the lead rigger on the Mega Man: Fully Charged series that premiered on the Cartoon Network in August.
Marian Galczenski MFA '78 recently completed a public mural titled "Tree City" in the Atascadero Arts District on the central coast of CA. (image 2)
Sarika Goulatia BFA '06 and Carin Mincemoyer BFA '04 are featured in "Artistic License," curated by The Warhol Chief Curator José Diaz. "Artistic License" is the first in a series of exhibitions in the online space "Sift" from the Office of Public Art. A launch event will be help on Sept 18 at the Glitter Box Theater in Pittsburgh.
Riley Harmon MFA '11 exhibits in "What's wrong with this picture?" at AVL Mundo in Rotterdam, The Netherlands, through Sept 23.
Riley Harmon MFA '11 also presents his film "The Firewall Grove" at TodaysArt in The Hague, The Netherlands, Sept 21-23.
Sarah Keeling's BFA '14 film "Into My Life" was shown at the Camden International Film Festival, Sept 13-16.
Ben Kinsley MFA '08 with Jerstin Crosby and Jessica Langley present "Janks Archive: Research Triangle," an exhibition investigating insult humor, at Lump Projects in Raleigh, NC.
Laleh Mehran MFA '97 and William Earl Kofmehl III BFA '02 will present a new installations at the Mattress Factory as part of the exhibition "Artists in Residence," opening Sept 21.
Adam Milner MFA '17 has a collaborative exhibition with Allison Smith titled "Two of Wands" opening at the Sculpture Center in Cleveland on Sept 21.
Everest Pipkin MFA '18 completed an installation titled "Strata Hiatus" at Facebook's offices in Austin as part of the Facebook Artists in Residence Program.
Lizzee Solomon BFA '11 gave a talk about her work, inspired by underground comics and 90's cartoons, in honor of National Coloring Day at Small Mall in Pittsburgh on Sept 14.
Renee Stout BFA '80 exhibits in "Visionary Aponte: Art & Black Freedom" at The Power Plant Contemporary Art Gallery at Duke University, Sept 19 – Nov 17. She will give an artist's talk on Oct 19.
Mary Maggic Tsang BSA '13 took part in the "Microbiome Rebirth Incubator," a project of François-Joseph Lapointe and Marianne Cloutier, during Ars Electronica in Linz, Sept 6-10.