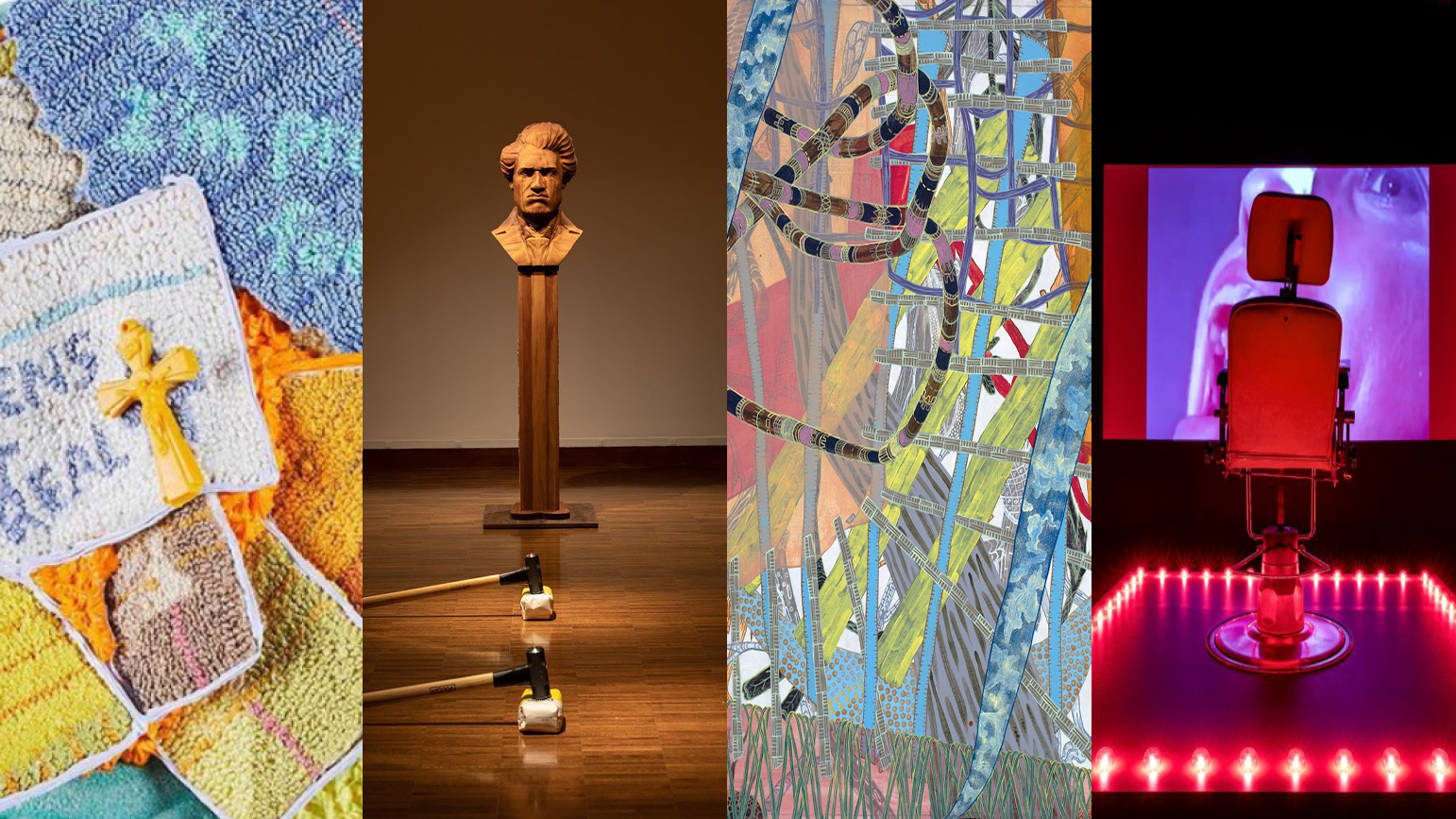 Welcome to the Weekly Alumni News Update! To have your news featured, please email schoolofartnews@cmu.edu with a brief description, link to more information, image, and your degree and class year. Or, add us to your newsletter list.
Elizabeth Agyemang BFA '17 is publishing a graphic titled Fibbed with Razorbill, an imprint of Penguin Books due out in spring 2022.
Scott Andrew MFA '13 with John Musser and Elizabeth Asche Douglas BFA '51 with Rex Trimm performed as part of "The Bloomfield Garden Club," a monthly salon series organized by Tina Dillman, on August 18.
Sung Rok Choi's MFA '12 work is on the cover of the August issue of the Korean Magazine Monthly Art.
Magali Duzant BHA '09 was featured as the August Artist of the Month for the art collective Lumen.
Jamie Earnest BFA '16 exhibits in "Seeking Truth" at the Brew House Association gallery, through Sept 12. (image 1)
Cy Gavin's BFA '07 work was featured on the cover of the July/August issue of Artforum.
Eunhee Kang's BFA '13 video work screened in the exhibition "Love Bug" at Out Sight in Seoul, July 17 – Aug 23.
Summer Jade Leavitt BFA '18 had a solo exhibition titled "Language is Leaving Me" at Locust Projects in Miami, July 8 – Aug 15. (image 4)
Selina Lee BFA '20 was included in the online exhibition "Not Your Model Minority" organized by the Stamp Gallery at the University of Michigan, on view Aug 5 – Sept 5.
Julie Mallis BHA '12 was named a "40 Under 40 Honoree" by Pittsburgh Magazine.
Todd Pavlisko MFA '02 has a solo exhibition "Pop Supernatural" at the Cincinnati Arts Associations' Alice F. and Harris K. Weston Art Gallery, July 9 – Aug 22. (image 2)
Leah Piepgras MFA '97 had a solo exhibition titled "Metamorphic" at Shelter in Place Gallery in Boston, Aug 7-11.
Paul Rouphail BFA '10 has a solo exhibition titled "Future Machine" opening at Jack Barrett Gallery in New York City on Sept 11.
Stephanie Serpick BFA '93 shows in the three-person exhibition "Material World" at Greenwich Library's Flinn Gallery in Greenwich, CT, opening Sept 10.
Genevieve Tremblay BFA '84 exhibited in "[placeholder]" at Soil Gallery, Aug 6-29.
Dan Wilcox MFA '13 performed "robotcowboy" as part of the exhibition "Is it working?" organized by the Center for Art and Media Karlsruhe (ZKM Karlsruhe) on Aug 28.
Laura Sharp Wilson BFA '87 participates in "Right Here Right Now" at Modern West Fine Art in Salt Lake City, through Sept 10. (image 3)