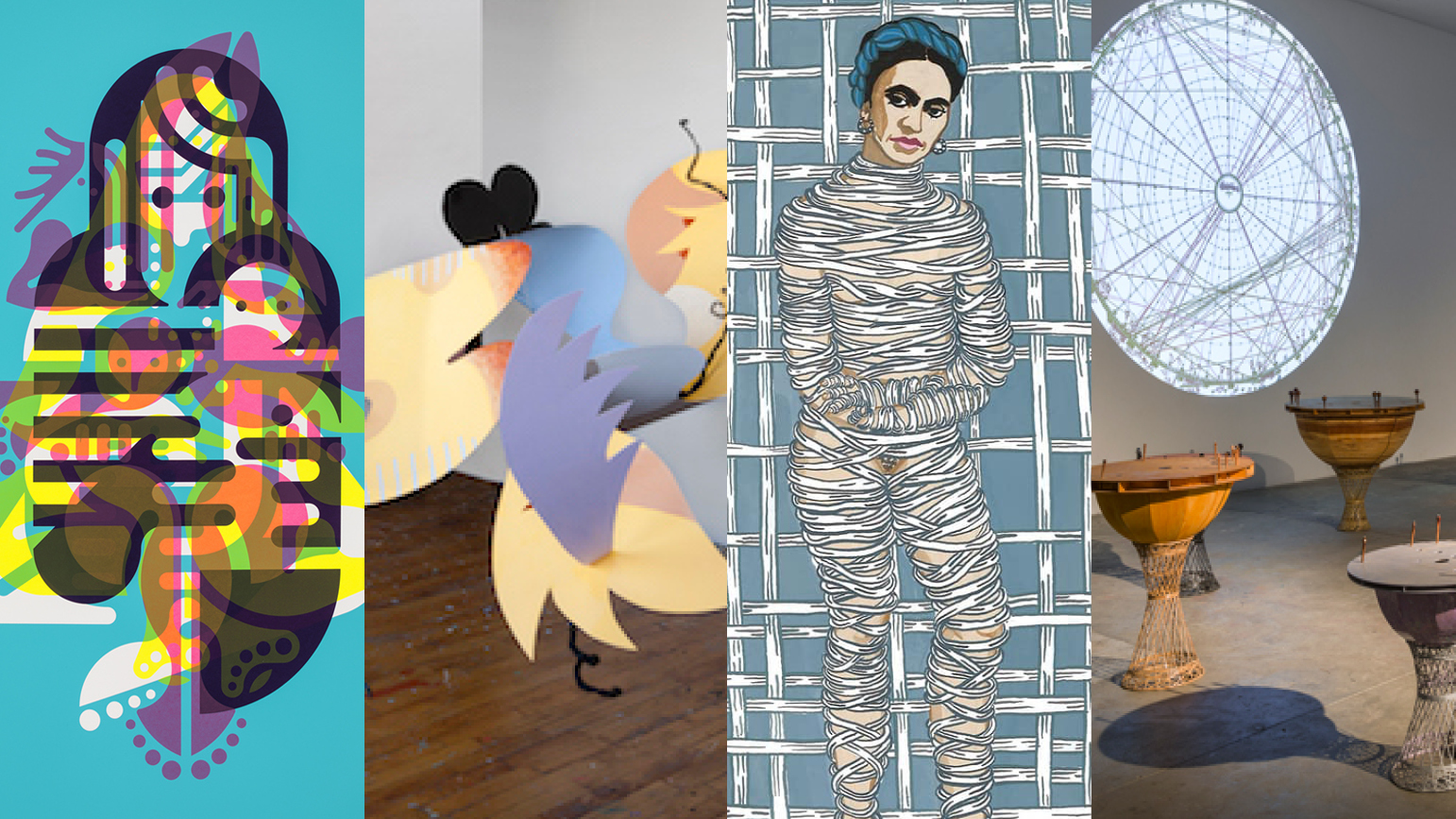 Welcome to the Weekly Alumni News Update! To have your news featured, please email schoolofartnews@cmu.edu with a brief description, link to more information, image, and your degree and class year. Or, add us to your newsletter list.
Harrison Apple's BHA '13 article "Finding Trans Context in Everyday Newspaper Archives" is included in Introduction to Transgender Studies, the first introductory textbook for trans studies at the undergraduate level.
Adria Arch BFA '74 will be showing three site-specific installations of her hybrid paintings in an exhibition titled "Leaptwistturn" at 3S Artspace in Portsmouth, NH, opening June 7.
Anna Azizzy BFA '17 tours with Unicorns in the Snow with stops in Pittsburgh, Philadelphia, New York City, Baltimore, Washington DV, and Richmond.
Stefan Dezil BFA '12 did the voiceover for a video campaign for the National Education Association.
Hank Ehrenfried BFA '14 participates in "In the Summertime" at Danese Corey in New York City, through Aug 9.
Naomi J Falk MFA '03 has a three person exhibition with Amy Sacksteder and Brooks Harris Stevens titled "Interstitial Interruptions" at the Detroit Center for Design + Technology, opening May 16.
An illustration by Joseph Fielder BFA '79 appear in the May 4 issue of the Los Angeles Times.
Natalia Gomez BFA '12 designed the sets for Maree ReMalia's work "A Letter Compiled From All Letters" premiering at New Hazlett Theater June 13-15.
Katie Grinnan BFA '92 exhibits in COLA 2019, an exhibition of recipients of the 2019 City of Los Angeles (COLA) Individual Artist Fellowship for visual arts, opening May 19.
Merritt Johnson BFA '03 and Renee Stout BFA '80 have works included in "At Home" at Accola Griefen Fine Art through June 30.
Deborah Kass BFA '74 has work in "About Face: Stonewall, Revolt, and New Queer Art" at Wrightwood 659 in Chicago, opening May 22.
Gene Kim BFA '08 participates in "Beyond Boundaries" at the Gallery Korea of the Korean Cultural Center New York, opening May 22.
Patrick Meagher BFA '95 participated in the Contemporary and Digital Art Fair at Lightbox in New York City, May 3-5.
Ryan McGinness BFA '94 has a solo exhibition titled "Mother & Child" at Harper's Books in East Hampton, NY, through June 13.
Shana Moulton's MFA '04 work "MindPlace ThoughtsStream" was shown in Warsaw during the exhibition "Friend of a Friend," Apr 6 – May 11. The work will also be acquired by the Museum of Modern Art in Warsaw.
Celia Reisman BFA '78 has solo show titled "The Vermont Paintings" at BigTown Gallery Rochester, VT, opening June 26.
Samira Shaheen BFA '81 participates in "Waterworks 2019" at Panza Gallery in Millvale, PA, through June 1.
Ruth Stanford MFA '05 has a solo exhibition titled "Foot Traffic" at The National Art Gallery, Livingstone, Zambia, opening June 15.
Rebecca Vaughan MFA '01 was profiled by the University of Colorado Boulder Arts and Sciences Magazine.
Mitsuko Verdery BFA '14 and Laura Karetzky BFA '87 participate in the Every Woman Biennial at La MaMa Galleria in New york City, opening May 19.
Moses Williams MFA '17 has a solo exhibition and performance titled "Orographic Light" at Das KloHäuschen art space in Munich, Germany, opening May 18.
Laura Sharp Wilson participated in "Camarones," a pop-up exhibition at Guthrie Studios in Salt Lake City on May 4.