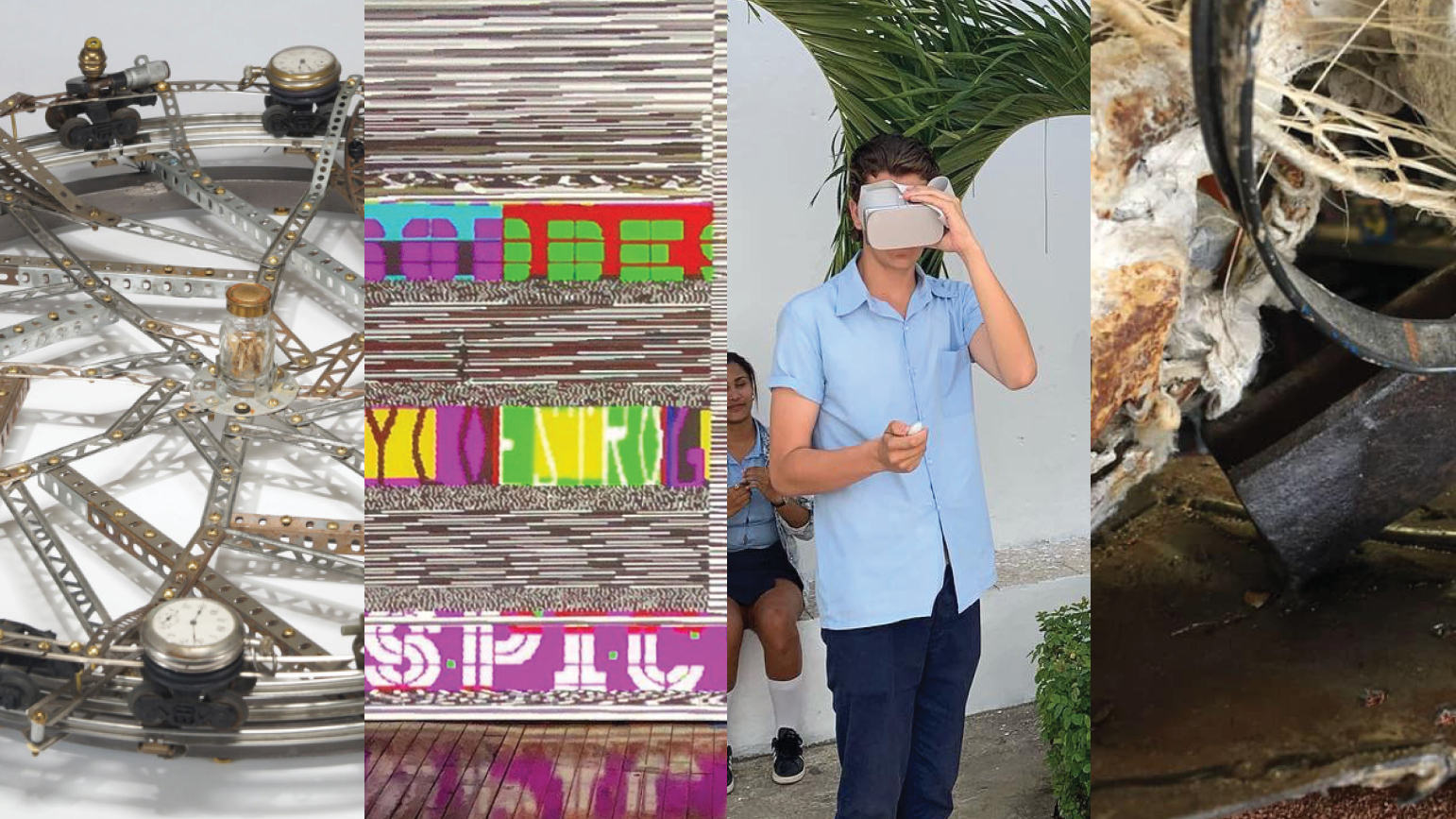 Welcome to the Weekly Alumni News Update! To have your news featured, please email schoolofartnews@cmu.edu with a brief description, link to more information, image, and your degree and class year. Or, add us to your newsletter list.
Zoe Ambinder BFA '16 works for Saturday Night Live as a Freelance Motion Graphic Designer. See recent work here.
Peter Burr's BFA '02 work "Dirtscraper" is included in "Forging the Gods" at Transfer Gallery, through May 11. (image 2)
Oreen Cohen MFA '14 has a solo installation "SUADE" opening at Bunker Projects in Pittsburgh on May 3. (image 4)
Matt Constant BFA '18 has a solo show of new drawings and paintings titled "Easy-Going Pictures" at Pullproof Studio, opening May 3.
Hilda Demsky BFA '58 has a solo exhibition of her paintings titled "Many Facets of Abstraction" at Harrison Public Library in New York, opening May 5.
Stefan Dezil BFA '12 narrated a halftime tribute show for the 2019 NCAA Men's Basketball Finals for over 75,000 fans.
Susan Richards Hallstein BFA '72 had a two person exhibition with Marsha Gleason titled "Figures in Place" earlier this spring at Concord Center for the Visual arts in Concord, MA.
Deborah Kass BFA '74 participates in "Reductive Seduction," CHART's inaugural exhibition on May 2 in New York City.
Greg Kessler BFA '88 has work included in a group show of the South Bronx Independent Artists Coalition at Hell Gate Arts in the Bronx, opening May 2.
Katharine Kuharic BFA '84 shows work at Frieze New York, May 2-5, at PPOW Gallery's booth.
Rob Rogers MFA '84 was honored with a Sigma Delta Chi award given by the Society of Professional Journalists for his editorial cartoons from the previous year. Rogers was also awarded first place in the National Headliner Award for Editorial Cartooning by the Press Club of Atlantic City.
Susan Schwalb BFA '65 has a two-person exhibition with Caroline Kryzecki titled "Convergence" at Patrick Heide Contemporary in London, opening May 1.
Sarah Stengle BFA '84 participated in "Thirty Three Views Plus Two" at the Swedish Bank Building in Saint Paul, MN, April 26-28. (image 1)
Michiyaya, co-founded by Mitsuko Verdery BFA '14 and Anya Clarke premiered their new work "/wē/" at the 14th Street Y, Apr 25-28. Char Stiles BCSA '17 co-created projections for the performance.
Moses Williams MFA '17 was appointed Assistant Professor of Sculpture and Integrated Media at Watkins College of Art in Nashville, TN.
Ricardo Miranda Zúñiga MFA '99 presented "Incertidumbre VR" at the Festival de Videoarte in Camagüey, Cuba, April 22-29. (image 3)