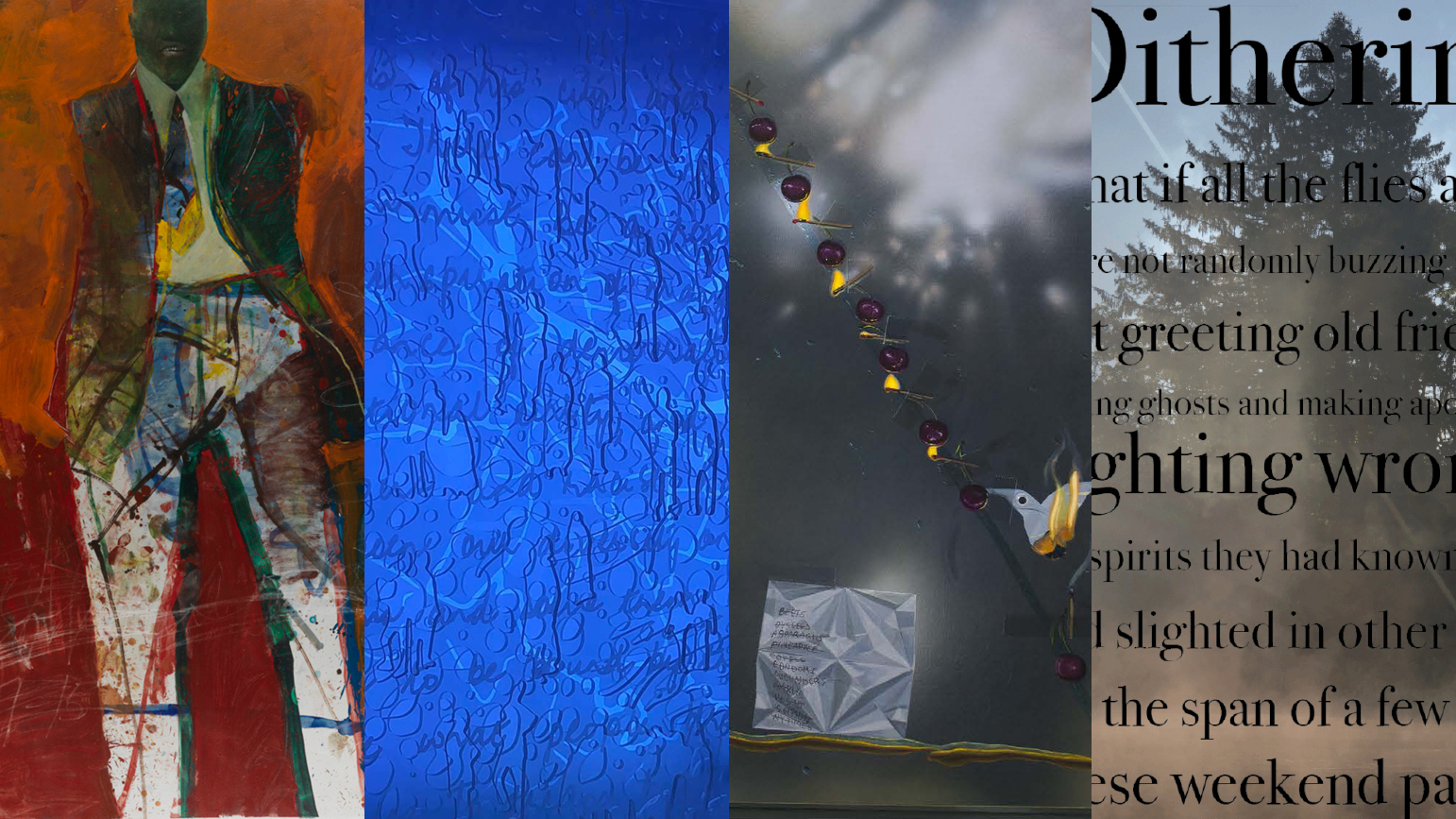 Welcome to the Weekly Alumni News Update! To have your news featured, please email schoolofartnews@cmu.edu with a brief description, link to more information, image, and your degree and class year. Or, add us to your newsletter list.
The Osher Lifelong Learning Institute presented Elizabeth Asche Douglas BFA '51 as Pittsburgh jazz great Maxine Sullivan on Mar 14.
ARTnews wrote a feature on Artist Publisher, a new online forum about art books from Temporary Service, which is co-run by Marc Fischer BFA '93.
Alyce Gottesman BFA '79 exhibits with Drawing Rooms at 14c Fair at the Hyatt Regency in Jersey City, Mar 15-17.
Sarika Goulatia BFA '06 completed a public work project at The Heinz Endowments office space downtown. (image 2)
Merritt Johnson BFA '03 exhibits in "Monarchs: Brown and Native Contemporary Artists in the Path of the Butterfly" at the Nerman Museum of Contemporary Art in Overland Park, KS, through June 2.
Christopher Kardambikis BFA '05 was a FAR and Away Resident at Florida State University.
Joyce Kozloff BFA '64 exhibits in "Pattern and Decoration: Ornament as Promise" at the Museum Moderner Kunst Stiftung Ludwig Wien in Vienna, through Sept 8.
Jaewook Lee MFA '15 participates in "DMZ" at Seoul Station 284 in Seoul, South Korea, opening Mar 20.
Patrick Meagher BFA '95 has a solo show titled "Morning Journey (Alarm Poems) and Online Meanderings (Personal News Posts)" at East Third Street Gallery in New York City, which opened on Feb 28. (image 4)
Su Min Park BHA '11 did prop styling and photography for an article on Thought Catalog.
Beginning fall 2019, Benjamin Rosenthal BFA '06 will be a Keeler Family Intra University Professor, working between the Women, Gender, and Sexuality Studies department and the University of Kansas Medical Center. He will also be Director of Graduate Studies in the visual art department.
Paul Rouphail BFA '10 has a two-person exhibition with Sophia Narrett titled "A Heart-Shaped Face" at Jack Barrett in New York City, through Apr 28. (image 3)
Raymond Saunders BFA '70 is included in "Soul of a Nation" opening at the Broad in LA on Mar 23. The exhibition traveled from the Brooklyn Museum. (image 1)
Susan Schwalb BFA '65 shows work with Patrick Heide Contemporary at TEFAF Maastricht, Mar 16-24.
An exhibition of work by Stephanie Serpick BFA '93 is touring libraries in Las Vegas: Windmill Library through Mar 12, Enterprise Library Mar 28 – June 11, and Laughlin Library June 23 – Sept 7.
Barbara Strasen BFA '63 was interviewed by Voyage LA.
Rebecca Vaughan MFA '01 has a light and sculpture installation at The Storeroom, a storefront window in Denver, through Mar 28.
Michiyaya Dance Company won a grant from the Lower Manhattan Cultural Council for "/wē/," co-directed and choreographed by Mitsuko Verdery BFA '14.