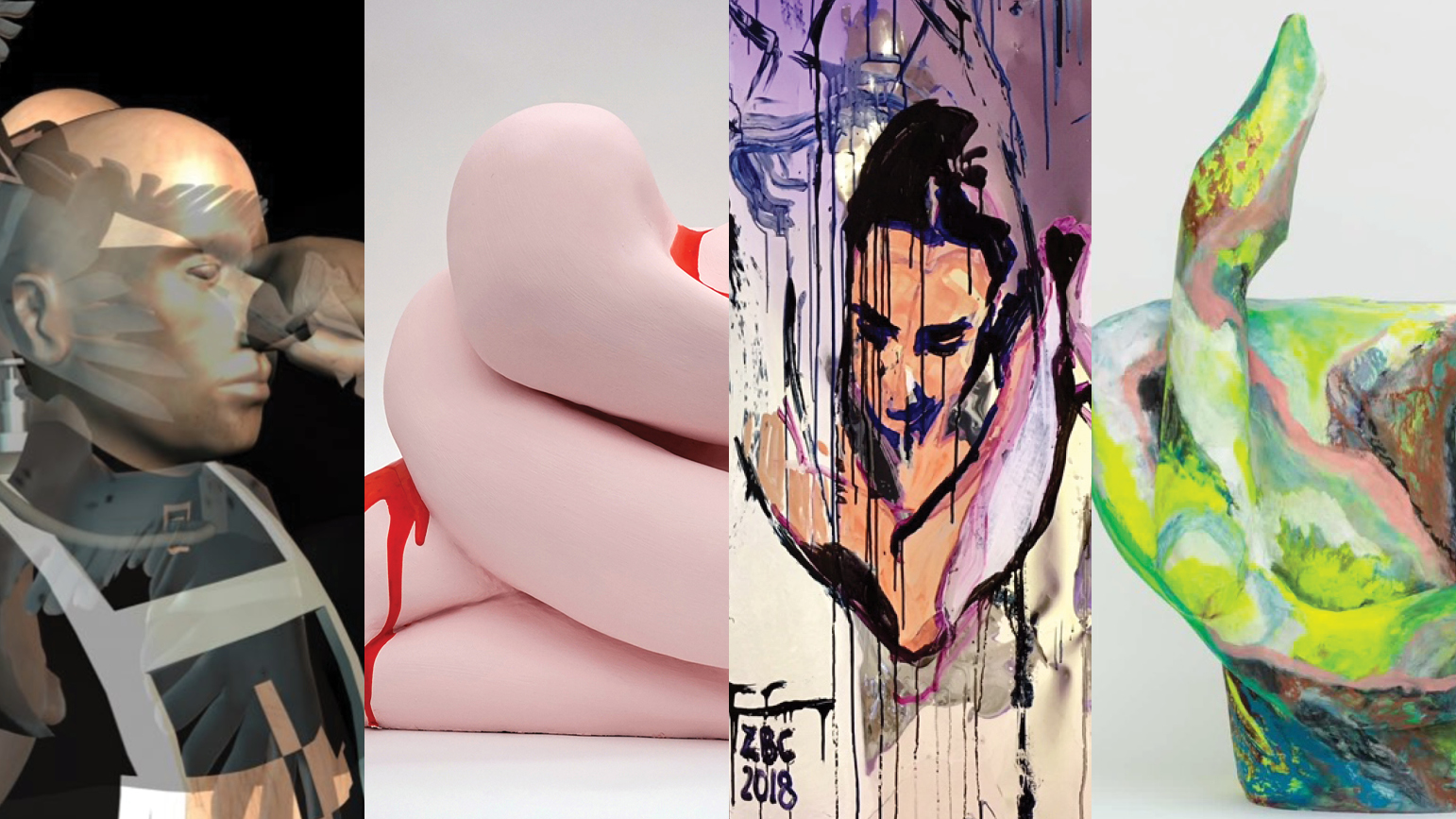 Welcome to the Weekly Alumni News Update! To have your news featured, please email schoolofartnews@cmu.edu with a brief description, link to more information, image, and your degree and class year. Or, add us to your newsletter list.
Bianca Beck BFA '01 exhibits work in "Rosy-Fingered Dawn" at Pace University Gallery in New York City, through Mar 27. (image 4)
Spencer Diaz BFA '12 was hired at Character Technical Director at DreamWorks Animation.
Magali Duzant BHA '09 is included in the exhibition "Delirium, Three Visions" at RedLine Contemporary Art Center in Denver, opening Mar 9, part of the larger biennial, Month of Photography, Denver.
Zhanna Cantor BFA '85 has a collaborative solo exhibition with Carey McKinley titled "Liquid Portraits" opening at the Holzwasser Gallery in Newton, MA on Mar 7. They will give a performance at the opening reception and again on Apr 11. (image 3)
Merritt Johnson BFA '03 and Renée Stout BFA '80 will present works at Accola Griefen Fine Art's booth at Art on Paper in New York City, Mar 7-10.
Deborah Kass BFA '74 and Todd Pavlisko MFA '02 designed limited-edition t-shirts to benefit the Dignity for All anti-bullying campaign.
Matt Keegan BFA '98 has a solo exhibition titled "Use Your Words" at Altman Siegel Gallery in San Francisco, through Apr 20.
Dana Kleinman BFA '97 with Ruth Avra Kleinman as KX2 exhibit in "Water" at Whitewall Contemporary in Delray Beach, FL, through Apr 22.
Christina Lee BFA '14 curates the Pittsburgh Zine Pop-Up Party at Small Mall in Pittsburgh on Mar 8.
Donna Lee Nyzio BFA '87 participates in the Conroe Art League 4th Annual National Invitational, opening March 6 in Conroe, TX.
Ryan McGinness' BFA '94 Tribeca loft, which he designed himself, is featured in Architectural Digest.
Rigel Richardson BFA '13 published their first book Pour Over, which is now available for purchase.
Benjamin Rosenthal's BFA '06 short film "Impenetrable As Night" will screen on Mar 15 during the Palace International Film Festival in Bristol, UK. (image 1)
Susan Schwalb BFA '65 participates in "Spinoza: Marrano of Reason" at Amstelkerk and the Plein van Siena in Amsterdam, opening Mar 7.
Stephanie Serpick BFA '93 is part of a three-person exhibition titled "Hard and Soft" at the University of Cincinnati Blue Ash College Gallery, opening Mar 11.
Melissa Thorne BFA '93 participates in the group exhibition "Zodia Ballet" at the University of LaVerne, CA, through Mar 7.
Sherri Wolfgang BFA '83 has a solo exhibition titled "American Pathos" opening at Dacia Gallery in New York City on Mar 18.
Cay Yoon BFA '04 exhibits in "Birthday Suit" at Site: Brooklyn, opening Mar 15. (image 2)