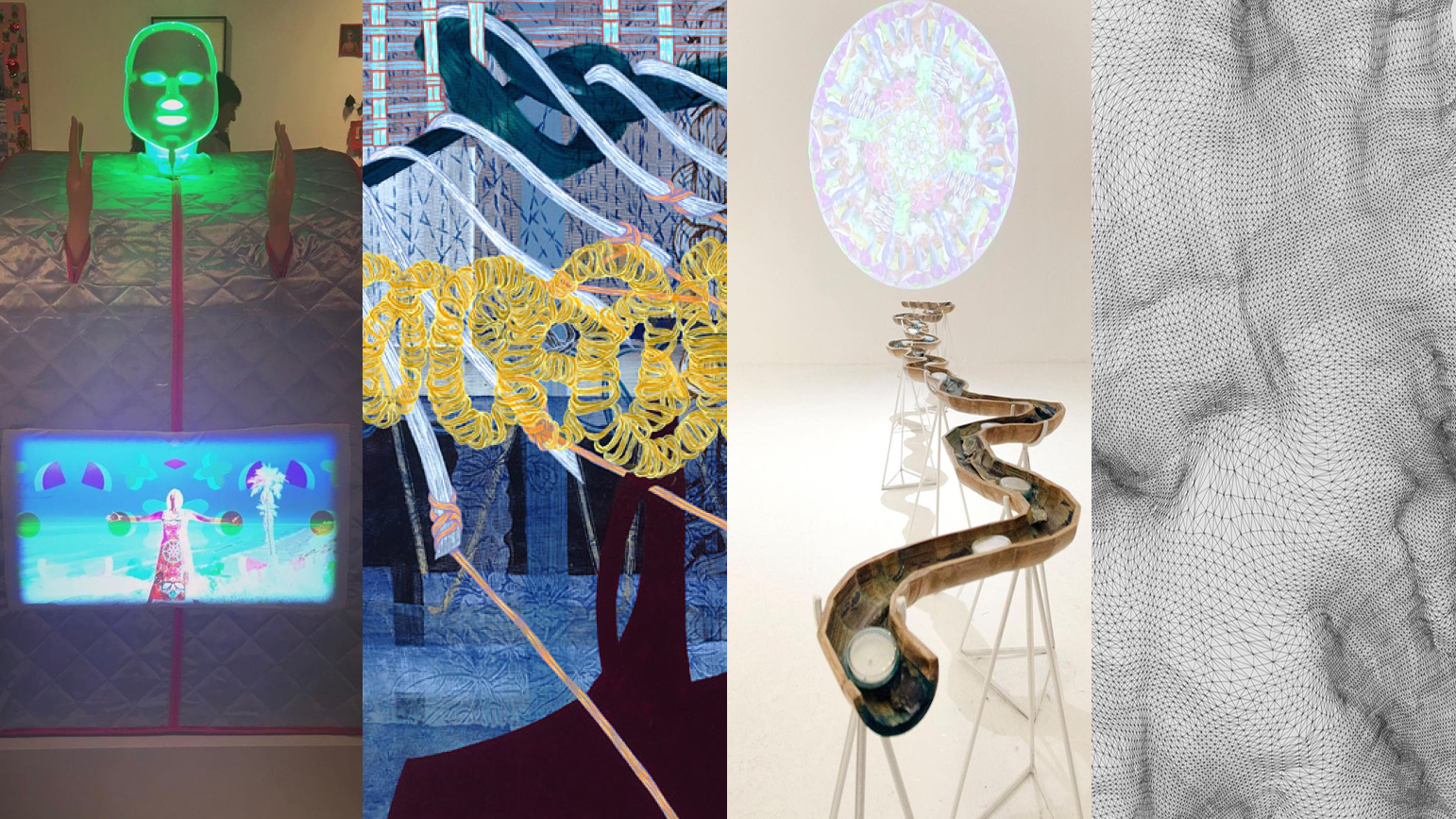 Welcome to the Weekly Alumni News Update! To have your news featured, please email schoolofartnews@cmu.edu with a brief description, link to more information, image, and your degree and class year. Or, add us to your newsletter list.
Elizabeth Deasy BFA '03 has a solo exhibition titled "What Was and Next" at Springboard Gallery in Pittsburgh, closing Feb 21. (image 4)
Missy Dunaway BHA '10 currently has work on view at the Portland Art Gallery (ME) and at the Vendue Art Hotel in Charleston, SC, through Apr.
Jesse England MFA '13 showed new work at CETI at the Portland Winter Light Festival in OR on Feb 8.
Jacob Feige BHA '02 exhibits in "Reflecting Pool" at Wasserman Projects in Detroit, MI through Feb 22.
Mary Maggic BSA '13 shows their work "Milik Bersama Rekombinan (Recombinant Commons)" at Science Gallery London as part of the exhibition "Genders," through June 28. (image 3)
Shana Moulton MFA '04 exhibits in "All of Them Witches" at Jeffrey Deitch Gallery in Los Angeles, through Apr 11. (image 1)
Alexandra Rubinstein's BFA '10 first solo exhibition, titled "Dick Diaries" in on view at Established Gallery in Brooklyn through Mar 8.
Nina Sarnelle MFA '12 premiered new work at the Spring Break Art Show in LA, Feb 14-16.
Laura Sharp Wilson BFA '87 has a solo exhibition titled "Conversations with the Ground" opening at McKenzie Fine Art Inc. in New York City on Feb 21. (image 2)
James Thurman BFA '93 exhibits in "Pas de deux/Step of two" at the Greater Denton Arts Council in Denton, TX, through Feb 22.
Rexy Tseng BFA '09 is one of six artists selected for the International Creator Residency Program 202 supported by the Museum of Contemporary Art Tokyo / Tokyo Arts and Space.
Jessica Vaughn BHA '06 is the recipient of Printed Matter's Emerging Artists Publication Series.
Hyla Willis MFA '99 screens work in "Seeing Double Screening" at CDCP Project Space in Pittsburgh on Feb 21.
Ryan Woodring's BFA '10 thesis exhibition for his MFA at Rutgers University opens at the Mason Gross Galleries on Feb 21.