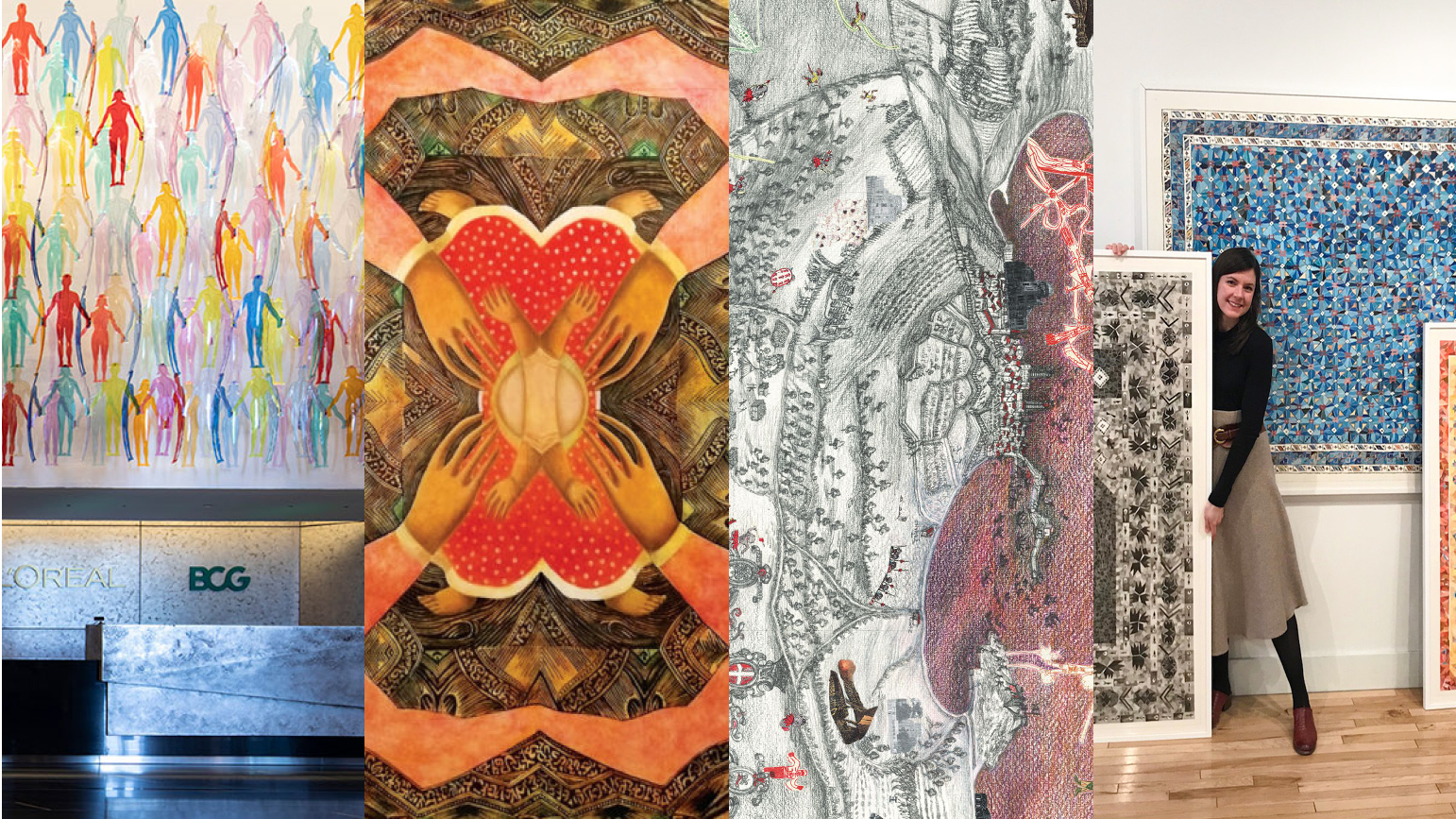 Welcome to the Weekly Alumni News Update! To have your news featured, please email schoolofartnews@cmu.edu with a brief description, link to more information, image, and your degree and class year. Or, add us to your newsletter list.
Anna Azizzy BFA '17, Summer Leavitt BFA '18, Paul Peng BSCA '17 and Rigel Richardson BFA '13 participated in "Erotica Night" at The Glitter Box Theater on Feb 2, organized by Anna Nelson BFA '13.
Jonathan Borofsky BFA '64 has a new commission at 10 Hudson Yards in New York City titled "Human Structures (390 Figures Connected)." (image 1)
Roma Devanbu BFA '79 has a solo exhibition titled "Keep, Toss, Give Away, Sell" opening at Axis Gallery in Sacramento on Feb 9. (image 2)
Missy Dunaway BHA '10 is now represented by Portland Art Gallery in Maine and her work will be part of a three person exhibition opening Feb 7. (image 4)
Marian Galczenski MFA '78 was commissioned by the city of San Luis Obispo, CA to create "Flower Power," a painted utility box.
Joyce Kozloff BFA '64 participates in "Crossing Boundaries: Art // Maps" at the Boston Public Library, through Apr 20. (image 3)
Christina Lee BFA '14 illustrated the cover of last week's Pittsburgh City Paper and was interviewed by the publication.
Mary Maggic BSA '13 exhibits in "Refiguring the Future" presented by Eyebeam and organized by the collective REFRESH at the Hunter College Art Galleries in New York, opening Feb 8.
Carolyn Muskat BFA '87 will receive the 2019 Excellence in Teaching Award from SGC International, an non-profit focused on prints, drawings, book arts, and handmade paper, at their conference, Mar 6-10 in Dallas.
Paula Overbay MFA '80 is part of a four-person exhibition titled "Indra's Net" at The Mueller Gallery in Caldwell, NJ, opening Feb 6.
Paul Vanouse MFA '96 has a solo exhibition titled "Labor" at the Burchfield Penney Art Center at SUNY Buffalo State, through Mar 31.
Audra Wist BFA '12 has a solo exhibition at Home Alone LA, opening Feb 9.