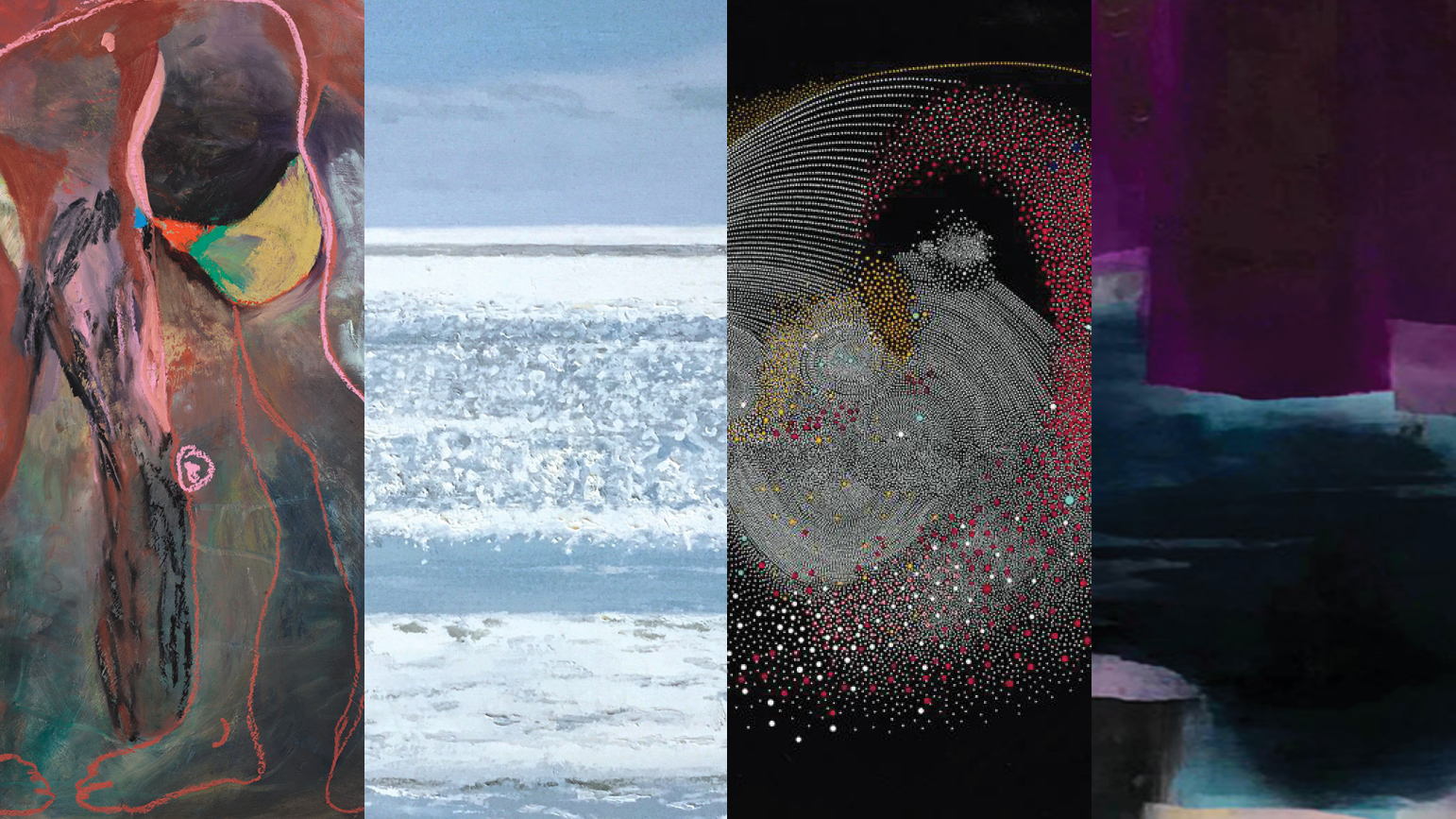 Welcome to the Weekly Alumni News Update! To have your news featured, please email schoolofartnews@cmu.edu with a brief description, link to more information, image, and your degree and class year. Or, add us to your newsletter list.
Stephanie Armbruster BFA '06 has a solo show titled "Meridian" at Boxheart Gallery in Pittsburgh, opening Jan 15. (image 4)
The Guardian profiled Jonathan Armistead MFA '12 his partner Oliver Singleton's project of creating gingerbread houses of local businesses in London.
Bianca Beck BFA '01 was profiled in Galerie Magazine. (image 1)
Kevin Brophy MFA '17 was awarded a Media Arts Residency by Kala Art Institute in Berkeley, CA.
Mia Brownell's BFA '93 work is featured on the cover and in the magazine The Ocean State Review.
Arden Bendler Browning and Professor Emerita Patricia Bellan-Gillen exhibited in the group holiday exhibition at Tinner Contemporary in Nashville, TN, Dec 1 – Jan 12.
Patricia Burson BFA '71 exhibits in "Different Strokes" at Room Gallery in Watertown, MA through Jan 27. (image 2)
Jacob Ciocci's MFA '05 design for Marz Community Brewing and Collective Arts Brew was name the best beer label design of 2018 by Hop Culture Magazine.
The Pittsburgh Tribune-Review covered Oreen Cohen MFA '14 and Joe Martin's plans to reopen the Millvale Studios building as a makerspace.
Janet Culbertson BFA '53 exhibited in "In the Clouds" at Kathryn Markel Gallery in Bridgehampton, NY, Dec 29 – Jan 13. She also has a painting titled "Moonfall" in "Silver Linings: Artists Search for Meaning" at the Long Island Museum of American Art in Stony Brook, NY, through Jan 18.
Hannah Epstein MFA '17 has a solo exhibition titled "Do You Want a Free Trip to Outer Space?" at Steve Turner Gallery in LA, through Feb 16.
Cassandra C. Jones MFA '04 was featured in an article on women artists in Ojai, CA in Santa Barbara Magazine.
Patrick Meagher BFA '95 exhibits in "ArtScience" at Park Place Gallery in Brooklyn, through Jan 27.
Paula Overbay MFA '80 participates in "Visual Magic" opening at the Jordan Schnitzer Museum of Art at the University of Oregon on Jan 17. (image 3)
Sarah Ratchye BFA '82 has work on view at the Piedmont Center for the Arts 6th Annual Juried Show in Piedmont, CA through Jan 27 and at the Crocker-Kingsley Exhibition at Blue Line Arts in Roseville, CA through Feb 23.
Teri Rueb BFA '90 is a speaker in the New Directions in American Landscape two day symposium which was held at Montgomery County Community College in Blue Bell, PA, Jan 10-11, and will be held at Connecticut College, New London, CT, Jan 17-18.
Carrie Schneider BHA '01 participates in "Dazzled: OMD, Memphis Design, and Beyond" at the Museum of Contemporary Art Tucson, opening Jan 19.
Fereshteh Toosi MFA '04 has a solo exhibition titled "Who Saves Who" at the University of North Carolina Chapel Hill, opening Jan 15.