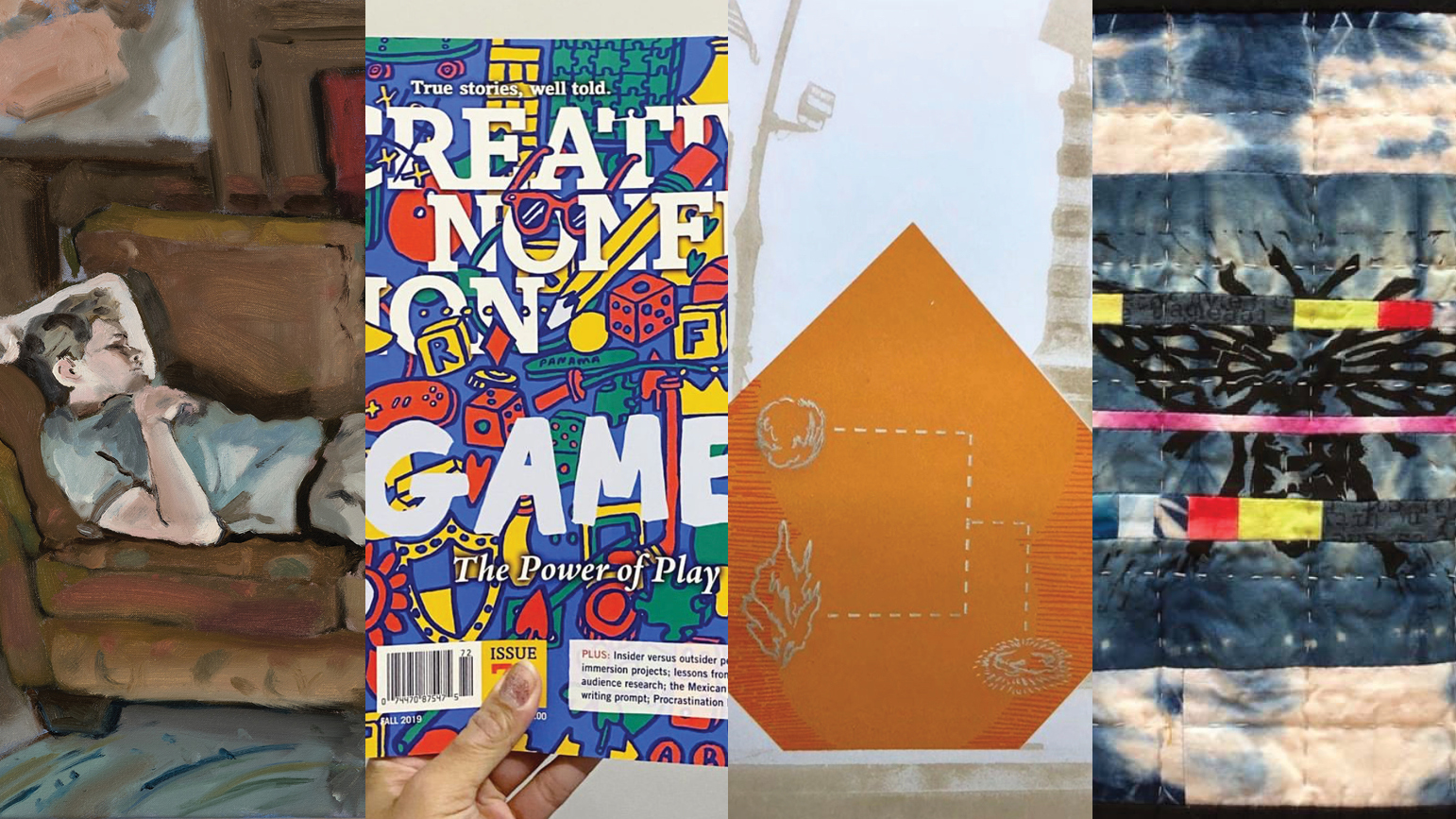 Welcome to the Weekly Alumni News Update! To have your news featured, please email schoolofartnews@cmu.edu with a brief description, link to more information, image, and your degree and class year. Or, add us to your newsletter list.
Todd Bartel's MFA '93 article "Uncollage in Photography and Film" is the cover story for Kolaj Magazine, issue 27.
Hank Ehrenfried BFA '14 shows work in "Elements of Existence" at Public Swim in New York City, opening Jan 17.
Max Gonzales BFA '16 received a Professional Development Grant from the Greater Pittsburgh Arts Council for a residency in Chicago.
Miranda Jacoby BFA '17 created the short "Draculily" for the 2019 anthology "Things Took a Turn: In the Beginning."
Christopher Kardambikis BFA '05 had a solo exhibition titled "Terra Nullius" at Unrequited Leisure in Nashville, TN, Dec 14-28.
Deborah Kass BFA '74 participates in "To Reclaim" at Kavi Gupta Gallery in Chicago, through Jan 18.
Christina Lee BFA '14 illustrated the cover as well as spot illustrations in the Fall 2019 issue of Creative Nonfiction Magazine.
Jaewook Lee MFA '15 organized the symposium "Mindful Joint" at SSSSTART in Shanghai on Dec 28 and at Golden Eagle Contemporary Art Center in Nanjing on Dec 29.
Erin Mallea MFA '19 and Maria Mangano BFA '06 are included in the exhibition "Austral" at the Brew House Association in Pittsburgh through Feb 8.
Sarah Marshall BFA '92 has a solo exhibition of prints on fabric at Paperworks Local in Birmingham, AL, opening Jan 16.
Emily Miller BFA '16 premiered a new zine titled "Everything Follows the Next" at the In Print Art Book Fair in Jerusalem, Dec 18-20.
Leah Piepgras MFA '97 has work included in "Flat Files at OyG: 2020" at Ortega y Gasset Projects in Brooklyn, through Jan 19.
Ben Snell SDM '17 shows a collection of AI sculptures in "Art in the Age of Artificial Intelligence" at Sapar Contemporary, through Feb 14.
Katherine Tsai BHA '18 received her first on screen credit on the show "Steven Universe Future" on the episode "Why So Blue."