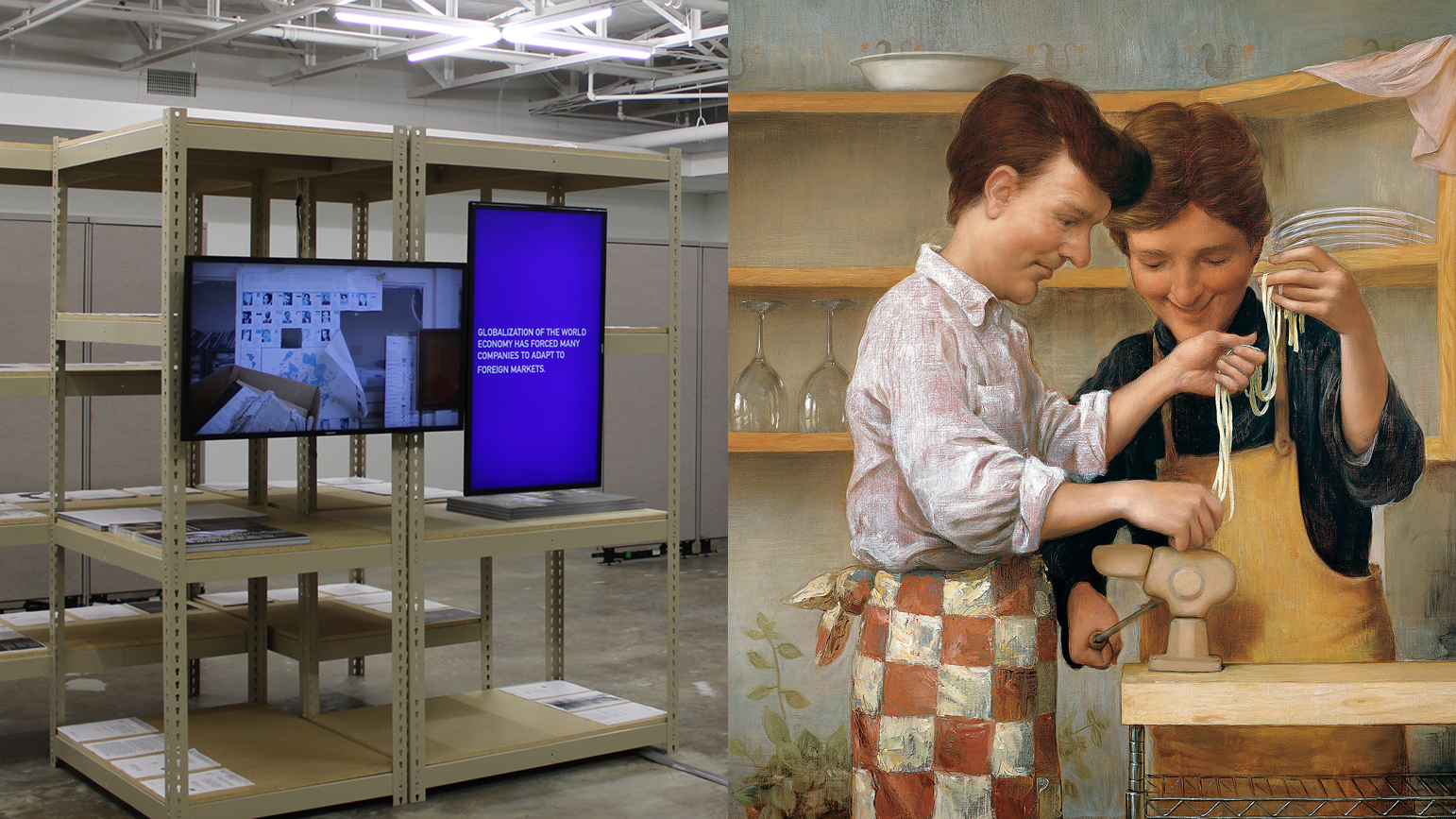 This past weekend, two alumni of the School of Art, John Currin (BFA '84) and Jessica Vaughn (BHA '06), simultaneously opened solo exhibitions at Dallas Contemporary. To celebrate these achievements, the School held an alumni-exclusive reception with a conversation between Head of School Charlie White and Jessica Vaughn. Their conversation focused on Vaughn's Dallas Contemporary installation "In Polite English One Disagrees by First Agreeing" as well as how she continues to center her research in social history in her current work, a practice she began as a BHA student at Carnegie Mellon University.
Both John Currin's exhibition, titled "My Life as a Man," and Jessica Vaughn's show continue through December 22.
John Currin: My Life as a Man
"My Life as a Man," focuses exclusively on John Currin's depictions of his own gender, examining provocative depictions of a range of masculine identities over the course of his career. This occasion marks the first-ever attempt to track the evolution of Currin's male iconography in a museum context, and Currin's first museum show in 15 years.
The exhibition spans Currin's artistic output beginning in 1990, and features over fifty works on paper and sketchbook drawings of male figures that have never been publicly exhibited. Just as Currin used his imaginary female characters as caustic pictoral allegories, "My Life as a Man" critically analyzes Currin's male gaze when it is trained on the identity politics of manhood.
Jessica Vaughn: In Polite English One Disagrees by First Agreeing
Jessica Vaughn's first solo museum exhibition and her largest show to date features a site-specific installation of sculpture, video, and text works. This new installation continues her investigation of the ways in which material and physical structures dictate perceptions of space, labor, and compliance.
Decommissioned materials appear as remnants of human existence and labor in Vaughn's installation. Procured from the workspaces of the Texas Department of Education, in the state's capital, rows of grey Steelcase modular cubicles transform the gallery. Over the course of the exhibition, cubicles will be removed and result in a reorientation of spatial cues in the gallery. Sheltering these modular units is a build-out of a drop-ceiling fragment with missing tiles.
"There is something about using decommissioned materials taken from state and bureaucratic resources that call attention to an adherence to process," Vaughn explains. She specifically references "an overworked body—a system that is sort of treading along that sometimes is disrupted by change but often remains at status quo."
"In Polite English One Disagrees by First Agreeing" also features a new video work that combines diversity training video clips culled from the 1990s with footage shot in various office spaces. The artist's reconfiguration of dated text from the videos highlights aspirational yet unsuccessful attempts of corporations to correct patterns of discrimination. By procuring and orchestrating symbols of American office environments, Vaughn questions civil rights and labor policies that dominate global bureaucratic and corporate structures. "I began this project with a sense of urgency towards understanding how the work that I do on a daily basis is dictated by larger forms of compliance—visible or not," says the artist.
Vaughn has also created a takeaway brochure, which features text by writer, architect and historian Sadia Shirazi. This writing contributes to the overlooked and intertwined histories of post-war American architecture, urban renewal, and race—a link that reverberates throughout the exhibition.
Read the School of Art's 5 Questions series with Jessica Vaughn here.