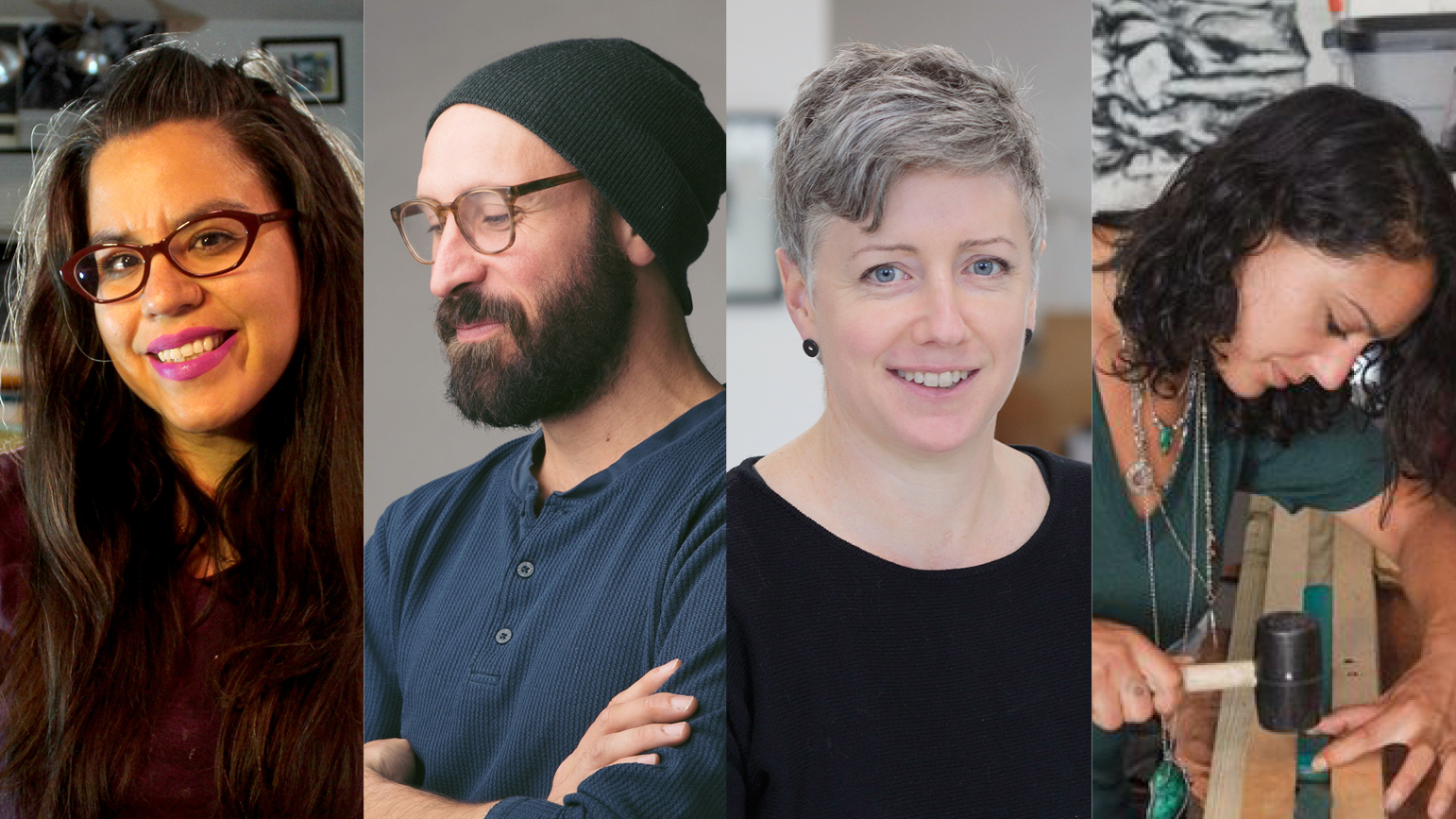 From bold murals covering buildings to sculptural interventions in parks, School of Art alumni shape public spaces across the country. These public works do more than beautify our cities, though they certainly also do that. Public art helps to transform our everyday experiences in both perceptible and imperceptible ways. It celebrates local communities, their histories, and their hopes for the future. And it causes us to reflect on important issues, even when we may not glean a work's underlying message immediately. We caught up with four alumni to learn more about what their work brings to public spaces, the logistics of working in this sphere, and the challenges that differ from those of a studio practice.
For San Antonio-based muralist Adriana Garcia BFA '99, public art can embrace and uplift those excluded from mainstream media representation. When she was growing up, she did not see Mexican-American culture on American television, but she did see a celebration of people who looked like her when she would pass murals on the way to her grandfather's house.
Of her own work, Garcia said she hopes her community "sees themselves in what I'm doing. I hope they see the dignity that I see all around me and in all the persons who have influenced me."
Garcia's mural at Northwest Vista College, titled "Changing the World," exemplifies her approach to working with community members to create an artwork that celebrates culture and history while looking forward to the future. The 36-foot-long mural includes bold portraits of students, along with important cultural symbols and a depiction of a 1968 student-led protest for educational opportunity in San Antonio. Garcia, who worked with Dr. Sandra Garza, a professor of Mexican-American studies, made the mural in collaboration with students and other community members, even incorporating portraits of people who influenced students' decision to pursue higher education.
"I had a student ask 'Hey, can I paint a picture of my mother? She passed away, but she's the reason why I went to school,'" Garcia explained. For her, this community involvement, and the conversations that come from collaboration, are crucial to projects like these.
Will Schlough's BFA '07 murals and sculptural works, which can be found throughout the Seattle area and beyond, often comment on humans' relationship to nature. For what can often be a heavy subject, Schlough uses playful whimsy to catch passersby off guard.
"The idea of putting work in public where people come across it when they're just going about their daily lives is a much different experience for the audience [than visiting a gallery or museum]," Schlough said. "The work has to be interesting immediately, and it has to have some staying power if you want it to have some additional layers of meaning that maybe people can consider later in the day."
For one of his works, Schlough created a giant acorn smashing a park bench. Not only is the work captivating and fun, he hopes viewers will remember it when seeing other park benches and reflect on the lowly acorn as a symbol for the power than nature has over us.
One of the challenges about working in the public sphere, Schlough says, is all the behind-the-scenes work needed before ever making the artwork. "I tell people I make artwork maybe like 10% of the time," he said. "Most of my job is not in the shop making art."
All the artists with whom we spoke echoed this sentiment, which can be both frustrating and an opportunity to challenge one's practice in new ways.
"Public artwork is a chance to work with other people and learn things that I wouldn't learn if I was just working by myself in the studio," said sculptor Carin Mincemoyer BFA '96, whose works also frequently reflect humans' relationship with nature.
One of her current projects — a series of bus shelters for Pittsburgh's Hazelwood Green, done in collaboration with School of Art professor Alisha Wormsley and architecture firm evolveEA — involves gathering feedback from local communities, coordinating with government agencies, liaising with project engineers and the project architect, and working with fabricators. The years-long project will result in ten bus shelters that focus on migration and movement, not only for humans, but for plants and animals.
"People go out to make a living every day and get on the bus to go to work, and birds and pollinators and plants also move around to make a living and get what they need," said Mincemoyer. "So we're making shelters that benefit not only people, but also birds and pollinators and plants."
Working both in the public sphere and as a studio artist allows Mincemoyer opportunities for collaboration, as well as the solitude to explore artmaking independently. Public art also provides Mincemoyer with some financial stability, especially as working in sculpture can be quite costly. Nonprofit spaces do not often provide an artist fee, but a public art commission comes with a budget and a location for artists' work.
In order to tackle a lot of the logistical coordination required for public artmaking, Oreen Cohen MFA '14 teamed up with artist Alison Zapata to form OOA Designs. Their project for Wightman Park in Pittsburgh's Squirrel Hill neighborhood reflects the park's function as a place of recreation, a storm water management system, and a pollinator conservatory.
The centerpiece of their work, an eight-foot sculpture titled "Cascade," was laser cut from stainless steel to create free-flowing organic shapes reminiscent of a waterfall. The sculpture, which also works as a public bench, includes several symbolic components such as the eleven glass plates, which allude to a glass factory formerly located on the site and memorialize the eleven victims of the Tree of Life shooting.
Cohen and Zapata created the other sculptures in the park from the cutout pieces of "Cascade" in collaboration with local kindergarteners and first graders. The kids arranged small-scale wood replicas of the metal cutouts into shapes of bugs, and Cohen and Zapata then welded the metal pieces together based on the kids' designs to form the final sculptures of a bee, a lightning bug, and a butterfly.
Cohen says that what draws her to public art is the idea of placemaking: "thinking about material context, the people who are going to be using the site, what materials are we choosing and how does that material tell a story about the context about the place and the people who use the space."
Main story image: Adriana Garcia, Will Schlough, Carin Mincemoyer (photo: Ivette Spradlin), Oreen Cohen (photo: Porter loves creative)