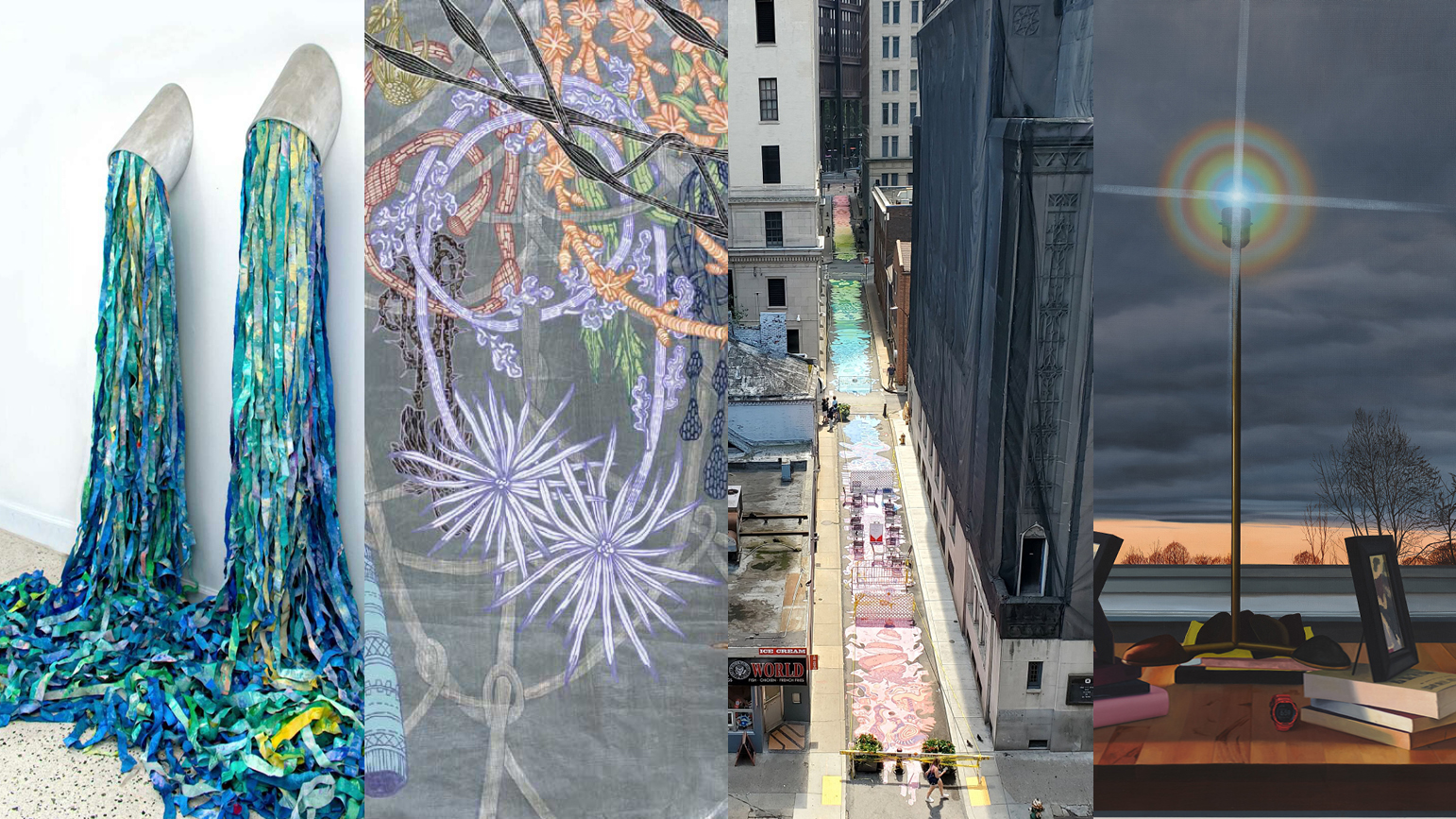 We had so much news we decided we couldn't wait until fall to bring you an update!
Paola Cabal BFA '98 was profiled by Artillery Magazine in their May-June 2022 issue.
As half of the duo Extreme Animals, Jacob Ciocci MFA '05 presented new work at 46 Canal Street in New York on June 17.
Janet Culbertson BFA '53 exhibits in "Women Artists of Long Island" at William Ris Gallery in Jamesport, NY, through July 10. She is exhibiting at "Once On This Island" at the Shelter Island Historical Society, through September 4.
Elizabeth Asche Douglas BFA '51 and Jessica Gaynelle Moss BFA '09 exhibited in "Future Vision: Women of Visions" at the Carnegie Museum of Art, May 28 – June 12.
Jacob Feige BHA '02 exhibited in "By Ear" at Axel Obiger Gallery in Berlin, Germany, May 14-28.
Max Gonzalez BFA '16, along with Shane Pilster and students from CAPA Pittsburgh, are painting a new mural on Strawberry Way in downtown Pittsburgh.
Ian Ingram MFA '10 participates in "Machine Wilderness," an art research program at ARTIS, the oldest zoo in the Netherlands.
Dana Kleinman BFA '97 and her sister and collaborator Ruth Kleinman were interviewed by Canvas Rebel.
Jay Miriam BFA '12 exhibits in "Ordinary Instant" at Thierry Goldberg Gallery in New York City, through July 8.
Marlena Novak BFA '79 is a recipient of the 2022 Illinois Arts Council Agency Fellowship Award in the category of Digital Arts.
Paul Rouphail MFA '10 has a two-person exhibition with Lindsay Merrill titled "Another Night" at Smart Objects in Los Angeles, through June 26.
Raymond Saunders BFA '60 exhibited with Andrew Kreps Gallery and Dana Lok BFA '11 exhibited with Miguel Abreu Gallery at Art Basel, June 16-19.
Ellen Steinfeld BFA '67 was commission by the Friends of Lake Erie Seaway Trail to create a public sculpture in Hamburg, NY.
Rexy Tseng BFA '09 exhibits in "Cavities" at the Royal Academy of Arts in London, through August 21.
Laura Sharp Wilson BFA '87 has a solo exhibition titled "Chiasma" at Granary Arts in Ephraim, UT, through September 23.