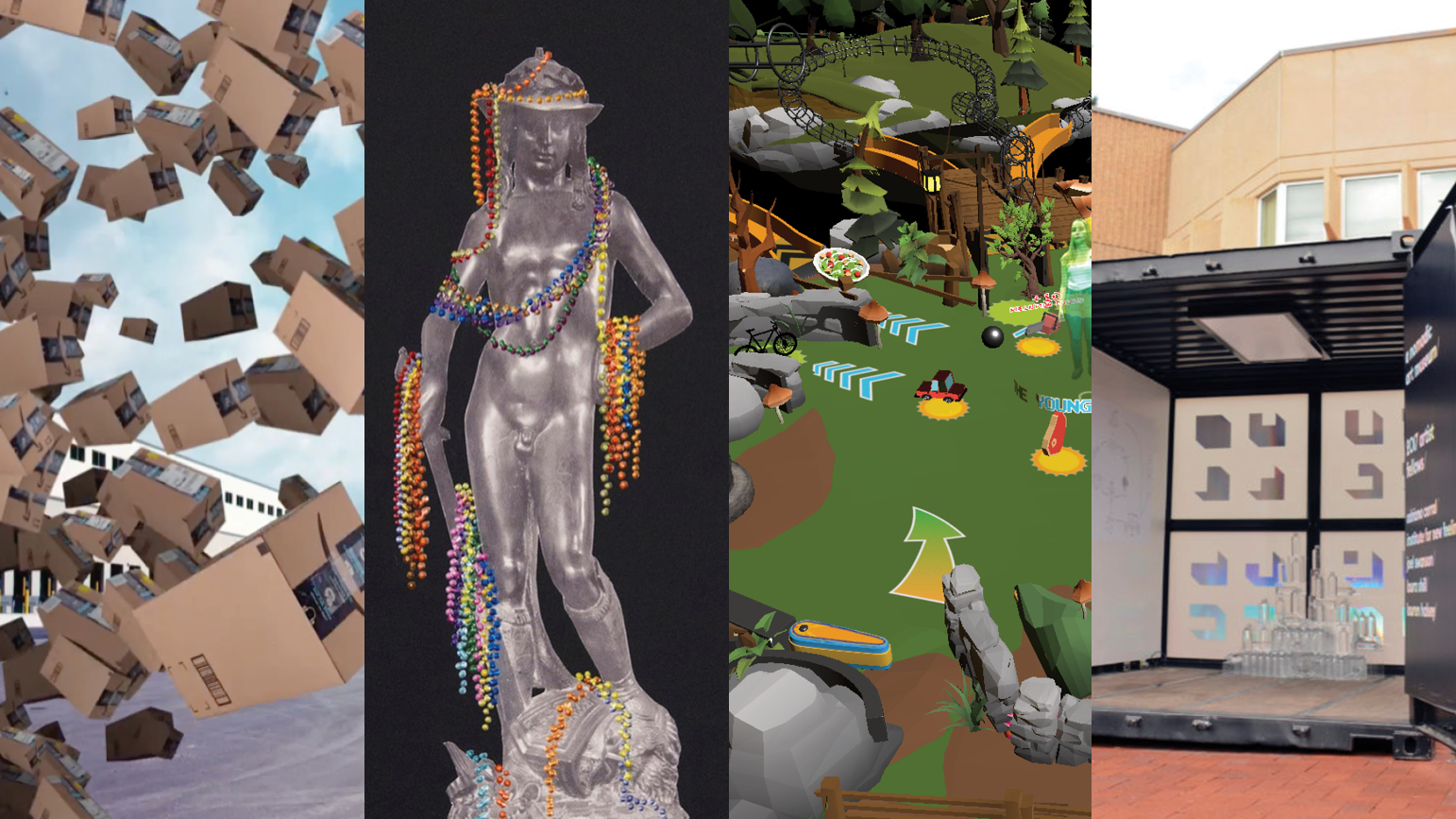 Welcome to the Weekly Alumni News Update! To have your news featured, please email schoolofartnews@cmu.edu with a brief description, link to more information, image, and your degree and class year. Or, add us to your newsletter list.
Lauren F. Adams MFA '07 curated "Rights and Wrongs: Citizenship, Belonging, and the Vote" at the Peale at Carroll Mansion, through Dec 6.
Stephen Antonson BFA '89 is now represented by The Invisible Collection.
Mel Bochner BFA '62 curated and exhibits in "Bochner Boetti Fontana" at Magazzino Italian Art in Cold Spring, NY, through Jan 11.
J Houston BHA '18 exhibits in "Free Fall" at Sistered in Portland, ME, opening Dec 5.
Lorena Lopez's BFA '14 augmented reality game "Climate Change Pinball" is part of Filmgate Miami's interactive film festival, Dec 4-6.
Adam Milner MFA '17 is included in "Imperfect Clocks" at Chart Gallery in New York, opening Dec 5.
Jay Miriam BFA '12 is featured in L'Officiel Lithuania's latest issue.
Ryan Murry's BFA '14 360 video "Eyelydian" screened at the Geelong Underground Film Festival in Geelong, Australia, Nov 28-29.
Nick Sardo BFA '16 has a solo exhibition titled "Valued Employee" at the Irma Freeman Center in Pittsburgh, opening Dec 4.
Nina Sarnelle MFA '12 exhibits in "Tracking Distribution" at the Index Foundation in Stockholm, Sweden, through Jan 31.
The Institute for New Feeling (Scott Andrew MFA '13, Agnes Bolt MFA '12, and Nina Sarnelle MFA '12) is included in Black Cube's anthology.
Jeffrey Augustine Songco BFA '05 wrote an opinion piece for Hyperallergic on the cancellation of this year's ArtPrize event.
Jeffrey Augustine Songco BFA '05 has work in "Guilty Party" at the Wing Luke Museum of the Asian Pacific American Experience in Seattle, WA, through Nov 2021.
Samira Shaheen BFA '81 exhibits in "Seen x Unseen" at Radian Gallery in San Francisco, opening Dec 5.