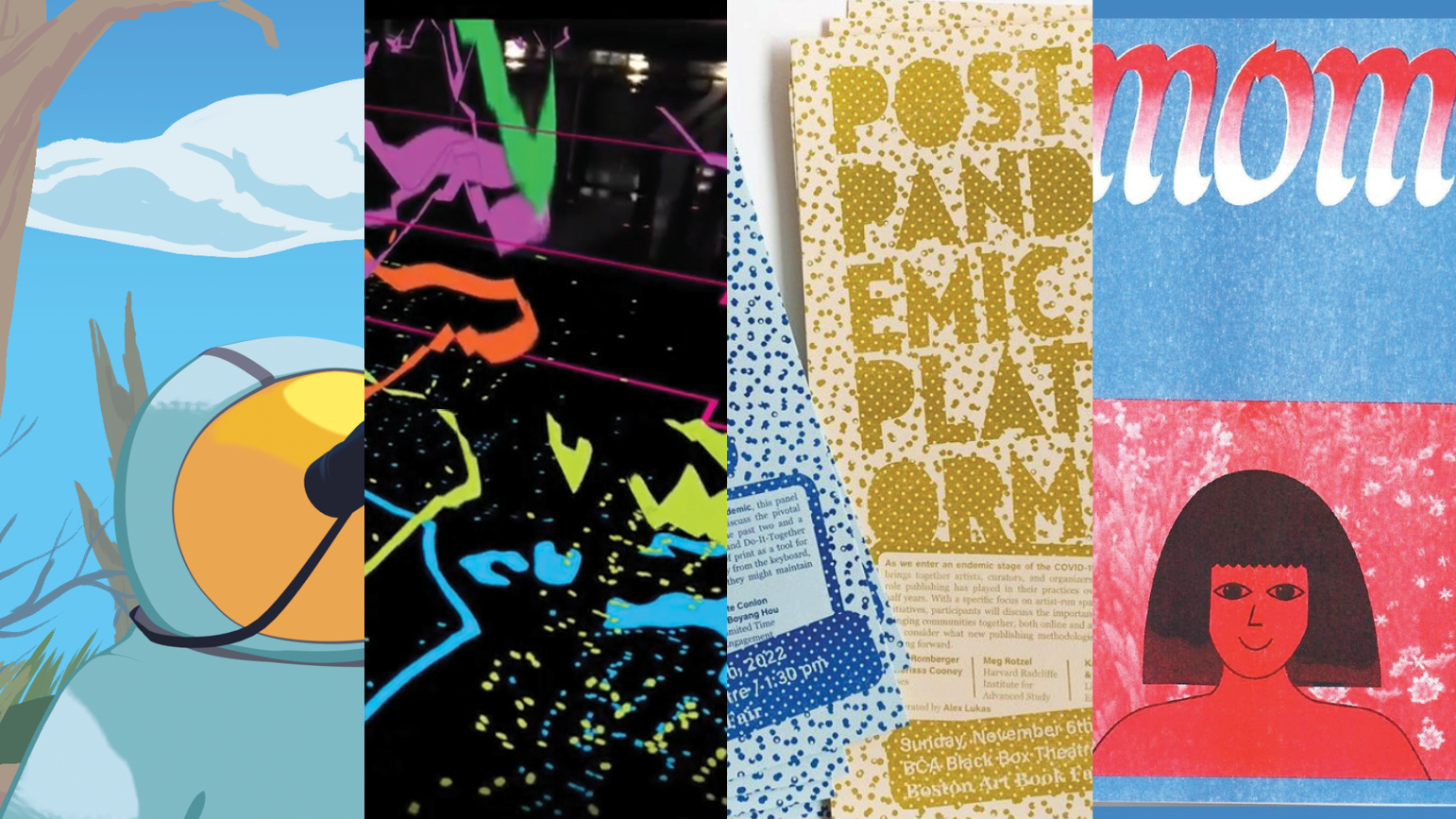 Welcome to the weekly Alumni News Update! To have your news featured, please email schoolofartnews@cmu.edu with a brief description, link to more information, image, and your degree and class year. Or, add us to your newsletter list.
Tsohil Bhatia MFA '20 exhibits in "Sites of Ruin" at Twelve Gates Arts in Philadelphia, through Jan 21.
Mel Bochner BFA '62 has a solo exhibition titled "Seldom or Never Seen" at Peter Freeman, Inc. in New York City, opening Nov 10.
Miranda Jacoby's BFA '17 film "In Search of Birds" is featured in the independent animation anthology "Things Took A Turn: Beyond The Blue Horizon."
Cassandra C. Jones MFA '04 showed work with Abigail Ogilvy Gallery at the Boston Art Book Fair, Nov 3-5.
Christopher Kardambikis BFA '05 published a new book titled "Cronomachy."
Deborah Kass BFA '74 wrote an essay for Hyperallergic titled "I'm Jewish and I Don't Want to Leave Again" in response to the recent rise in antisemitism.
Katharine Kuharic BFA '84 and Alexandra Rubinstein BFA '10 participate in "Even a Cat Can Look at the Queen" at Mrs. Gallery in Maspeth, NY, opening Nov 15.
Keith Lafuente's BFA '14 zine "Play as Object Vol. 7: Mom & Son" was collected by the Asian Art Archive in America.
Jenny Lee BFA '00 exhibits in "Small Fixations" at the ICA Milano through Dec 23.
Alex Lukas MFA '18 participated in the Boston Art Book Fair and moderated the panel "Post-Pandemic Platforms: New strategies for crafting, holding, and distributing space in a time of evolving contagion and change," Nov 3-5.
Erin Mallea MFA '19 screened work in "The Land: Artists' Film and Video that Listens to the Earth" at Broadway Metro in Eugene, OR.
Claire McConaughy BFA '81 participated in "Fete 2022: Saints & Sinners" at Red Fox in Pound Ridge, NY on Nov 5.
Rhea Nayyar BFA '19 started a new position as Staff Reporter at Hyperallergic.
Michael Pisano BFA '08 hosts the new podcast "We Are Nature" from the Carnegie Museum of Natural History.
Ann Rosenthal MFA '99 exhibits in "Going Up" at the Paramount Film Exchange Building in Pittsburgh on Nov 11.
Laura Sharp Wilson BFA '87 has a solo exhibition titled "From the Dining Room Table" at McKenzie Fine Art in New York City, through Dec 18.
Jen Urso BFA '96 exhibited in "Canal Convergence" in downtown Scottsdale, AZ on Nov 5.
Huidi Xiang MFA '21 participates in the 2023 Collector Pass from Lydian Stater Gallery in Queens, NY.