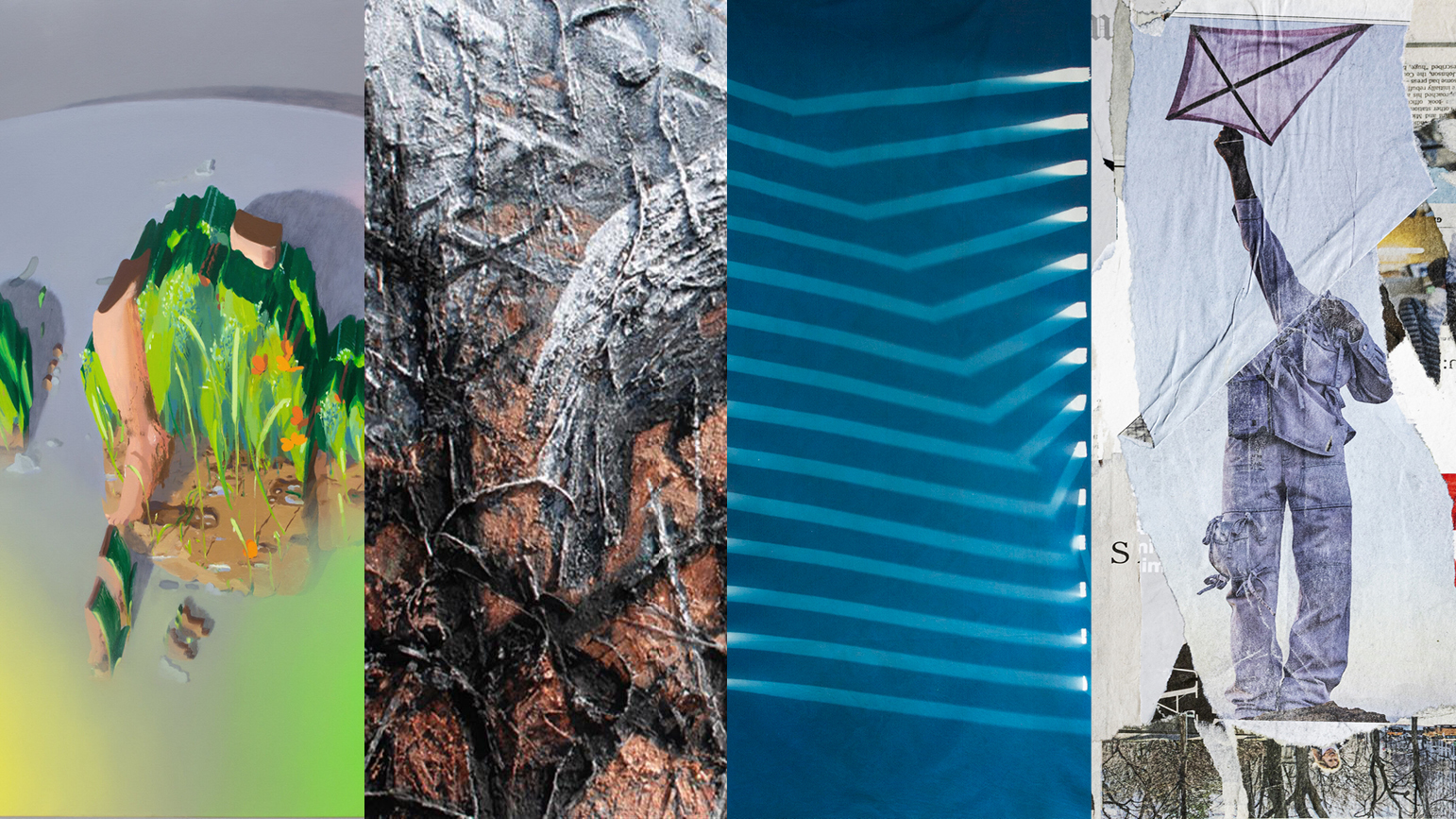 Welcome to the Weekly Alumni News Update! To have your news featured, please email schoolofartnews@cmu.edu with a brief description, link to more information, image, and your degree and class year. Or, add us to your newsletter list.
Samina Akbari BHA '01 was named a finalist for the SFFILM Rainin Grant, which awards funding to independent narrative feature film projects.
The Institute for New Feeling (Scott Andrew MFA '13, Agnes Bolt MFA '12, and Nina Sarnelle MFA '12) are included in the exhibition "Wellness" at Kristianstad Art Gallery in Sweden.
Jose Aurelio Baez BFA '08 exhibits in "Art4Equality x Life, Liberty & The Pursuit of Happiness" at The Untitled Space in New York City, through Nov 3. (image 4)
Sung Rok Choi MFA '12 participates in the Paradise Art Lab Festival, Oct 23-Nov 1 in Korea.
Janet Culbertson BFA '53 has work in "This Land Is…" at MM Fine Art in Southampton, NY, opening Oct 24. (image 2)
Elizabeth Asche Douglas' BFA '51 work "Lift in Song" was received a Merit Award in the 2020 Mr. Fred Rogers Juried Exhibition at the Latrobe Art Center for her work "Lift in Song."
Riley Harmon MFA '11 will take part in the virtual panel discussion "Manufacturing Reality in Times of Crisis" organized by SPUI25 in Amsterdam on Oct 23.
Merritt Johnson BFA '03 is the inaugural artist for the Birmingham Museum of Art's new "Wall to Wall" series, an ongoing project that invites artists to activate the museum's lobby and cafe with artwork inspired by the city.
Eunhee Kang BFA '13 takes part in "Plaza Places to Pieces," an online/outdoor art exhibition taking place around Seoul, Korea.
Yejin Lee MFA '20 performed "Breathing" at Performance Space in London, UK, which is now screening online.
Dana Lok's BFA '11 exhibition "One Second Per Second" at Page Gallery received a favorable review in the New York Times. (image 1)
Alex Lukas MFA '17 was hired as Assistant Professor at the University of California Santa Barbara.
Mary Maggic BSA '13 exhibits in "Potential Worlds 2: Eco-Fictions" at the Migros Museum in Zurich, Switzerland, opening Oct 24.
Grace Summanen BFA '96 was profiled by Mimi Magazine.
Andy Vogt BFA '92 has a solo exhibition titled "New Drawings" at Eli Ridgway Gallery in Bozeman, MT, through Jan 2, 2021. (image 3)
Audra Wist BFA '12 showed two videos in "Trunk Show," a one-night-only open air show featuring large-scale video screening and new works on view in artists' trunks in Los Angeles.
Seldon Yuan's BHA '98 work is included in New Glass Review 41, the Corning Museum of Glass' annual survey of contemporary glass.