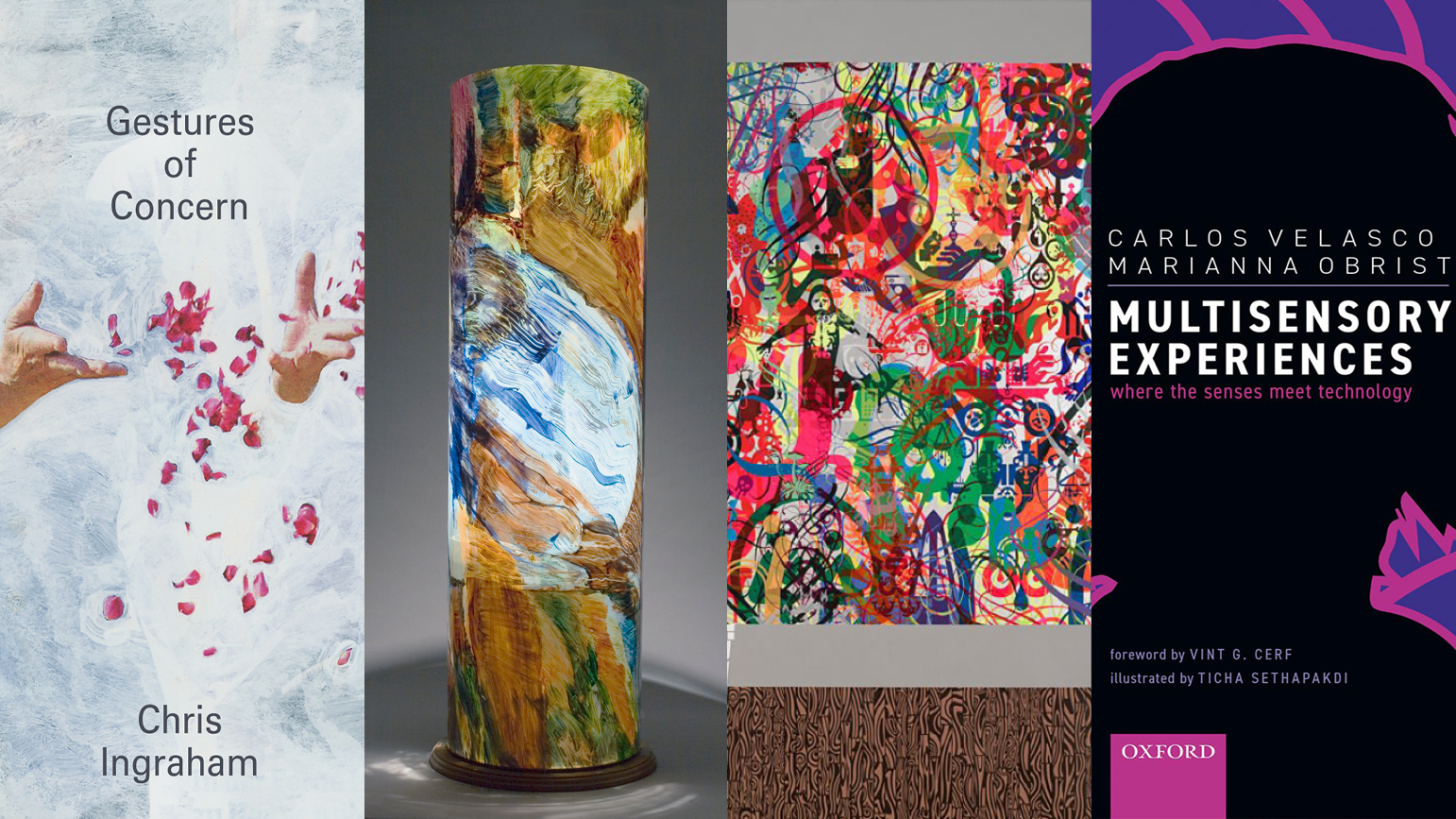 Welcome to the Weekly Alumni News Update! To have your news featured, please email schoolofartnews@cmu.edu with a brief description, link to more information, image, and your degree and class year. Or, add us to your newsletter list.
Hilda Green Demsky's BFA '58 work was selected for "New Directions 2020," a juried art exhibition at the Barrett Art Center in Poughkeepsie, opening Oct 10. (image 2)
Ryan McGinness' BFA '94 work is part of "Artists for New York," a fundraiser for non-profit visual arts organizations in NYC, organized by Hauser & Wirth, Oct 1-20. (image 3)
Adam Milner MFA '17 is featured on the cover of Gestures of Concern by Chris Ingraham, which also includes an analysis of Milner's work alongside the work of Adrian Piper and Blast Theory. (image 1)
Rob Rogers MFA '84 was in conversation with Pedro X. Molina, an editorial cartoonist forced to flee Nicaragua, on Oct 2 in an online event for Banned Books week.
Michael Royce BFA '11 had a two-person exhibition with Brach Tiller at Shin Gallery in New York, Oct 1-11.
Diane Samuels BFA '70/MFA '76 installed a series of panels she designed at Alphabet City featuring the handwritten word "Welcome" by someone in the residency at the City of Asylum.
Eva Sandor BFA '91 published a novel titled Fool's Proof.
Ticha Sethapakdi BFA '17 created the illustrations for Multisensory Experiences: When the senses meet technology by Carolos Velazco and Marianna Obrist. (image 4)
Rob Southard MFA '11 has a solo exhibition titled "Why Buy the Cow" opening at Institute 193 in Lexington, KY on Oct 7.