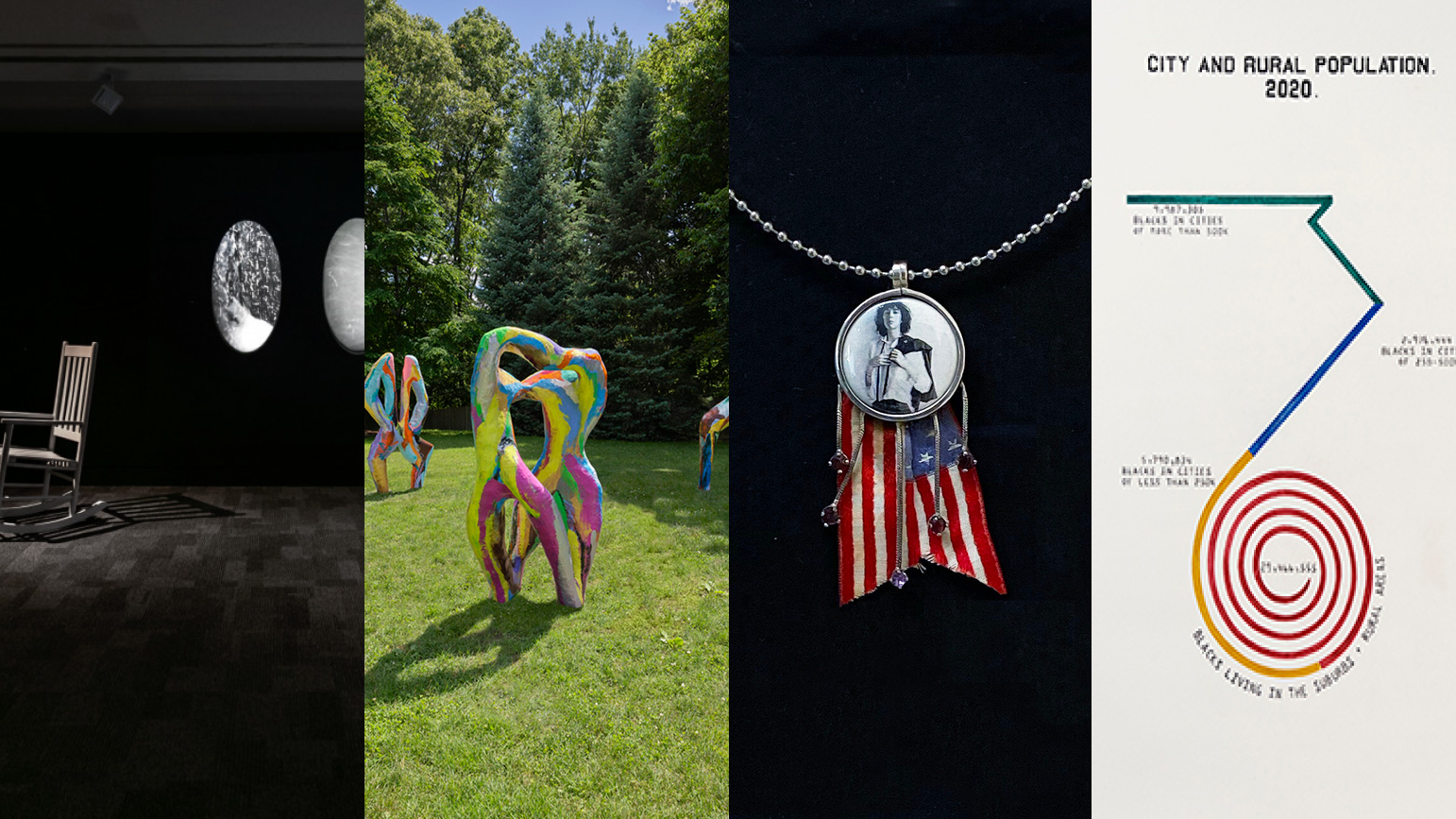 Welcome to the weekly Alumni News Update! To have your news featured, please email schoolofartnews@cmu.edu with a brief description, link to more information, image, and your degree and class year. Or, add us to your newsletter list.
A trio of sculptures by Bianca Beck BFA '01 was installed at DeCordova Sculpture Park in Lincoln, MA.
Felipe Castelblanco MFA '13 exhibits in "History's Footnote: On Love and Freedom" at Marres, House for Contemporary Cultures in Maastricht, Netherlands, through Nov 28.
Ian Ingram MFA '10 has a solo mid-career survey at the Beall Center for Art + Technology at the University of California, Irvine, opening Oct 9.
Shohei Katayama MFA '19 exhibits his work "Proximity" at Five Manhattan West through Nov 12.
Joyce Kozloff's BFA '64 work appears on the cover of the October 2021 issue of Artforum Magazine, accompanying an article of the Pattern & Decoration movement.
Jaewook Lee MFA '15 has work on view in "Wednesday is Indigo Blue" at the Daejeon Museum of Art in Korea, through Dec 19.
Geraldine Ondrizek BFA '85 exhibits in "What Needs to Be Said: Hallie Ford Fellows in the Visual Arts" at the Schneider Museum of Art in Ashland, OR, through this winter.
Todd Pavlisko MFA '02 has a solo exhibition titled "Screaming Through Space" at LaMontagne Gallery in Boston, MA, through Oct 15.
Oscar Peters MFA '12 has work on view at Kyoto Experiment, a performing arts festival in Kyoto, Japan, Oct 1-24.
Alison Safford BFA '88 has a solo exhibition titled "Anthro(Site)" at Ursinus College in Collegeville, PA, through Nov 30.
The online journal Persimmon Tree Magazine published a feature on the work of Susan Schwalb BFA '65.
Teresa Shields BFA '84 exhibits in the 2021 Member Exhibition at the Hunterdon Art Museum in Clinton, NJ, through Jan 9, 2022.
Katy Tanis' BFA '05 first author/illustrator children's book Love in the Wild was published earlier this year.
Jina Valentine BFA '01 has a solo exhibition titled "Exhibit of American Negroes, Revisited" at Columbia College in Chicago, through Oct 29.
Moses Williams MFA '17 exhibits in "Space Maker" at the Utah Museum of Fine Arts in Salt Lake City, through Dec 5.