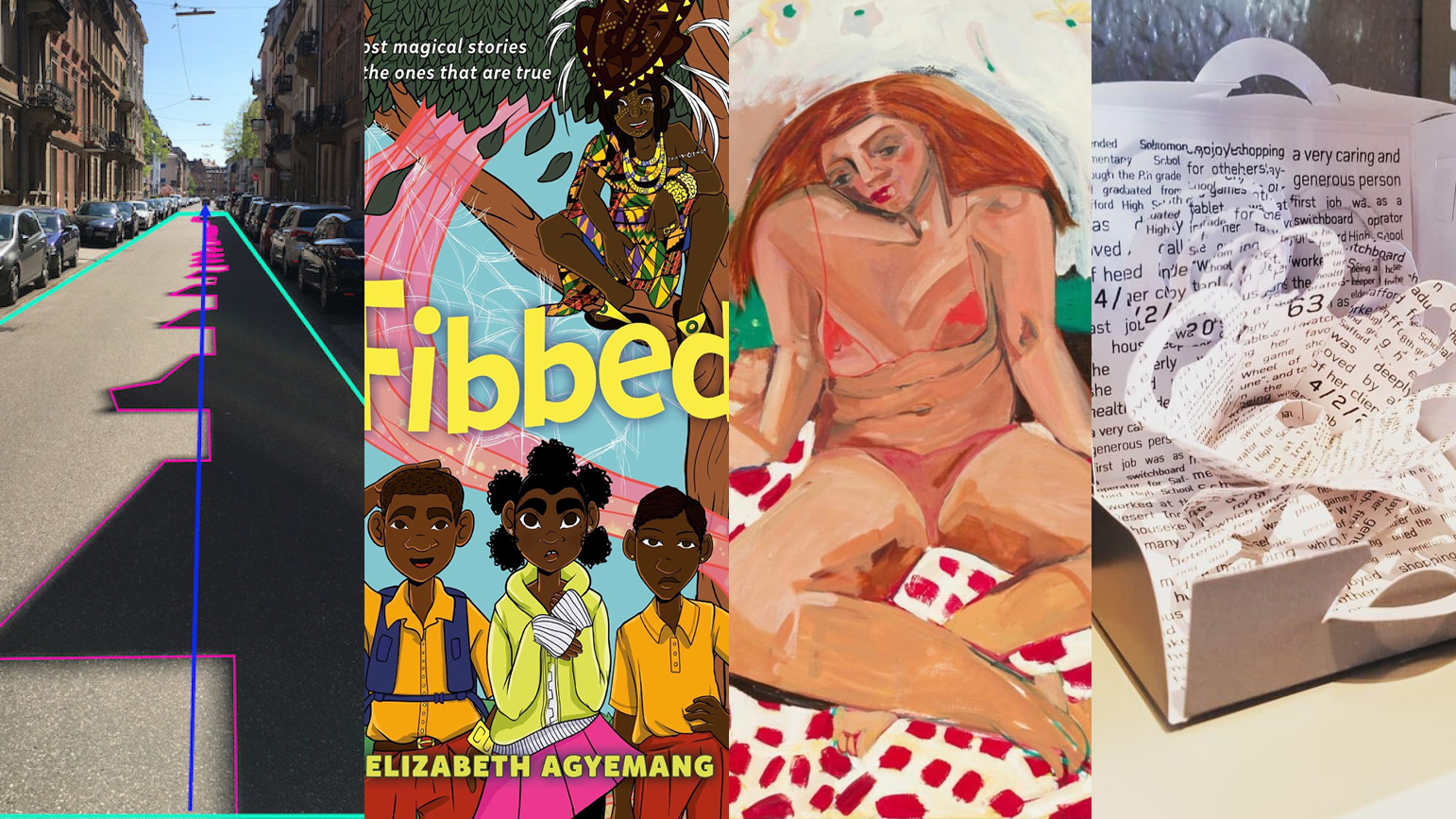 Welcome to the weekly Alumni News Update! To have your news featured, please email schoolofartnews@cmu.edu with a brief description, link to more information, image, and your degree and class year. Or, add us to your newsletter list.
Elizabeth Agyemang's BFA '17 graphic novel for kids Fibbed, published by Razorbill Books (an imprint of Penguin Random House), is available for pre-order.
Bianca Beck BFA '01 has a three person exhibition at the Columbia College of Art & Design, through Nov 6.
Caroline Choe BFA '04 appeared on the Today Show and taught viewers how to make pajeon (scallion pancakes) to celebrate Chuseok / Mid-Autumn Festival.
Deborah Kass BFA '74 is included in Sculpture Milwaukee's Summer 2021 exhibition "this is We," which is on view throughout the city through fall 2022.
Patrick Meagher BFA '95 is included in the exhibition "Who Really Cares" at SUNY New Paltz, through Nov 14.
Jay Miriam BFA '12 has work included in "Breakfast in America" at Seasons Gallery in Los Angeles, through Oct 16.
Geraldine Ondrizek BFA '85 has work included in "Unsee: an International Juried Exhibition of Book Arts" at form & concept in Santa Fe, NM, through Nov 20.
Benjamin Rosenthal BFA '06 shows work in the Cairo Video Festival, Oct 1 – 20 in Cairo, Egypt.
Nina Sarnelle MFA '12 with Sara Drake published "Growing Teeth: Imagining Communal Aging," a free downloadable book about aging.
The Courtauld acquired 8 metalpoint drawings by Susan Schwalb BFA '65.
Amy Tenenouser BFA '85 exhibits in "Transit Sketches" at the New York Transit Museum at Grand Central Station in New York City, through Nov.
Jen Urso BFA '96 has a solo exhibition "Remarkable Presence," which honors lives lost to COVID-19 in Arizona, at Walter Art Gallery in Scottsdale, AZ, through Oct.
Jina Valentine BFA '01 was chosen to create a large-scale public artwork for O'Hare Airport in Chicago, IL.
Dan Wilcox MFA '13 presents "ShadowPlay" at the Seasons of Media Arts: Connecting Future festival at the Center for Art and Media Karlsruhe in Germany, through Oct 17.
Daniel Campos Zamora BHA '15 is beginning a PhD program in Human-Computer Interaction at the University of Washington.