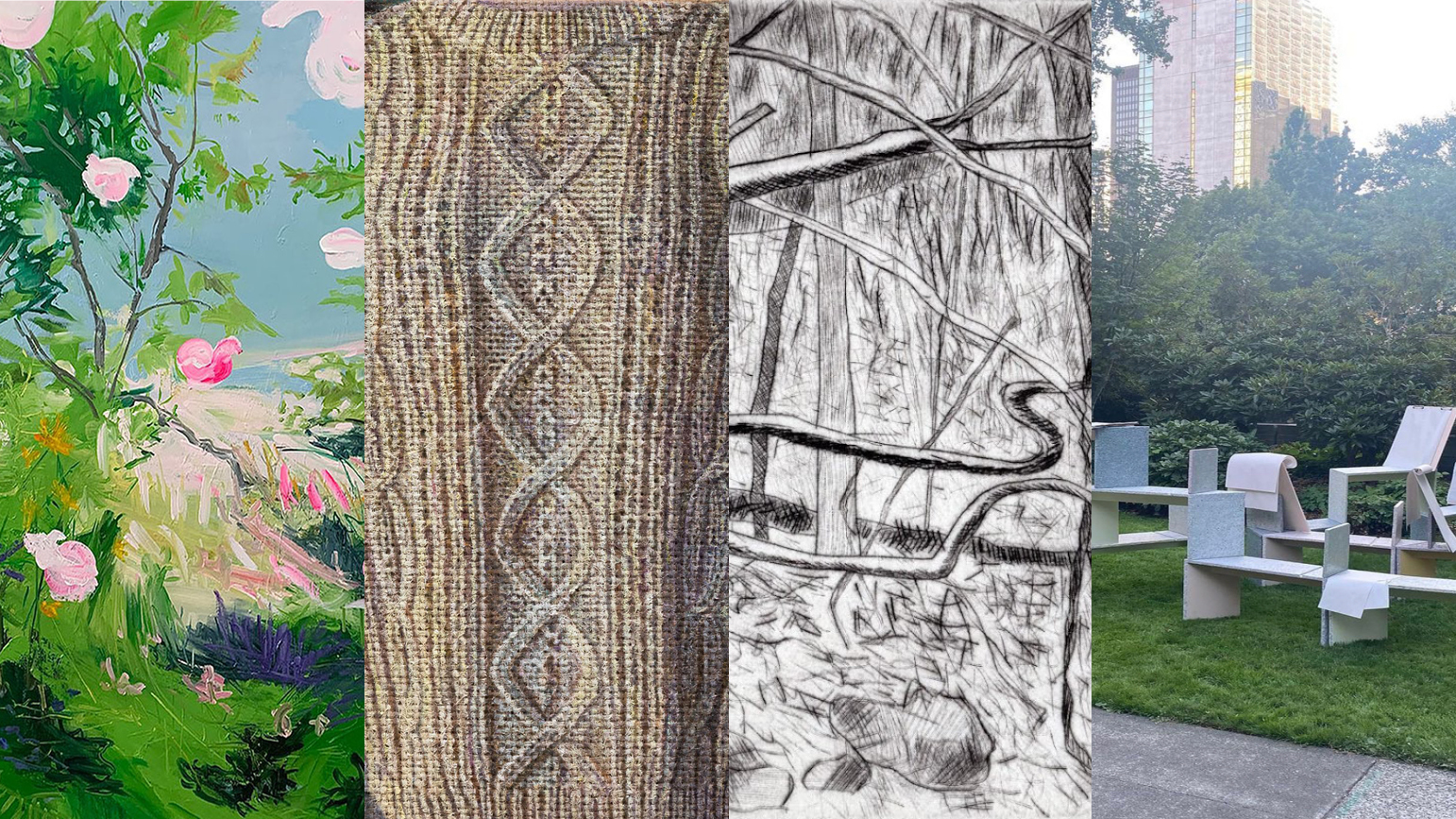 Welcome to the weekly Alumni News Update! To have your news featured, please email schoolofartnews@cmu.edu with a brief description, link to more information, image, and your degree and class year. Or, add us to your newsletter list.
Coco Allred BFA '19 led a series of free observational drawing workshops in parks in King County, WA this summer.
Anna Baldi's BFA '18 work is included in the Summer 2021 issue of Subjectiv. Journal.
Arden Bendler Browning BFA '97 had a solo exhibition titled "Escape Routes" at Tinney Contemporary in Nashville, TN, July 23 to Aug 28.
Janet Culbertson's BFA '53 work was included in "Women Celebrate Women" at El Barrio Art Space PS109 in New York City, Aug 8-25.
Becs Epstein BFA '17 started the MFA program at the School of the Art Institute of Chicago.
Catharine Fichtner's MFA '95 show "Veils" is at The Delaware Contemporary in Wilmington, DE, through Jan 7.
Lorena Lopez's BFA '14 work "Beyond the Frame" was included in the Los Angeles International Film Festival.
Jenny J. Lee BFA '00 had work included in "Halcyon and On and On" at Franz Kaka Gallery in Toronto, Canada, July 30 to Aug 28.
Claire McConaughy BFA '81 exhibited in "A Daze of Roses" at Mizuma & Kips in New York City, July 28 through Aug 21.
Ryan McGinness BFA '94 had a solo exhibition at Weber Fine Art in Greenwich, CT, July 8 to Sept 1.
Adam Milner MFA '17 was profiled by Art21's New York Close Up series about his solo show organized by Black Cube Nomadic Museum.
Thomas Norulak BFA '71 exhibits two prints in "Lonely Hearts" at the International Print Center New York, through Sept 18.
Pat Scull BFA '75 had a two person exhibition at Frank Gallery in Chapel Hill, NC, June 8 – Aug 7.
Katherine Stengle BFA '84 shows work with Central Booking at Art on Paper in New York City, Sept 9 -12.
Renee Stout BFA '80 was included in the exhibition "The Dirty South: Contemporary Art, Material Culture, and the Sonic Impulse" at the Virginia Museum of Fine Arts, which closed on Sept 6.
Jessica Vaughn BHA '06 was appointed Associate Professor at the Tyler School of Art & Architecture at Temple University in the Department of Painting and Drawing.
Cay Yoon BFA '04 exhibited in "Embrace" at Maake Projects in State College, PA, July 17 – Aug 21.
Ricardo Mirand Zúñiga MFA '99 is included in the online exhibition "NFS NSFW NFT" organized by NEW INC and Rhizome's Art & Code track.