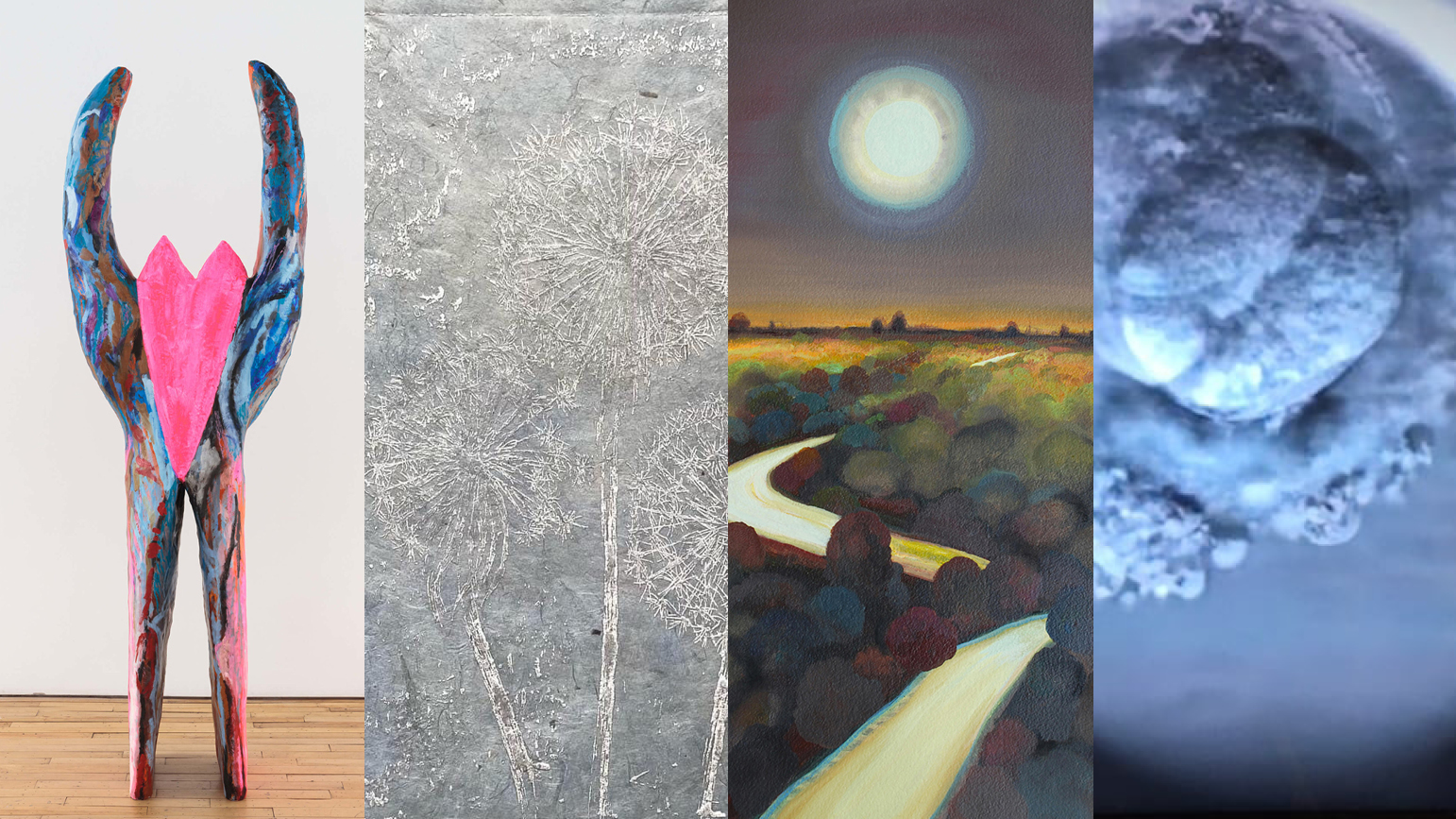 Welcome to the weekly Alumni News Update! To have your news featured, please email schoolofartnews@cmu.edu with a brief description, link to more information, image, and your degree and class year. Or, add us to your newsletter list.
Christine Blair BFA '89 exhibits in "Unframed" at Alex Ferrone Gallery in Cutchogue, NY, through May 1.
Bianca Beck BFA '01 exhibits in "Broken Open" at the Museum of New Art in Portsmouth, NH, through Sept 25.
Janet Culbertson BFA '53 contributed work for the Art for Ukraine Auction, hosted by The Church in Sag Harbor, NY.
The Art Newspaper published a feature on the work of Nkechi Ebubedike BFA '06. 
Naomi Falk MFA '03 has a collaborative exhibition with Greg Stuart titled "Terra Incognita" at 701 Center for Contemporary Art in Columbia, SC, opening May 5.
Deborah Kass' BFA '74 public sculpture "OY/YO" will be installed in front of the Weitzman National Museum of American Jewish History in Philadelphia beginning in May.
Jamie Walters Kessler BFA 14 has a feature on her sound artwork "Soundscapes in Mother" and artist interview in issue 19 of Digital America.
Ben Kinsley MFA '08 exhibits in the 25th Gabrovo Biennial of Humor and Satire in Art in Bulgaria, opening May 20.
Dana Lok BFA '11 exhibits in "Gravity" at Sikkema Jenkins Gallery, on view through May 27.
Sarah Marshall BFA '92 has a solo exhibition titled "Exquisite Disorientation" at the Wiregrass Museum of Art in Dothan, AL, on view through June 25.
Claire McConaughy BFA '81 exhibits in "Fragile Rainbow: Traversing Habitats" at the Williamsburg Art & Historical Center in Brooklyn, NY, opening May 7.
Geraldine Ondrizek BFA '85 exhibits in "Personal Structures" at the European Cultural Center in Venice through Nov 27.
Everest Pipkin MFA '18 premiered a new work titled "Anonymous Animal" on the html.review.
Alison Safford BFA '88 exhibits in "We_are_vessels" at Het Nieuwe Instituut in Rotterdam, opening May 1.
Nina Sarnelle MFA '12 presents the performance "POWERNAP" at Coaxial Arts in Los Angeles on Apr 30 and May 1.
Fereshteh Toosi MFA '04 was named a 2022 Ecotopian Toolmakers for Delaware Watershed Justice for their project "Water Radio: Delaware River."
Derek Wolmuth MFA '11 exhibits in "Form & Ephemera" at Rockside Gallery in Victoria, Canada.