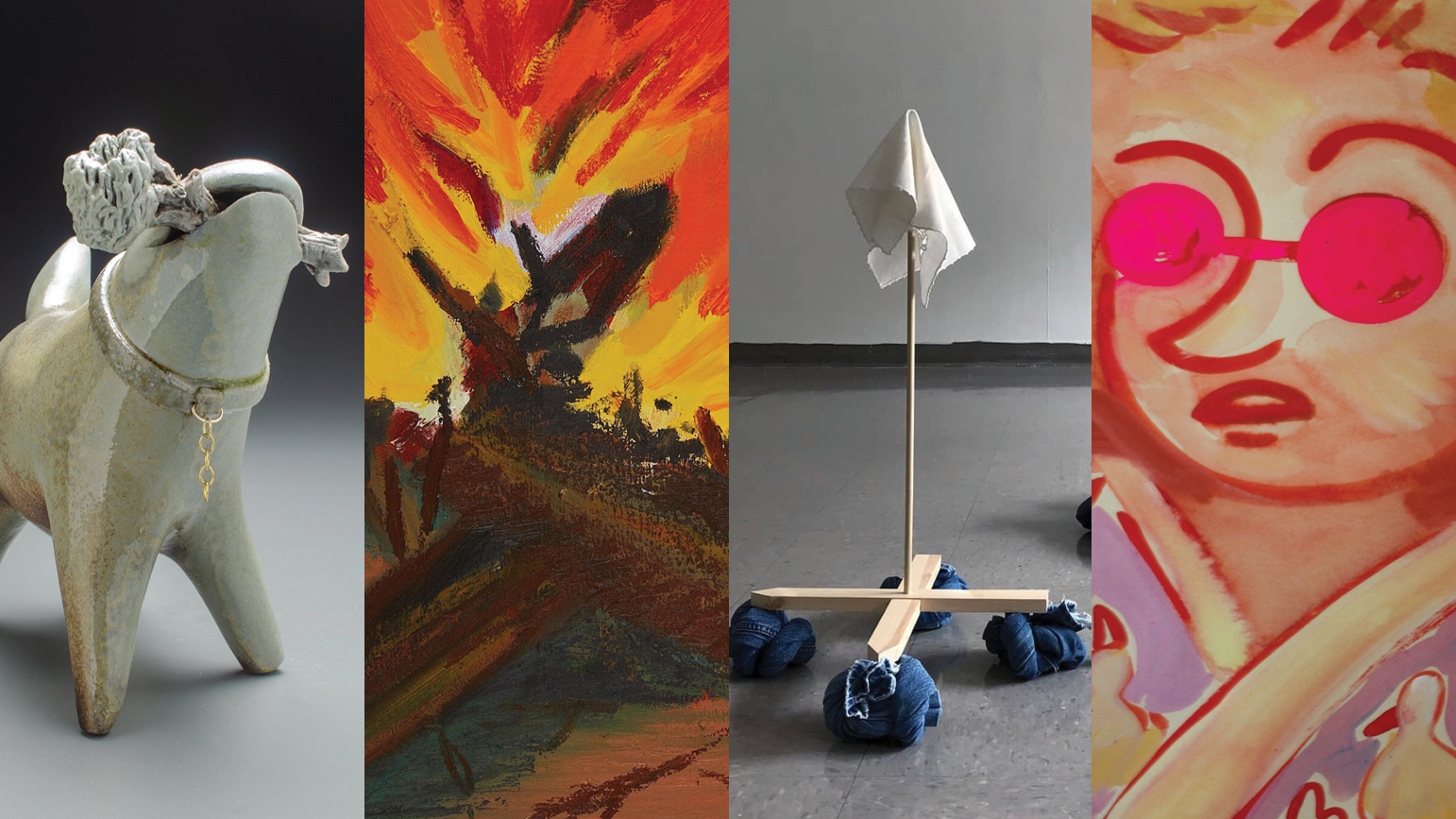 Welcome to the Biweekly Alumni News Update! To have your news featured, please email schoolofartnews@cmu.edu with a brief description, link to more information, image, and your degree and class year. Or, add us to your newsletter list.
Tsohil Bhatia MFA '20 Jamison Edgar MFA '20 exhibited in "staycation" in New York City, Apr 16-81.
Naomi Falk MFA '03 exhibits in "Lost in the Weeds: Climate Change and Human Nature" at the ATHICA: Athens Institute for Contemporary Art, on view through May 22.
Eva Funderburgh BSA '05 has a solo exhibition titled "Free Range" at Saltstone Ceramics in Seattle, WA, through Apr 30.
Jaewook Lee MFA '15 was named a 2022 Revolution Resident at the Santa Fe Art Institute.
Erin Mallea MFA '19 and Paper Buck MFA '20 are launching a new newsletter called "Tree News" with foraging walks with Melissa Sokulski.
Philip Morsberger BFA '56 died at the age of 87. Morsberger was an accomplished painter and taught at Harvard, Dartmouth, UC Berkeley, California College of Arts and Crafts, Miami University, and Augusta State University. He was Oxford University's Master of Drawing from 1971-1984, an honor unheard of for an American artist.
Margie Neuhaus BFA '85 has a solo exhibition "Lineaments" at The Garage Art Center in Bayside, NY, through Apr 25.
Mitzi Pederson BFA '99 exhibited in "Sea Change" at Ratio 3 in San Francisco, CA, Jan 22 – Apr 3.
Ann Rosenthal MFA '99 is the featured speaker for PennFuture's virtual Earth Day on Apr 20 at 7 PM. Her talk is titled "Environmental Art: Awareness and Action."
Casemore Kirkeby and Andrew Kreps Gallery announced a two-venue retrospective of Raymond Saunders BFA '70 titled "40 Years: Paris/Oakland," opening May 1.
Jack Taylor BFA '18 has a two-person exhibition with Ed Parrish Jr. titled "Labor of Love" at Zynka Gallery in Sharpsburg, PA, through May 30.
Melissa Thorne BFA '93 and Dara Birnbaum B.Arch '69 were awarded 2021 Guggenheim Fellowships.
Sam Ticknor BFA '15 has a solo exhibition of new paintings at Usagi in New York City, opening May 1.
Laura Sharp Wilson BFA '87 had a solo exhibition titled "Soft Edges and Intersections" at Salt Lake City Community College, Mar 11-Apr 9.