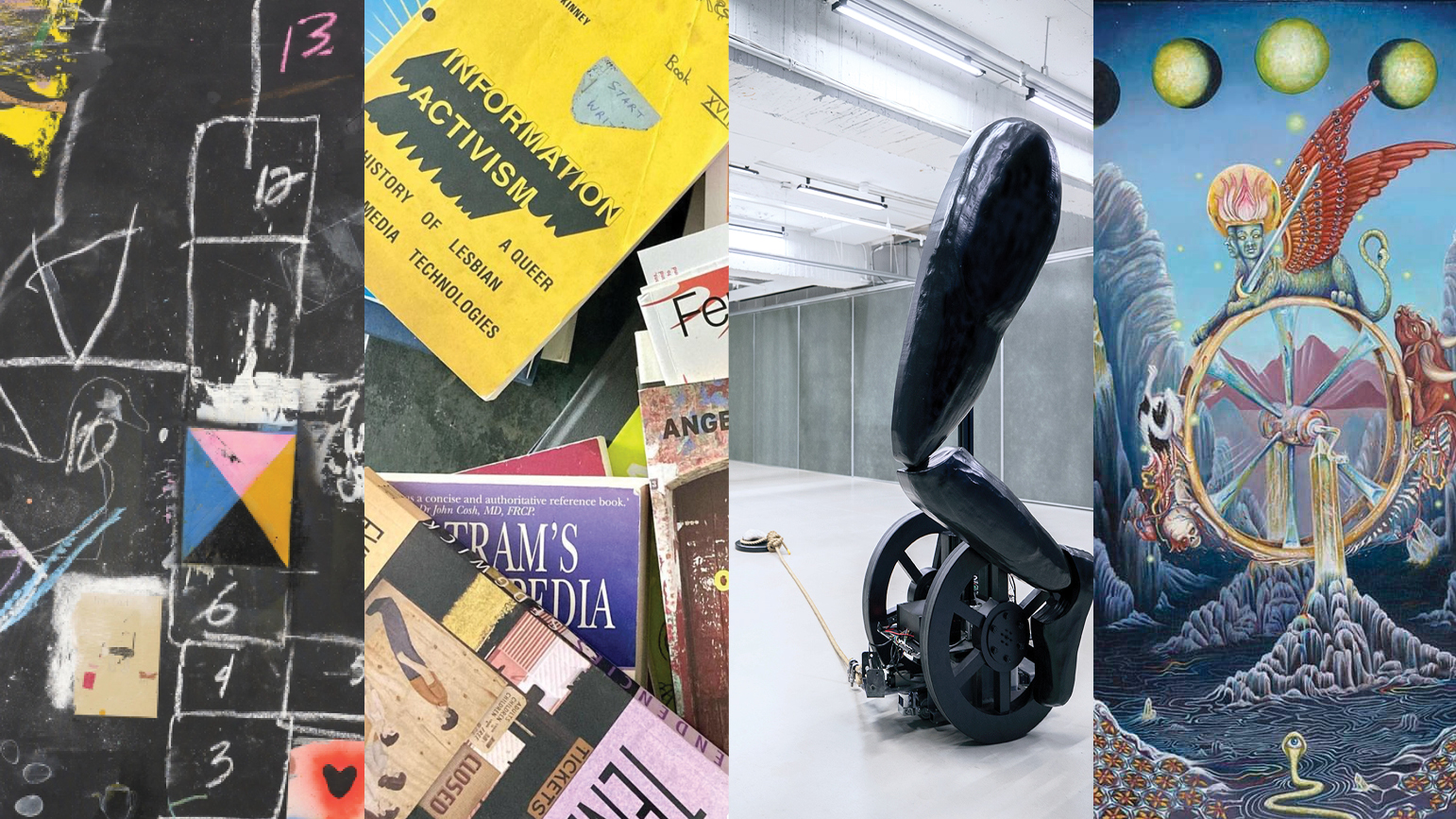 Welcome to the weekly Alumni News Update! To have your news featured, please email schoolofartnews@cmu.edu with a brief description, link to more information, image, and your degree and class year. Or, add us to your newsletter list.
Adria Arch's BFA '74 exhibition at Storefront Art Project was reviewed in The Boston Globe.
Felipe Castelblanco MFA '13 exhibited in "Inside the Amazon" at Kunsthaus Baselland in Muttenz, Switzerland, Nov 5, 2021 – Jan 2, 2022.
Hank Ehrenfried's BFA '14 exhibition at Quappi Projects was reviewed by Whitewall Magazine.
Juliacks BHA '08 had a solo exhibition titled "The Future of Justice" at Nieuw Dakota in Amsterdam, which closed Jan 16.
Krisztina Lazar BFA '04 exhibits in the "Surreal Salon" at Baton Rouge Gallery, through Jan 27.
Summer Leavitt BFA '18 founded the Queer Theory Library, a nomadic library with a catalogue available to the public and curated cultural programming inviting artists to make new work in response to one of the books.
Jessica Gaynelle Moss BFA '09 moderates three virtual events during January hosted by the August Wilson Center that bridge prominent and influential Pittsburgh-based artists and scholars with nationally-recognized Black makers and creators.
Jessica Gaynelle Moss BFA '09 has a solo exhibition at the August Wilson Center in Pittsburgh titled "the Black box test," on view through Jan 31.
Philip Pearlstein BFA '49 has a solo exhibition titled "I Love Mud" at Betty Cuningham Gallery in New York, through Jan 22.
Raymond Saunders BFA '60 has a solo exhibition at Andrew Kreps Gallery in New York City, through Feb 12.
Carrie Schneider's BHA '01 two-venue exhibition at Candice Madey and Chart were included in artist and filmmaker Sky Hopinka's Top Ten of 2021 in the December issue of Artforum.
Rexy Tseng's BFA '09 work "Above a King, Beneath a Thing" has received the Excellence Award of Interactive Arts category from the Asia Digital Art Award 2021 in Fukuoka, Japan.
Paul Vanouse MFA '96 co-curated "Difference Machines: Technology and Identity in Contemporary Art" at Albright-Knox Northland, which closed on Jan 16.
Colby Chamberlain reviewed Jessica Vaughn's BHA '06 book "Depreciating Assets" as a Best Book of 2021 in the December issue of Artforum.
Huidi Xiang MFA '21 exhibits in "A Couple of: The Dual-mechanism of the New Generation of Asian Artists" at Hive Center for Contemporary Art in Beijing, China, through Jan 20.