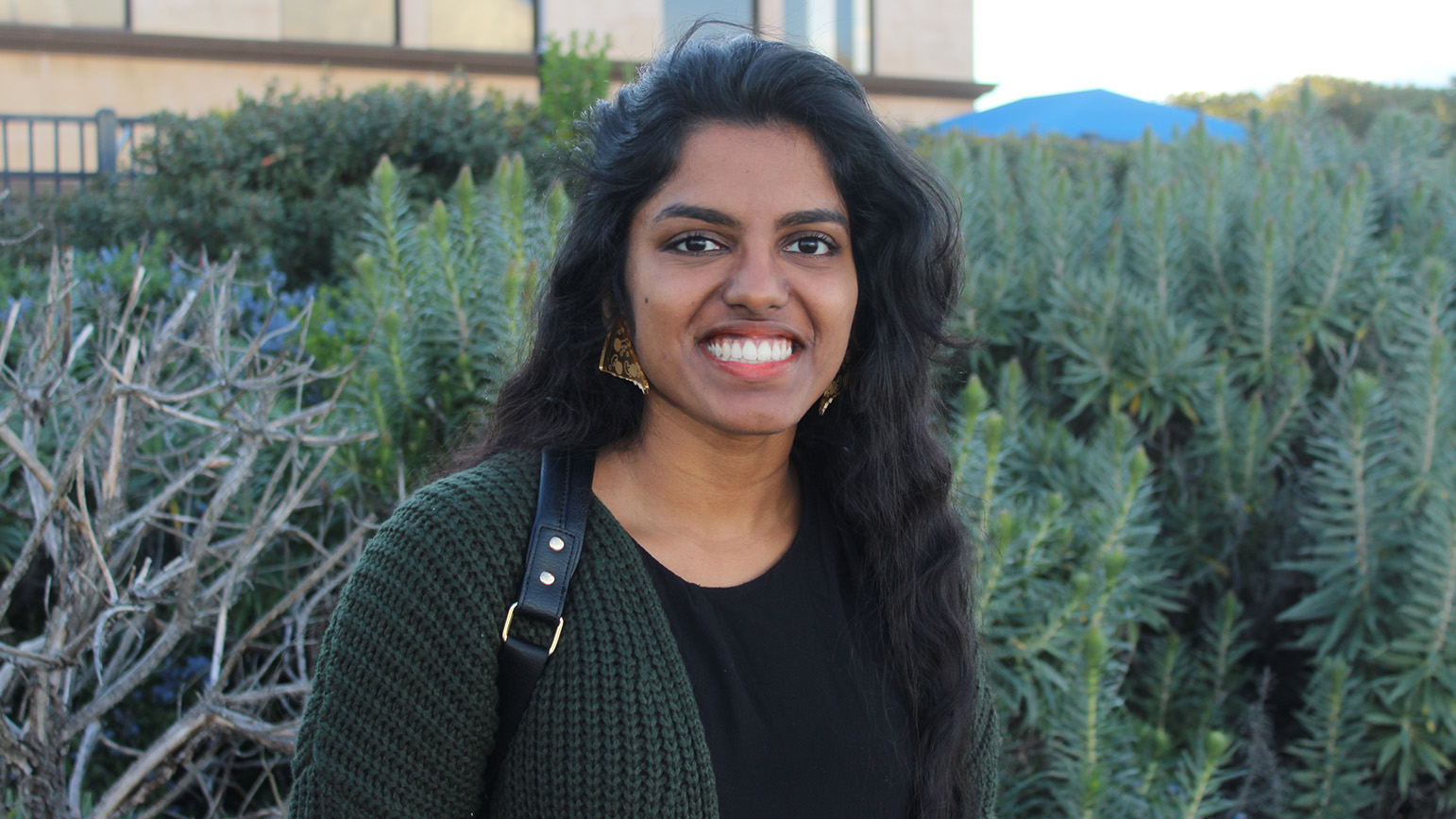 Swetha Kannan is a graphics and data journalist at the Los Angeles Times who applies her skills in game design, animation, and graphic design to the newspaper's online and social media platforms. She was a 2020 Pulitzer Prize finalist for her work in Explanatory Reporting with Rosanna Xia and Terry Castleman for a project on climate change's effects on California's coastal communities.
Other projects Kannan's worked on include an analysis of women's roles in Star Wars films, an investigation of the Los Angeles Police's use of force in responding to protests stemming from the death of George Floyd, an analysis of powerful people accused of sexual misconduct since the story about Harvey Weinstein broke, a review of how many women won their races in the 2018 midterms, and a news game about navigating the legal system when arrested by a dishonest cop.
Prior to working at the Los Angeles Times, Kannan was a Television Technologies Intern at Nickelodeon.
"5 Questions" is an ongoing series by the School of Art that asks alumni who are transforming art, culture, and technology about their current work and time at Carnegie Mellon.
Were you interested in pursuing a career in the journalism field before you started at the Los Angeles Times?
I had never really thought of myself as a journalist, but I've been told by my classmates that if anyone in our class would be one, they knew it would be me. A lot of my work during my time at CMU was about feminism and social justice. My parents really didn't understand feminism and Professor Paolo Pedercini was the first who was really encouraging of it. My boss here at the Times is also very encouraging of this.
At Nickelodeon, everyone was focused on entertainment. I think cartoons are meaningful, but I just didn't feel as though people were thinking about the things that I cared about. Here at the Times, my whole team is the same type of person I am: really invested in social justice.
How can skills learned in art school help tell or explain the news better than writing alone?
The way we consume news has changed drastically, even in the last decade. So many people are getting their information from social media now, and my team is really targeting a younger demographic, since the older demographic already knows how to consume news. Our younger audience hasn't grown up with newspapers, and they haven't been trained to question ​what they read. Before I came to the Times I was exactly like this. When I came here, I realized that everything that's published is stressed over by at least five or six editors; every word is fact checked here. Everyone is so loving and caring about their work, so it's frustrating to see the fake news narrative being touted by the president and to see youth being so jaded by the news.
We can reach younger audiences through social media, Netflix, and other forms of media. Graphics is the easiest way to reach this demographic. My department doesn't just do web design, we also do social media work. Our whole department is redefining the way our audience engages with us, which I think is vital to the survival of news.
Could you share an example of one of your favorite projects?
One of my favorite projects I worked on was a game about the disappearing California coast, which accompanies an extensive report on how climate change is affecting the coastal communities. In the game, you must save a town from flooding by choosing from various options—building a rock wall, adding sand to the beach, or buying out home owners—all while staying in your town's budget. Rosanna Xia, an environmental reporter for the Los Angeles Times, pitched the project to our department because as she was interviewing experts, the thing that kept coming up was that this was a game that nobody can win.
The project had a year launch date, so we already knew it was going to be handled as a huge project. In general, it's hard for a lot of departments to work with us, since most people at the Times are focused on the traditional print product, rather than the digital. But Rosanna has been one of those reporters who has consistently known how to work with us and brought interesting things to our attention.
Could you talk a bit about your time as an undergraduate at CMU's School of Art? Are there any experiences you had as a student that stand out?
Paolo was an influential teacher and I took a lot of classes with him. He also helped when I graduated by introducing me to his friend in LA who hired me for a few months before I got my internship at Nickelodeon.
I enjoyed my senior studio quite a lot. I didn't end up liking my project very much, but I really enjoyed the whole experience of having free time to do whatever I wanted. It helped me figure out how to work with myself.
Do you have any advice to share with graduating students looking for a job?
It's really a struggle because you're graduating in the worst kind of environment, but I would say that the situation isn't as hopeless as it seems from the outside. There are still people in my company that are hiring. I think artists are in a unique position to get hired right now because people are looking for innovative ways to deal with current challenges. I do think that arts and creativity is hugely in demand right now. I wouldn't lose hope if you don't get hired — it took me a year out of college to get hired.
In a​n unfair workplace, my advice is to unionize. I do think that starting wages are becoming smaller and smaller based on artists working for free or for exposure. A union is a great way to protect against that.
Finally, if someone tells you that they're going to give you a job, get it in writing.