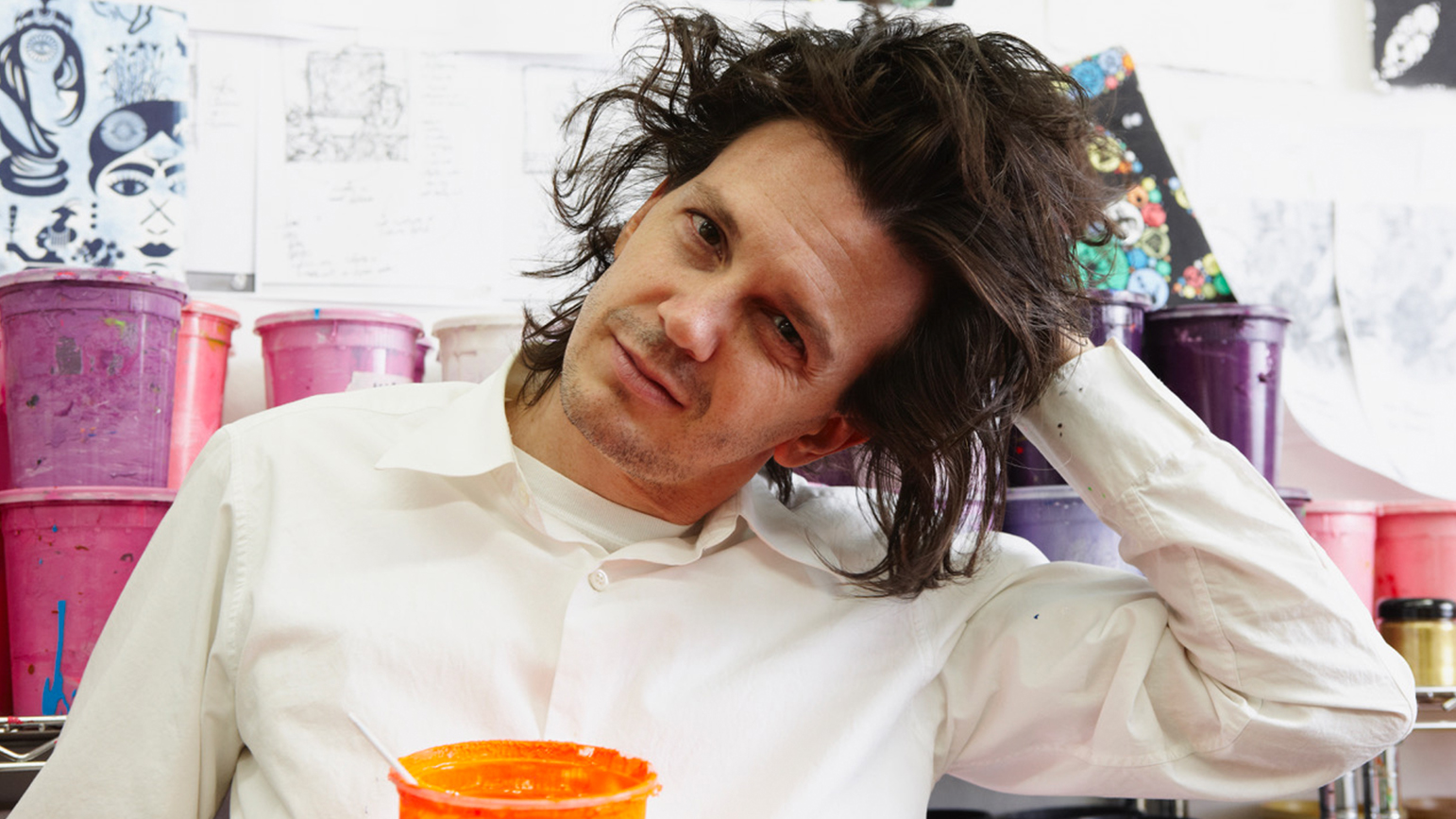 "5 Questions" is a new series by the School of Art that asks alumni who are transforming art, culture, and technology about their current work and time at Carnegie Mellon.
Known for his brightly colored paintings, prints, sculptures, and installations that use the graphic language of public signage and corporate logos, Ryan McGinness' work is a multidimensional reflection on contemporary visual culture.
McGinness' fascination with graphic language began early in life in Virginia Beach, where he became enamored with the artwork that defined the surf and skate culture of his youth. His education at Carnegie Mellon gave him the opportunity to study both art and design, and he initially supported himself as a graphic designer after college.
Currently, his work can be found in the solo exhibition "Ryan McGinness: Studio Views" at the Cranbrook Museum of Art. The exhibition presents a large-scale installation based on his studio practice and a selection of drawings and iconography created from artworks in the Museum's collection. Coinciding with the exhibition, McGinness collaborated with skateboarding legend Tony Hawk on "Wayfinding," an art installation and skate park in the city of Detroit.
McGinness' work can be found in the collections of the Metropolitan Museum of Art, Museum of Modern Art, Virginia Museum of Fine Arts, Museum of Contemporary Art, San Diego and many others. He has been written about in the New York Times, Wall Street Journal, Los Angeles Times, Interview Magazine, Paper Magazine, Vice, and many others.
You spend some time as a Curatorial Assistant at The Andy Warhol Museum. What effect did this have on your own artistic practice?
Not much. I had grown up being a fan of Warhol, but I go through 5-year cycles of loving and hating him. While my practice is influenced by the process permissions Warhol added to art, I am at odds with appropriation.
The fact that he attended Carnegie Tech was one of the reasons I decided to go to Carnegie Mellon. My time at the museum (1993-1994) was spent helping them get set up to open, designing different print materials, and doing research.
You've previous talked about how you were influenced by the graphics and logos of surf and skate culture in Virginia Beach, where you grew up. Since that time, a lot of has changed in how we consume visual information due to the ubiquity of the internet, social media, and smartphones. How has your work responded to these changes in contemporary visual culture?
Not much has changed. Subcultures have always shared information through subversive channels. Exchange is faster now.
When I first decided to use Instagram as a publishing platform in 2012, I decided to make work that was site-specific and unique to that medium. I made 1,000 typographically adventurous virtual buttons of phrases culled from my sketchbooks for 3 years. The project culminated in a halftoned photographic self portrait composed of those 1,000 buttons.
(View the installation here and a video about the project here)
You've spoken before about how you were fascinated with the value that a logo or graphic can add to a product. Could you speak about the trend for artists to collaborate with corporations, for example your collaboration with Hennessy in 2015, and what impact that has on your own practice? Do you see a difference between your studio practice and your work with companies?
I will rarely work with a company to endorse a product. The product must relate to me personally. I used to play in the Chinatown Soccer Club here in Manhattan, and I needed a ball, so I made a soccer ball. I grew up skateboarding, so I collaborated with Supreme to create a set of skateboards. I like to drink, so I worked with Hennessy. It's not that complicated. The best source of information concerning artists working with corporations is the Sponsorship book I made.
Could you talk a bit about your time as an undergraduate at CMU's School of Art? Are there any experiences you had as a student that stand out?
My major was graphic design, and I minored in fine art. Both these departments, of course were within the College of Fine Art. This was at a time when both departments shared a core curriculum for the first year. I think it is a shame that they are completely separate now, because I think art education lacks the discipline and structure one gets while studying design.
Do you have any advice to share with our students?
Keep all your work. You will appreciate it more and more with each passing year.
Keep all your books, if you can. I had to sell most of my books shortly after moving to New York, because I needed the money, and I slowly bought them back over the years.
Get off campus. Work in Pittsburgh while you are in school.
Don't fuck around while you are in school. Take on as many classes, projects, internships, etc. as you can. Now, as students, is your time to work as hard as you absolutely can to absorb as much as possible. The rest of your life will be a slow burn of realizing what you absorbed.
Image credits:
1. Portrait of Ryan McGinness by Jennifer Livingtson
2. Studio Views, 2017, installation view, Cranbrook Art Museum, Bloomfield Hills
Photo by PD Rearick, Courtesy Cranbrook Art Museum
3. Sign Trees, 2015, digitally printed high reflective vinyl on aluminum signs with painted aluminum and steel structure and hardware, each: 142 x 58 x 58 in. (360.7 x 147.3 x 147.3 cm)
Photos by Jenny Gorman