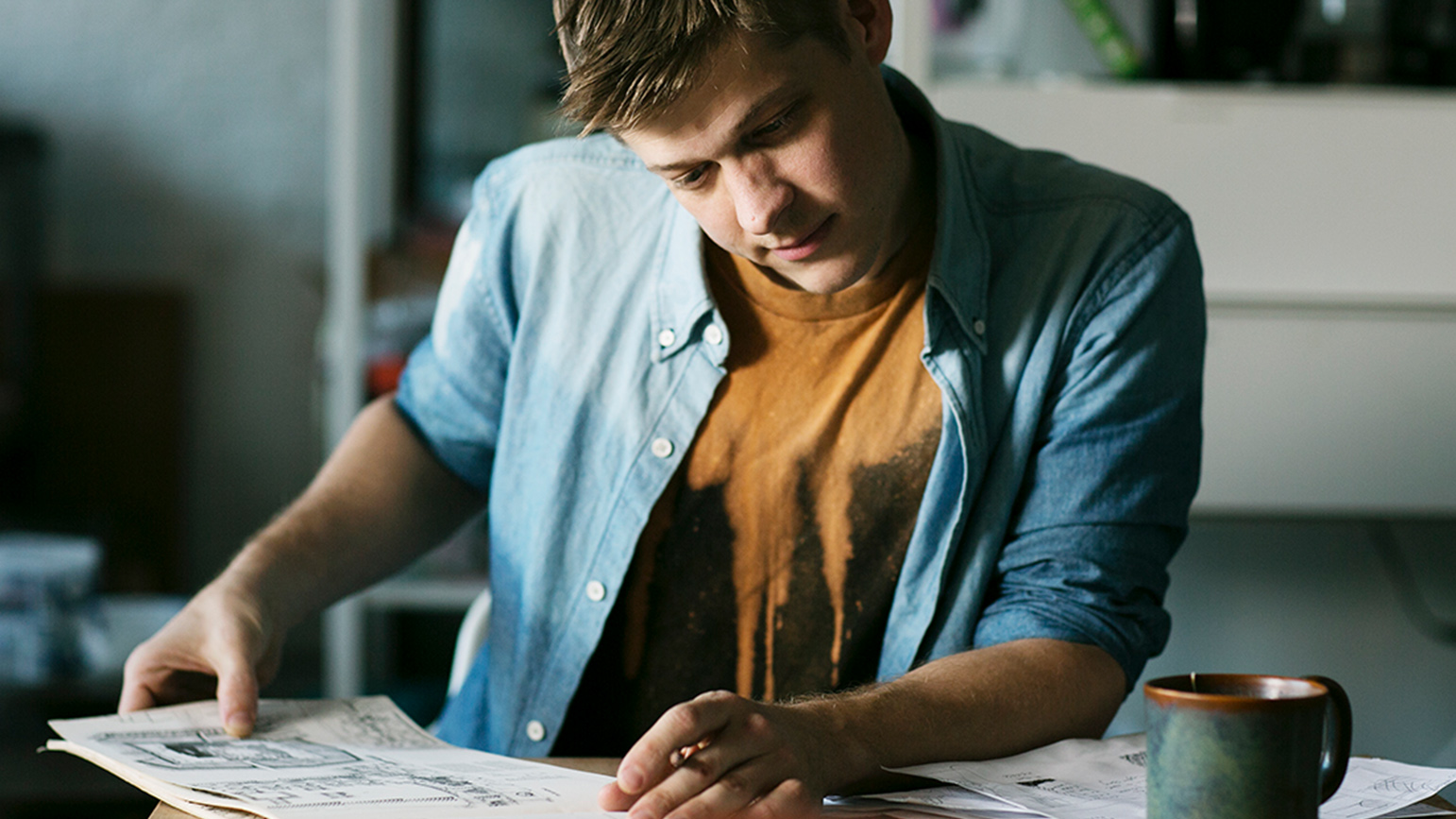 "5 Questions" is a series by the School of Art that asks alumni who are transforming art, culture, and technology about their current work and time at Carnegie Mellon.
Peter Burr BFA '02 creates immersive animated cinematic artworks that hover on the boundary between abstraction and figuration. Often engaging the tools of the video game industry, his recent works have focused on exploring the concept of an endlessly mutating labyrinth.
Burr's work has been presented internationally by various institutions including Documenta 14, Athens; MoMA PS1, New York; and The Barbican Centre, London. In 2018, his work was shown in Times Square as part of the Midnight Moments series, which presents artworks on electronic billboards throughout Times Square nightly from 11:57 to midnight. He is currently a visiting artist at the School of the Art Institute of Chicago.
You've returned to the idea of the labyrinth several times throughout your work. What keeps drawing you to this motif?
At the time I started thinking about the labyrinth as an idea, I was occasionally doing illustrated commissions for The New York Times, which really got me thinking from an illustrator's point-of-view. Previously, I was thinking about image-making as a form of self-expression, rather than using images as a form of direct communication. I began to think more in terms of visual metaphors, how they operate, and what they mean. During this period, I was struggling with depression and a feeling of being lost, and I was looking for ways to visually represent my experiences. As I started researching the visual iconography of the labyrinth, there was something comforting and generative in exploring the range of depictions of the labyrinth, an image that extends back into prehistory. I'm also interested in the multicursal construction of the labyrinth, something without a clear end. For me, the labyrinth continues to be an interesting way to create an image for the kinds of journeys I'm exploring through my work.
Why use the tools of the video game industry to construct your work rather than relying on other animation software?
I remember a conversation I had with Professor Duesing about his move from hand-drawn films to working in a digital computer environment, and how this stemmed, at least in part, from a desire to push the mediums he explores in new directions. Similarly, part of my interest in using video game tools stems from an interest in seeing what more can be squeezed out of existing tools to tell a story or to express myself. It's exciting to create something that I haven't seen before. The second part of my interest in using these tools relates to my own consumption of animation. Personally, I think video games are where some of the most innovative and exciting animation is happening today, so it seems natural that's where I should look to create my own work.
What was it like seeing your work in Times Square as part of the Midnight Moment series?
It's really incredible to see something that's been generated in the smallness of a desktop studio explode across hundreds of LED screens in such an iconic place. Seeing my work in Times Square as someone who has been living in New York for almost a decade was really exciting. During the month, I went down to Times Square almost every night, and I got to experience a neighborhood I never go to normally. Strangely, I found that there was something cozy about the experience. Especially at that hour, when you hang out in Times Square and let the neighborhood become an ambient, passive experience, you start to notice all the small details of the different cultures and lives that commingle. New York City is often so alienating and oppressive, and it was affirming to see an iconic area of the city act as a platform for me to show my expression of living in this place.
Could you talk a bit about your time as an undergraduate at CMU's School of Art? Are there any experiences you had as a student that stand out?
As a student, I was really addicted to working, and I spent a lot of time in the undergraduate studios. Some of my fondest memories are of the culture that developed in these studios. This became a communal space where we all collectively—but also individually—explored our interests, where I'd get really deep into my individual thing, but feel that echoed and supported by the people working around me. Even when I work now, I search for these kinds of environments to make my work—places where there's a collective support and shared interest of people pursuing things together, even if we're all making individual work. It's my idea of Utopia.
Do you have any advice to share with students?
As I've been teaching this year, I've been reflecting more about my time as a student. There's a prevailing cultural notion of going to college in order to get a job that doesn't apply to art school, because there's not necessarily a clear career path. Going to art school takes a certain amount of faith, as well as privilege, as you dedicate four years of your life to being open and exploring your practice. Art school cultivates a habit of digging really deep, and this has been such a valuable habit and skill that has served me both inside and outside my art practice. Because there are so few rules, art school gives an open invitation to build something new and build something that could work for you. Take your four years of art school as an opportunity to begin to model what a generative life, a life well lived, could mean for you.