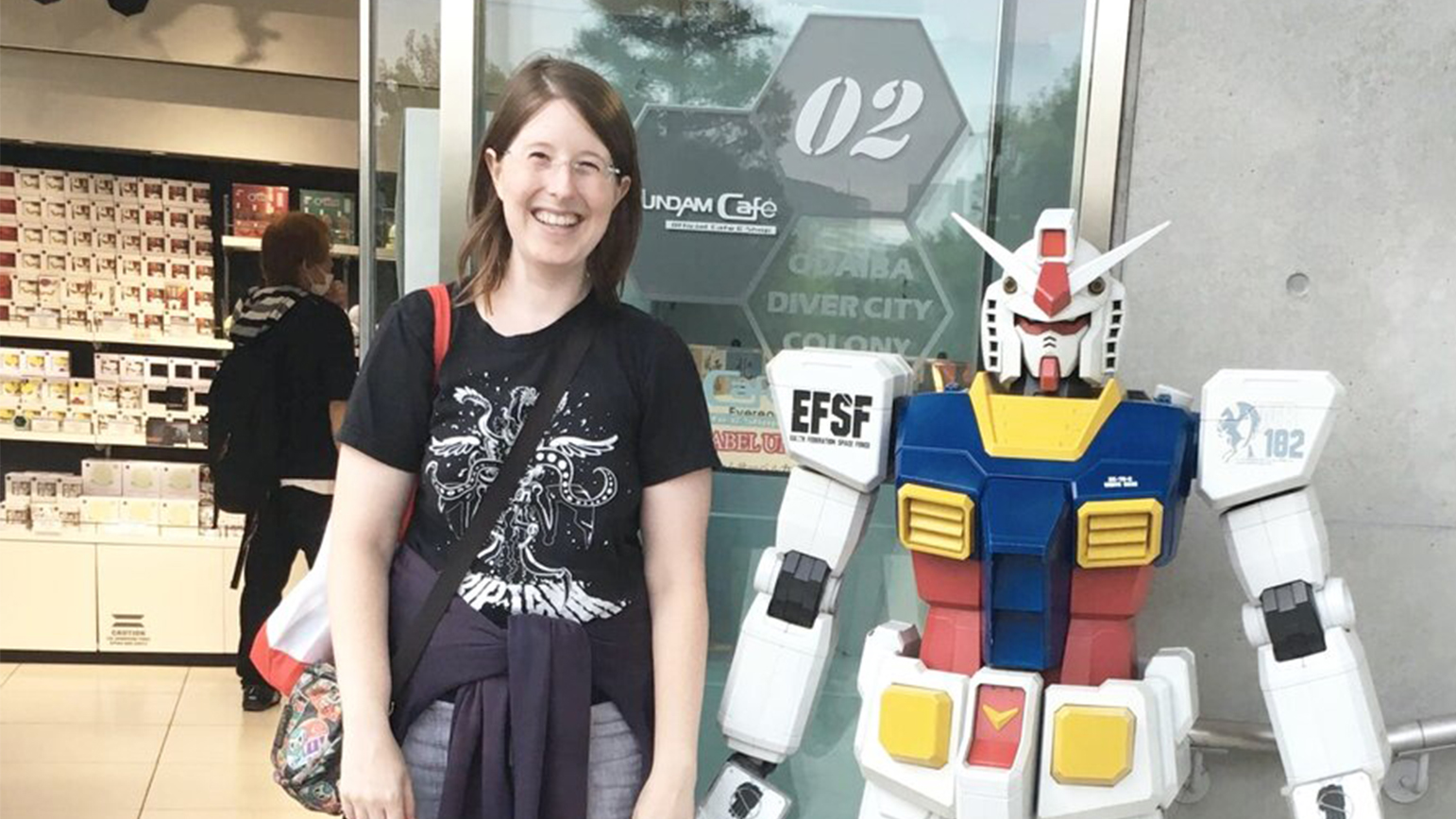 Lauren Hecht is an animatic editor at Netflix. Prior to Netflix, Hecht was an animatic editor at Cartoon Network, where she worked on Steven Universe, the network's first animated series to be created solely by a woman. Critically renowned for both its artistic elements and it's storytelling, the series broke ground in its nuanced exploration of relationships, incorporation of LGBTQ identity, and breakdown of gender stereotypes. Steven Universe won a GLAAD Media Award, a Peabody Award, and was nominated for several Emmy Awards, among other honors.
Other projects Hecht has worked on include the upcoming Netflix project The Cuphead Show!, Cartoon Network shows Craig of the Creek and OK K.O.! Let's Be Heroes, and the music video for The Killers' song Miss Atomic Bomb.
"5 Questions" is an ongoing series by the School of Art that asks alumni who are transforming art, culture, and technology about their current work and time at Carnegie Mellon.
What does an Animatic Editor do?
Even in the animation industry, not everyone understands what an animatic editor is responsible for. A lot of people are more familiar with live action editing than animation editing, because editing for live action only takes place in one stage. All the footage is shot, that footage goes to the editor, and then they cut it together. Animation is the exact opposite. We have pre-production editing and post-production editing. Before anything gets animated, a storyboard is drawn and actors record voices. All of that material then comes to me, and I time the individual images to the recorded audio, so I (along with directors and creators) am determining the flow of the story, figuring out the timing of jokes, dramatic moments, etc. We review the cut multiple times before we lock it. Only then can it go out to be animated.
I made my first animatic as a project in Golan Levin's ETB 1 class, where we took pictures and recorded sounds around campus. I still have that animatic and look at it every once in a while! For me, animatic editing is a really interesting and fun intersection of art, storytelling, and playing with software. There are so many opportunities to be creative in this role! Animatic editing fulfills the creative part of my brain, but also my organizational and technical sides. It's a puzzle, with no correct solution; you're figuring out what makes sense story-wise, and if the puzzle is configured in the best way for an audience.
Tell us about a favorite show or project you've worked on.
I worked on every episode of the Steven Universe TV show—except the pilot—every episode of Steven Universe Future, and the movie. It was really interesting to see the show grow over time and to be there growing with it. Especially since it meant so much to so many people. It was wonderful to see such a positive impact from something you've worked on, and I hope I can work on something equally impactful in the future. Shows like that don't come up every day!
Are there any trends in animation you're excited to see?
The industry is full of relatively young people, so to see those voices start to drive what's being made is really, really exciting. We are seeing a lot more representation in cartoons, which is wonderful, and I'm glad I get to help with that, to see my little part help amplify my peers' voices. It's really heartening when you're in the room with directors and creators, hearing the discussions going on behind-the-scenes. They really care and put in the effort to make content that's really going to have a positive impact. It's not just, "oh yeah, that'll look cool on screen," they will often talk to professionals like teachers, psychiatrists, and take many perspectives into account. Animation is a small industry and having younger and more diverse voices is super important because they bring so much of their personal experience to their projects.
The cartoons I watched growing up, like a lot of my generation, made a huge difference in how we see each other and interact. Seeing all of my peers work and put new meaning into the animation that the next generation is going to watch makes me feel like "this is going to be awesome!"
What advice do you have for students who may be looking to get into the animation industry?
The number one piece of advice I give to young professionals aspiring to be in the animation industry is that if you want to do something, you should just do it. If you want to be an animator, you should be animating. So much of reaching your goals is just your drive to get something done. The world isn't locked into the model of getting an internship and only learning skills through the internship. There are resources online, many artists who share their work, discuss their process, or even hold classes. There's an amazing wealth of knowledge already out there and everyone should take advantage of that.
When I was first getting into the industry, I didn't know what I wanted to do. I knew very, very little about the business so all I did was research and talk to people. Now, you can look up the credits of your favorite show online, find someone you want to talk to, and reach out to them on social media. Most of the time, they're going to answer you. 
I used to be very shy when talking to strangers, but I knew I had to be more outgoing in order to network, so at Carnegie Mellon, I would go to the job fairs for other schools. I knew I wasn't looking for a job, and I had absolutely nothing to gain or lose, so I'd go and get used to talking to strangers.
Could you talk a bit about your time as an undergraduate at CMU's School of Art? Are there any experiences you had as a student that stand out?
The best thing about Carnegie Mellon, hands-down, are the friends I made. I love to learn and I found other people with that kind of passion. I found a very tight knit group and we're all still best friends. It's also indispensable to have a group of people you trust that can still look at your artwork and give you a real critique.