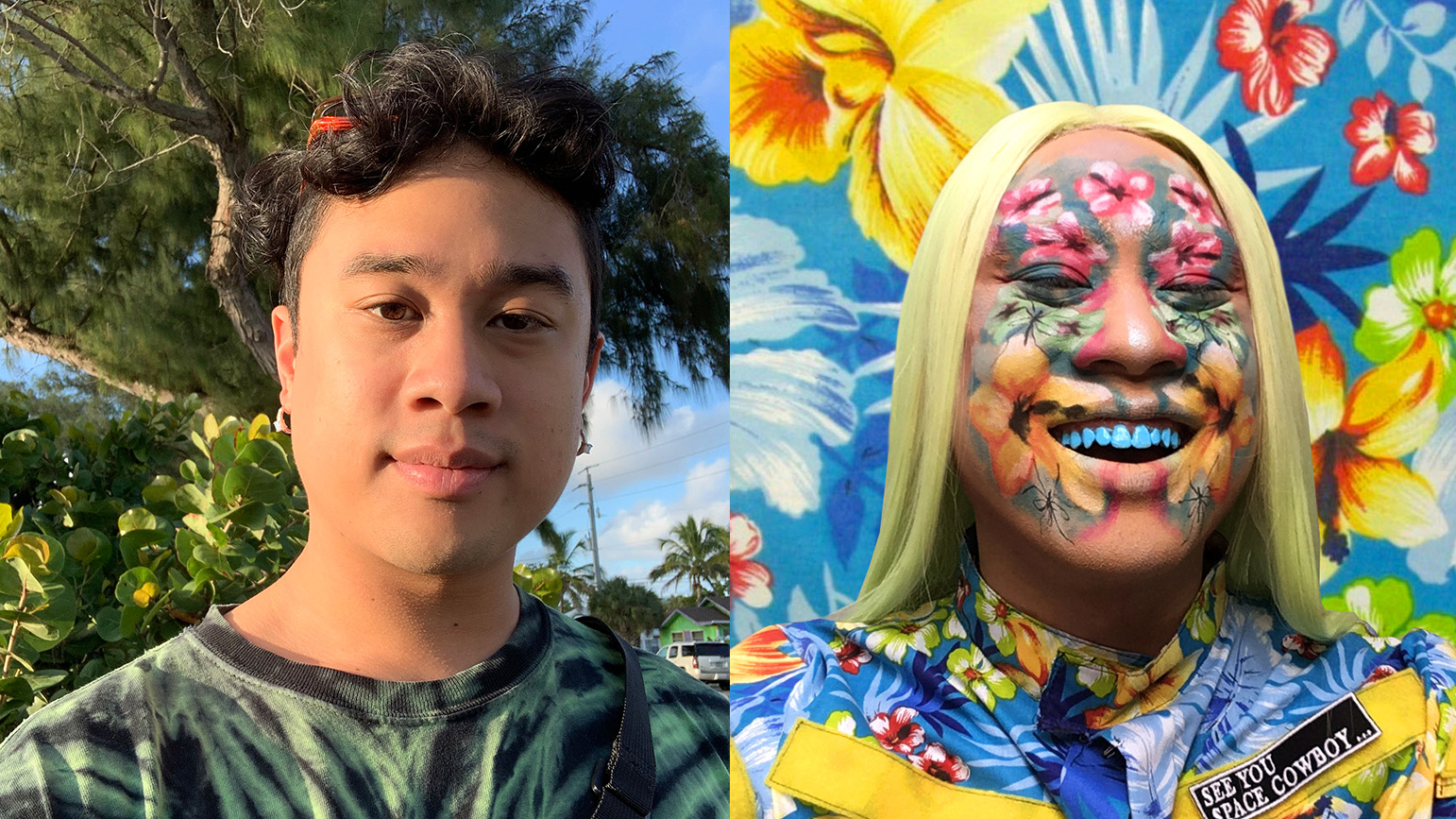 Keith Lafuente is a fashion designer, visual artist, and performer whose works references Filipino tradition, queer cultures, fantasy, anime, and more. He performs in drag as Mahal Kita, a name derived from the Tagalog phrase for "I love you."
Keith has been profiled by New York Magazine's The Cut and Cultured Magazine, and his work has also been featured in Gayletter, Cosmopolitan, Rogue Fashion Book, and more.
"5 Questions" is an ongoing series by the School of Art that asks alumni who are transforming art, culture, and technology about their current work and time at Carnegie Mellon.
When did you first become interested in clothing and fashion?
For most of my adolescence, I hid my true self in order to survive. My instincts and sensibilities as a queer person often butted against social norms, and I could clearly see how clothing reflected the rules of mainstream American culture. High fashion, on the other hand, represented freedom from those expectations. During my grade school years I would secretly don bedsheets and stomp around my bedroom, pretending to be a model. Fashion was about action rather than commodity: the simple yet empowering acts of walking and wearing clothing. It was transformative, fantastical, freeing! But admitting I loved fashion was tantamount to coming out of the closet, and it wasn't until college that I really started to experiment with clothing as a medium for artmaking.
Multiple of your designs include terno sleeves. Could you tell us a bit about what terno sleeves are, their history, and why you've incorporated them into your work?
Terno sleeves are large, voluminous sleeves that came into popularity in the Philippines during the Spanish colonial period. By the 1920's this western-influenced fashion trend had evolved into something distinctly Filipino, through the flattening of the sleeve and the use of local fabrics better suited to the country's tropical climate. It is now one of the few garments immediately recognizable as Filipino.
The history of Filipino fashion reflects Filipinos' relationship with their colonizers (and other authority figures). When Filipinos were advocating for independence, they adopted Western clothing to prove they were respectable and modern. After gaining independence, Filipinos sought to distinguish themselves from Americans by returning to traditional styles like the terno. This return to tradition, however, occurred simultaneously with the rise of populism. Imelda Marcos is especially known for repopularizing the terno in the 70's, and her fashion sense soon came to symbolize the excesses and corruption of the Marcos regime. The meaning of the terno has continued to evolve, but one thing remains true: it has an incredibly rich history that reflects the struggle, adaptability, and resilience of the Filipino people. I want to be able to pay tribute to this history while also pushing Filipino culture into the future.
Like in so many other areas, COVID-19 necessitated the cancelation of many fashion events over the last year. For your Spring/Summer 2021 collection, you created an animated video to show your work. Post-pandemic, do you plan to continue showcase your work in these types of ways?
This past year we were faced with many limits: of our bodies, of finances, of space. Virtual spaces became more prominent and offered a much needed break from physical restrictions. When the artist Joanna Lin reached out to me wanting to collaborate on something animated, I was excited for the chance to push practicality aside and try something new.
Informed by Japanese archery and Beijing opera costumes, the Spring/Summer 2021 collection is meditative, sexy, and quite impractical. The model travels through a romanticized vision of nature, one that feels wide and limitless. This sense of openness is mirrored in the makeup, which is messy but organic and unconstrained. This collection is only the first step, though – the journey feels unfinished. What can we make that is truly impossible in reality? What kinds of stories can only be told through this medium? I'm excited by the possibilities.
Could you talk a bit about your time as an undergraduate at CMU's School of Art? Are there any experiences you had as a student that stand out?
I took as many different types of classes as I could, from oil painting to relational aesthetics to computer science. The multidisciplinary, conceptual core of the program has continued to serve me well. Being able to properly think about my work – methodically, clearly, and honestly – has been crucial to my practice.
One of the biggest things I learned during my time at CMU was that art could be more than an object to display in a white cube. I enjoyed interacting with a wider community, whether it was with musicians, actors, and drag queens in Suzie Silver's Trans-Q class, or conversing with strangers in the middle of the night at Jon Rubin's Waffle Shop.
I am also endlessly thankful to have found such passionate, creative, and thoughtful friends at CMU. I loved working into the wee hours with them in the studio as we danced deliriously to Missy Elliott and Lana Del Ray. We took everything maybe a bit too seriously, but I think we grew a lot together.
Do you have any advice to share with students?
1) Just go for it. There will always be excuses: it's not perfect, I don't have the proper skills or resources, it's not the right time… But life is short, and the best way to grow is to try. Embrace failure!
2) Don't do it alone. Find a community of like minded people with whom you can find mutual support.
3) Keep going. Even if you are juggling a full time job, a part-time job, a hectic social life, intense romances, pressures from your family. Even if you face hate, apathy, misunderstanding, exhaustion, rejection. If you want it, you just have to be persistent. There's no way around it.