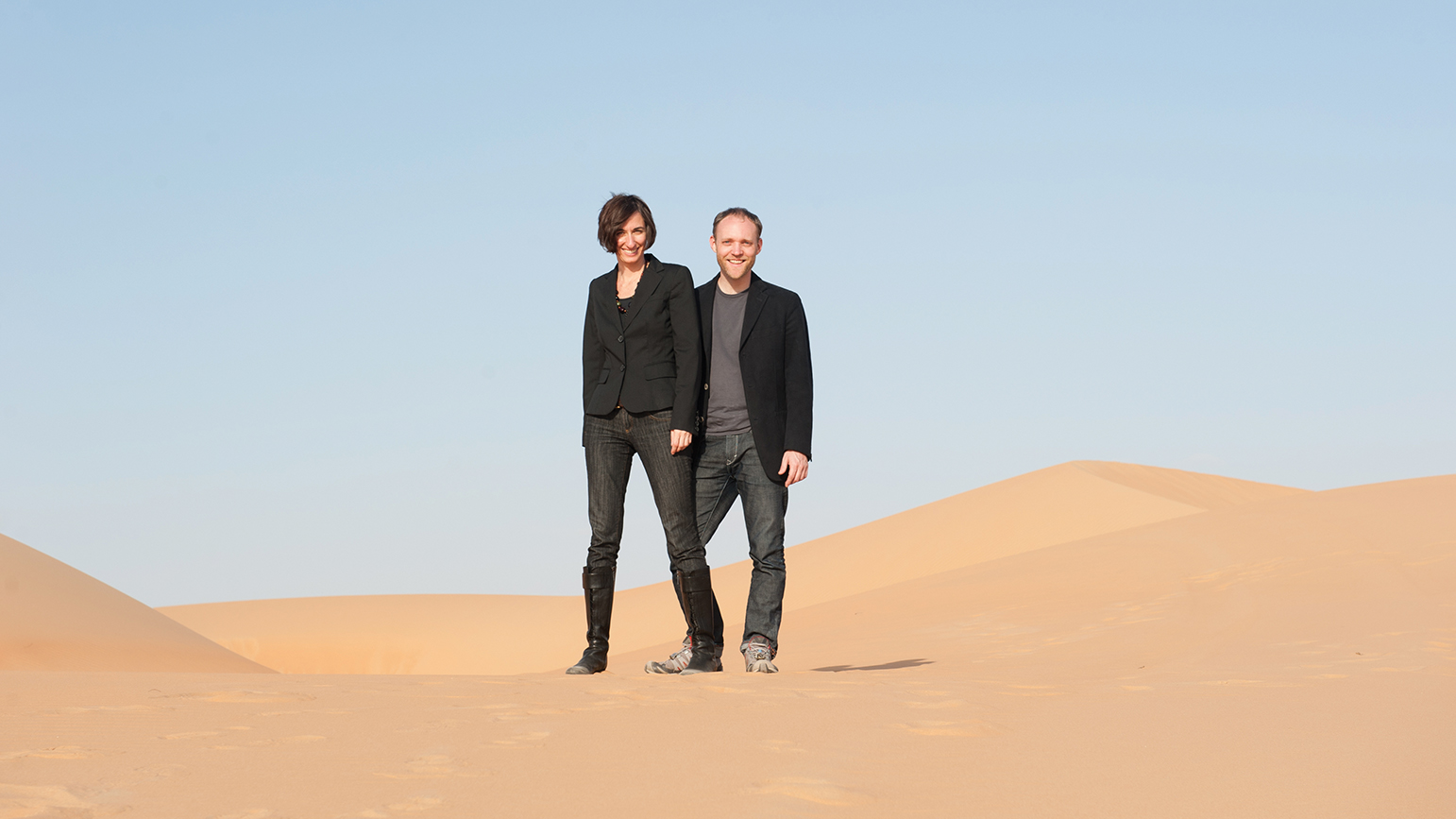 Elizabeth Monoian is co-director of Land Art Generator, a nonprofit she co-founded with CMU architecture alum Robert Ferry. Land Art Generator is dedicated to accelerating the transition to post-carbon economies by providing models of renewable energy infrastructure that add value to public space. Land Art Generator runs ambitious open call competitions, provides education for youth and adults, and consults with public and private organizations to implement green energy projects.
Elizabeth has published, exhibited, and presented globally on the aesthetics of renewable energy and the role of art in providing solutions to climate change. Land Art Generator is the recipient of multiple National Endowment for the Arts grants and has been awarded the J.M.K. Innovation Prize, a program of the J.M. Kaplan Fund.
"5 Questions" is an ongoing series by the School of Art that asks alumni who are transforming art, culture, and technology about their current work and time at Carnegie Mellon.
Why is it important to incorporate artists and creatives in designing renewable energy infrastructure, an area that is typically thought of as belonging to the realm of engineering and technology?
Last year the United States broke records by installing 19 gigawatts of solar power. In order to win the war on anthropogenic climate change, organizations like the International Renewable Energy Agency estimate that we will require tens of thousands of gigawatts of solar capacity installed over the coming decades. Meeting that challenge will radically transform our cities and landscapes and it is critically important that we engage creative minds to imagine how this transformation can occur in the most equitable, aesthetic, cultural, and resilient ways that provide opportunities for everyone.
There are lessons to be learned from past infrastructure implementations—from the interstate highways and the failures of mid-century "urban renewal" to the WPA era projects that left a beautiful legacy of public art and historic architecture. While it is important that we don't repeat past mistakes, we also have an opportunity this decade to create new landmarks of infrastructure art that future generations can visit and remember this important time when we acted collectively to right the balance of Earth's natural systems.
The Land Art Generator Initiative (LAGI) competition submissions are highly ambitious, so much so that some may argue that the designs are not realistic. How would you respond to this criticism? Is there value in these designs even if they are not realized?
Over the past decade we've received thousands of innovative ideas to the LAGI design competitions. They range broadly on a spectrum from simple elegant concepts that are eminently constructible to whimsical imaginings of what could be possible. The most successful entries are those that strike the perfect balance, bringing together a profound concept with practical engineering. Still we shouldn't dismiss the value of speculative future thinking. Land Art Generator designs are a wonderful way to capture the imagination, a way to show a positive, inspiring version of a post-carbon world. That responding to the climate challenge isn't only about running away from gloom and doom, but can also be about running towards a more equitable and vibrant future.
To complement our open call design competitions, we also work on co-designed community energy projects at less ambitious scales. These more immediately manifested projects like the Land Art Generator Solar Mural installations show that it does not take much added effort to turn renewable energy installations into beautiful places for people, and that the multifaceted social benefits are more than worth the added upfront time and expense.
Tell us about your partnership with Burning Man to bring sustainable design to Fly Ranch. How is this competition different from previous iterations?
We're very excited that Burning Man Project will be constructing prototypes of the winning LAGI 2020 Fly Ranch proposals this summer (2021). This direct path to implementation is aligned with the Land Art Generator's vision of 2020 as the decade of deployment. While previous LAGI design competition briefs have been more blue sky and without constraints, the most recent design briefs have been geared towards construction, providing cost per installed watt limitations and specificity with regard to the infrastructural contribution requirements to the public commons. Addressing systems of energy, water, shelter, agriculture, and regenerative waste management, LAGI 2020 Fly Ranch is demonstrating the importance of creative interdisciplinary systems design thinking to the truly sustainable development of off grid landscapes.
Could you talk a bit about your time as a grad student at CMU's School of Art? Are there any experiences you had as a student that stand out?
I was searching for an MFA program that encouraged interdisciplinary practice, and was thrilled that we had folks in the worlds of medicine, engineering, and robotics working alongside and within our cohort at CMU's School of Art.
During my time as an MFA student I was orbiting Robert Ferry who was in CMU's School of Architecture. For a few years we were just one floor apart before finally meeting in a downtown elevator. Following our time at CMU we got married and together founded the Land Art Generator Initiative.
Do you have any advice to share with students?
Develop partnerships and relationships with students, researchers, and faculty outside of your department and discipline. Learn more about their work and imagine what it might look like to collaborate with them. Some of the most innovative minds in the world are on the CMU campus and the possibilities for collaborations are endless.