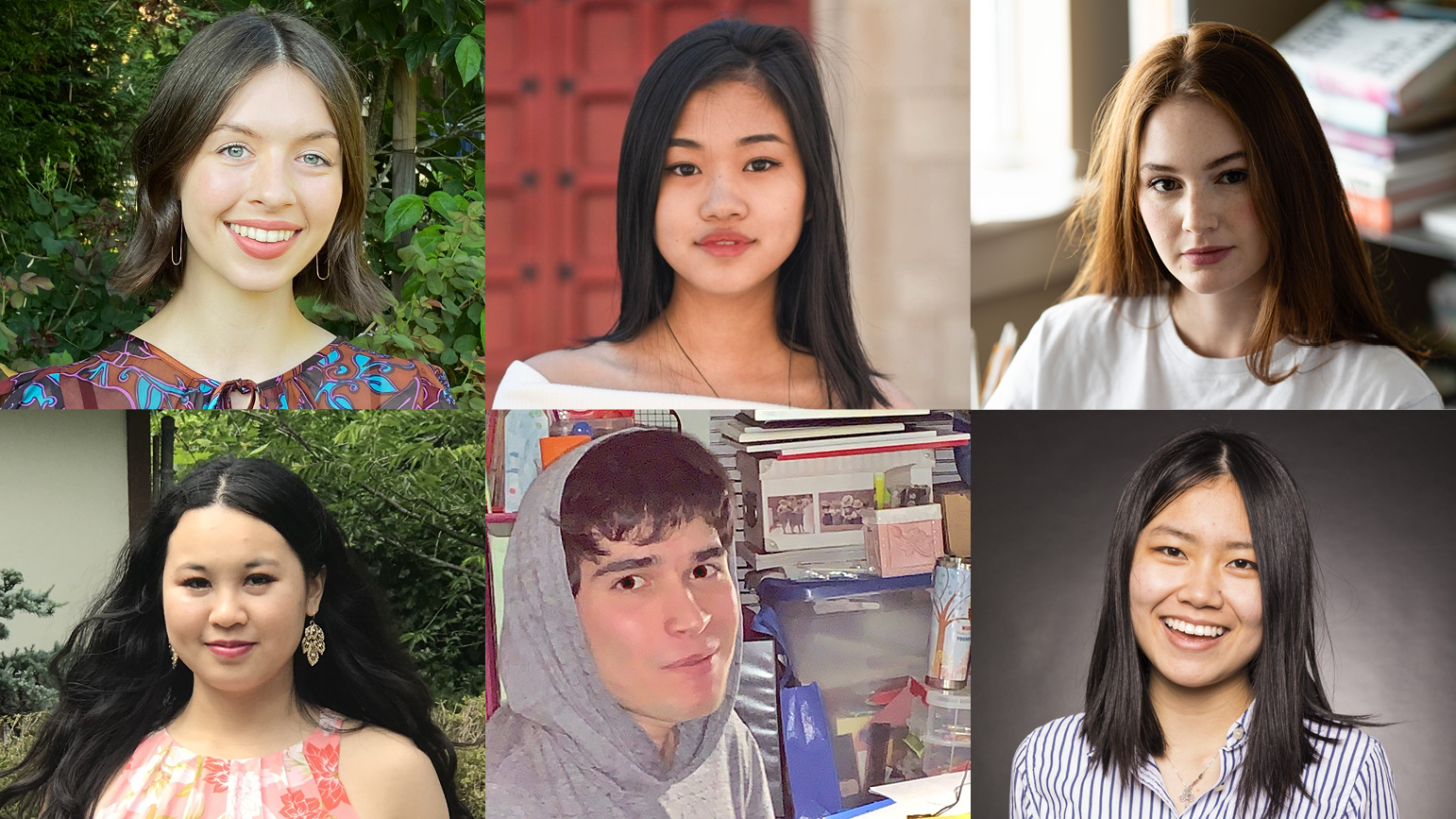 For students who graduated last May, there could not have been a worse time to enter the workforce. With unemployment over ten percent, widespread layoffs, and an unrelenting global pandemic, newly-minted alumni were tasked with starting their careers. Yet despite these challenging circumstances, School of Art graduates found work across a variety of creative fields.
We caught up with six 2020 graduates to learn about what they're doing now, how their education prepared them for their jobs, and what advice they may have for students graduating this spring. Despite their disparate career paths, common themes emerged.
"Being an artist and going to art school, you learn to have a really high threshold for uncertainty," said Coco Allred. Several others echoed this sentiment: art school teaches you to be creative and flexible, a highly-desired trait amidst so much uncertainty.
Alumni also discussed how easy it is to get discouraged while job hunting. "It was really hard for me to find a job," said Sophia Qin, "so don't be disappointed if the opportunity arrives later than others."
Finally, everyone we talked to discussed the importance of networking. "The referral is so important," said Tiffany Li. "Soft skills are one area that can really set you apart from other candidates," she added.
Coco Allred
ArtistYear Fellowship at a Philadelphia elementary school
During the 2020-21 school year, Coco Allred is teaching art to elementary students in Philadelphia through ArtistYear, an AmeriCorps program that places recent arts graduates in low-income schools. In addition to teaching more conventional art classes, she is working to integrate art across disciplines and across the school community.
"One of the things I've enjoyed the most is working with the second and third grade," Allred said. "They're savvy, they have their own ideas, and you can really see kids' personalities develop. They don't have any of that self-consciousness that starts setting in around fourth or fifth grade."
Teaching elementary students can be challenging under any circumstance, but teaching remotely has added another layer of difficulty. Allred said she attributes her ability to adapt to the situation to her artist training at CMU. "Artists have the ability to get interested in things that are considered problems, to see what's not going right, and to be intrigued, rather than turned off by challenging situations," she said.
Hannah Kim
Contract positions for animation studios Diamond Entertainment and Mariposa Pictures Animation
Since graduating from Carnegie Mellon, Hannah Kim has worked for two animation studios, Diamond Entertainment and Mariposa Pictures Animation, where she works in the area of visual development, which encompasses designing sets, characters, and props.
"Visual development is what I really want to do in the future," Kim said, "so being able to pursue this as someone so entry-level is really rewarding." Working for smaller emerging studios gives her the opportunity to have more creative freedom than working for more established companies, she said.
In addition to her contract work, Kim is taking classes online to further her visual development specialty, something she didn't focus on at CMU. She has also entered animated shorts she made at CMU into film festivals, and her work was recently featured in the Boston Women's Film Festival and in the Short of the Year festival by Promofest.
Sydney Krantz
Gallery Assistant at François Ghebaly Gallery
"It's like a crash course in the art world," said Sydney Krantz about her gallery assistant position at François Ghebaly Gallery in Los Angeles. Working on a small team, the position gives her the opportunity to do a little bit of everything in the day-to-day operations of the gallery, she said.
Krantz, who started at the gallery as an intern this summer, said she is planning on pursuing her MFA in the future, but that her current job allows her to "get to know the world I'm considering entering. It's the business side of things, which is really interesting and important. It's been exciting for me to get a close look at the way the gears are turning."
Krantz also continues to make her own artwork, but said that it's challenging to make work outside of school, where you are surrounded by people who offer constant feedback. Still, working in the art world, she said, has given her a built-in circle of friends to discuss her work. "I don't feel like I'm totally working in a vacuum."
Tiffany Li
Software Engineer for Riot Games
After graduating from CMU, Li landed a job as a software engineer for Riot Games, where she works on the game Valorant. As an engineer, she is responsible for implementing various new game features that directly affect players' experiences.
Li said she sometimes struggles with internalized impostor syndrome but feels that the challenges of her job push her to deepen her skills. "I'm in a role where I'm slightly uncomfortable with my level of knowledge, so I get a lot of chances to learn," she said.
Although Li describes her job as purely engineering, she said her interdisciplinary projects at CMU helped her land the job at Riot. "Working on interdisciplinary team-based projects really helped me through the interview process and made me stand out from other candidates. It shows you have the potential to grow into a leadership position because you understand how all these different parts fit together."
Peter Sheehan
Freelance game design for Troutwood and freelance animation for Federico Solmi
After college, "I wanted to be working on games and art and I got both," said Peter Sheehan. He is currently working for Troutwood, a financial technology company, on a game to teach high school students about saving for retirement, and for the artist Federico Solmi on animation, modeling, editing, and digital recording.
Sheehan said both jobs are keeping him creatively engaged in different ways. The experimental games he made in Professor Paolo Pedercini's classes often looked at economics, a natural fit for his project with Troutwood. In his other freelance work, Federico Solmi encourages his feedback and ideas on animation projects.
Working on collaborative projects requires accepting and processing feedback from others, something Sheehan said he learned to do through critique in School of Art classes. "Being able to listen to critiques, to not interrupt the person while they're giving you critiques, and to not be too offended by them has helped both of my jobs."
Sophia Qin
UX Designer for ZS
Sophia Qin designs dashboards, apps, and websites as a UX Designer for ZS, an international consulting firm that specializes in technology and healthcare. Due to her background in art, ZS has also tasked her with creating videos and marketing materials for the company.
"When I came to CMU, I knew I wanted to do something creative and related to art and design, so I ended up getting a secondary major in Human-Computer Interaction," she said. Even in creating data visualizations, Qin said that her art background and understanding of color theory has helped her with transforming data in a meaningful and exciting way.
Qin said looking for a job could often be disheartening and emotionally draining, but that there are good resources to help CMU students to prepare for the job search. "Go to virtual career fairs and get practice talking to people. Take advantage of portfolio reviews, mock interviews, career counselors, and internships," she said.