Creative Time Summit X Livestream
November 15, 2019 @ 10:30 am

-

6:00 pm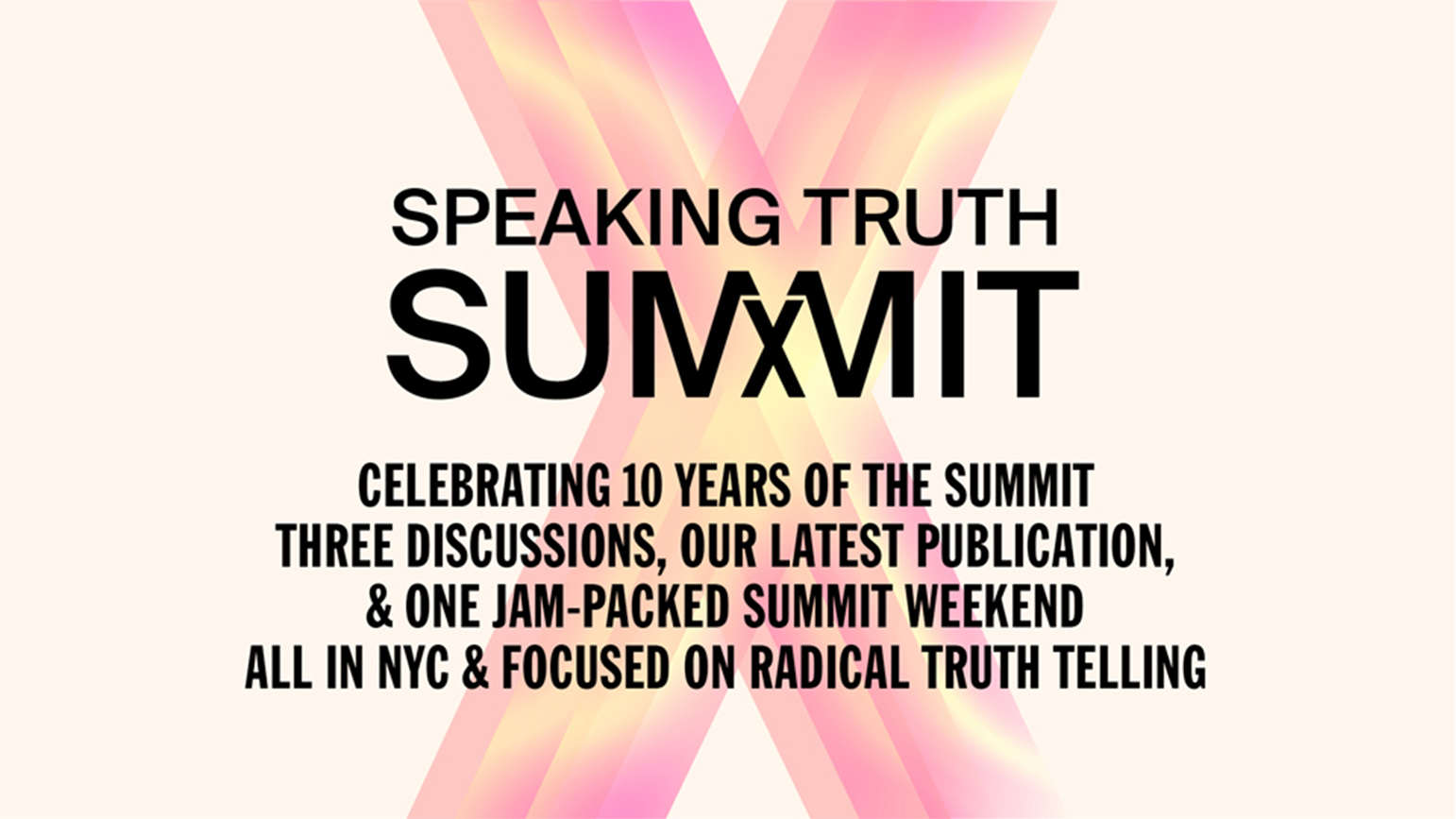 As fierce debates about the nature of truth rage on globally, Creative Time's Speaking Truth | Summit X explores radical truth-telling and its implications, manifestations, potentialities, and challenges across disparate yet interconnected fields.
Join the School of Art for a livestream of the Summit, which will focus on four key themes: Media & Technology, Economics & Sovereignty, Health & Gender, and Fictions & Futures. Come for just one session or stay all day! We'll have plenty of snacks on hand.
The schedule follows below:
10:30am: Land Acknowledgement
10:40am: Welcome Remarks
Justine Ludwig, Executive Director of Creative Time
10:50am – 12:30pm: SECTION ONE: MEDIA & TECHNOLOGY
In an age of total surveillance, in which freedom of expression is increasingly under threat, what new forms of journalism can we imagine for communities to actively engage with each other? How are cultural practitioners reshaping media environments in a historical moment of low trust in institutions globally?
Presenters : Josh Begley, Aruna D'Souza, Tsige Tafesse, Stephanie Dinkins, Lara Baladi, Charles Gaines
1:30pm – 2:30pm: SECTION TWO: ECONOMICS & SOVEREIGNTY
This section brings into focus individuals and communities who are affirming rights to sovereignty over land, law, and cultural self-determination
Presenters: Larissa Sansour, Yousra Elbagir, Leuli Eshraghi, Anton Vidokle, Laurie Jo Reynolds with the Chicago 400
2:45 – 4:05pm SECTION THREE: HEALTH & GENDER
This section will unpack the historical experiences of those who have had to grapple with the "trust gap" — that is, having their experiences overlooked or discounted in medical and scientific research. Moreover this section will engage theoretically and intersectionally with relevant issues related to queer, feminist, racial, and health justice, also considering the current climate of world governments clamping down on accessibility and health care.
Presenters: Kia LaBeija, Abigail Echo-Hawk, Marisa Morán Jahn, Chris Kraus, Nato Thompson, Sally Szwed, Laura Raicovich
4:20 – 5:45pm SECTION FOUR: FICTIONS & FUTURES
Recognizing the reactionary political effects that shape our present condition and affect landscapes, psychologies and imaginations, how can we re-imagine various forms of institutional, physical, and mental decolonization through empowering fictions and future utopias of togetherness?
Presenters: Jeremy O. Harris, Victoria Lomasko, Lauren Woods, Eric Gottesman and Hank Willis Thomas (For Freedoms), the film "The Was" by Soda_Jerk & The Avalanches
View additional schedule information here.
About Creative Time
Over the past four decades, Creative Time has commissioned and presented ambitious public art projects with thousands of artists throughout New York City, across the country, around the world—and now even in outer space. Their work is guided by three core values: art matters, artists' voices are important in shaping society, and public spaces are places for creative and free expression. They are committed to presenting important art for our times and engaging broad audiences that transcend geographic, racial, and socioeconomic barriers.